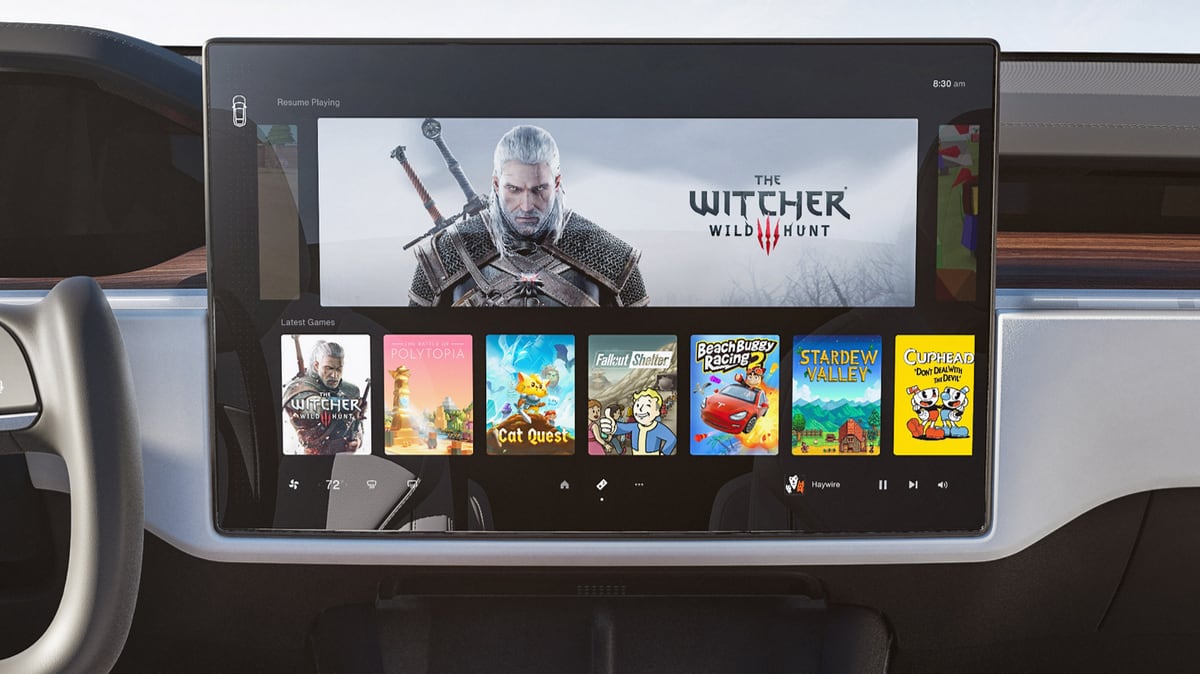 Elon Musk is a busy guy, but he even takes time to play video games. The Tesla CEO told his 105.6 million followers on Twitter that he was playing games. But when you're Musk, this is still working. He was testing the highly anticipated Steam integration with Tesla. It's not known which one of the 30,000 Steam games he was playing (or should I say testing), but the fact that he is telling the world he is trying it out could mean the release is imminent.
Steam is to the PC gaming world what Tesla is to the electric vehicle market. With nearly 20 years under its belt, it's estimated Steam takes up 75 percent of the global market share for the distribution of PC games. More than 100 million users are on the platform, and it is showing no signs of slowing down. In addition, it is releasing Steam Decks, a mobile device to take all of those games with you.
Tesla's gaming does not quite compare to Steam, with about 20 games available, and most are classics. However, this integration could put Tesla's gaming platform light years ahead. In fact, the new Model S and Model X have a gaming computer that keeps pace with PlayStation 5 and XBox Series X.
The new system has ten teraflops of processing power. A teraflop is the computer world's version of horsepower, and yes, 10 is a lot. The PS5 has 10.28, and for those keeping score, the Playstation 4 has 1.84. For anyone who has played the two consoles, you can attest to noticing immediately the difference those additional 8 TFLOPS provide.
Musk wants the Tesla to be the most fun you can have in a car. By adding this kind of computer power to the Model S and Model X, he ensures that the system can handle the top-end video games. He has demonstrated the game considered the most graphically demanding, Cyberpunk 2077. These complex and visually stunning video games also occupy a lot of space. The average Steam user has 55 games on their account. However, it looks like Tesla has already started to solve these problems.
With Tesla update 2022.24 Tesla now lets you uninstall games from Tesla Arcade. There's currently no need to uninstall a game because there's ample storage, but that won't always be the case.
Tesla has also started adding code to support external storage that could be used to load additional games.
The amount of storage available for games will vary depending on the MCU in the vehicle. While vehicles with MCU 2 only contain a 64GB hard drive for the entire vehicle (OS, games and data), newer vehicles with MCU 3 include up to a 256GB solid-state drive. Out of those 256GB, 155GB is currently reserved for games, so they'll be able to store significantly more games before requiring an external hard drive.
While there is still no release date for the Steam integration, a big event is on the horizon for Tesla, AI Day Part II. The event was initially scheduled for August 19 but has been pushed back to September 30. Musk has promised "many cool updates" at AI Day; perhaps Steam integration will be one of them.