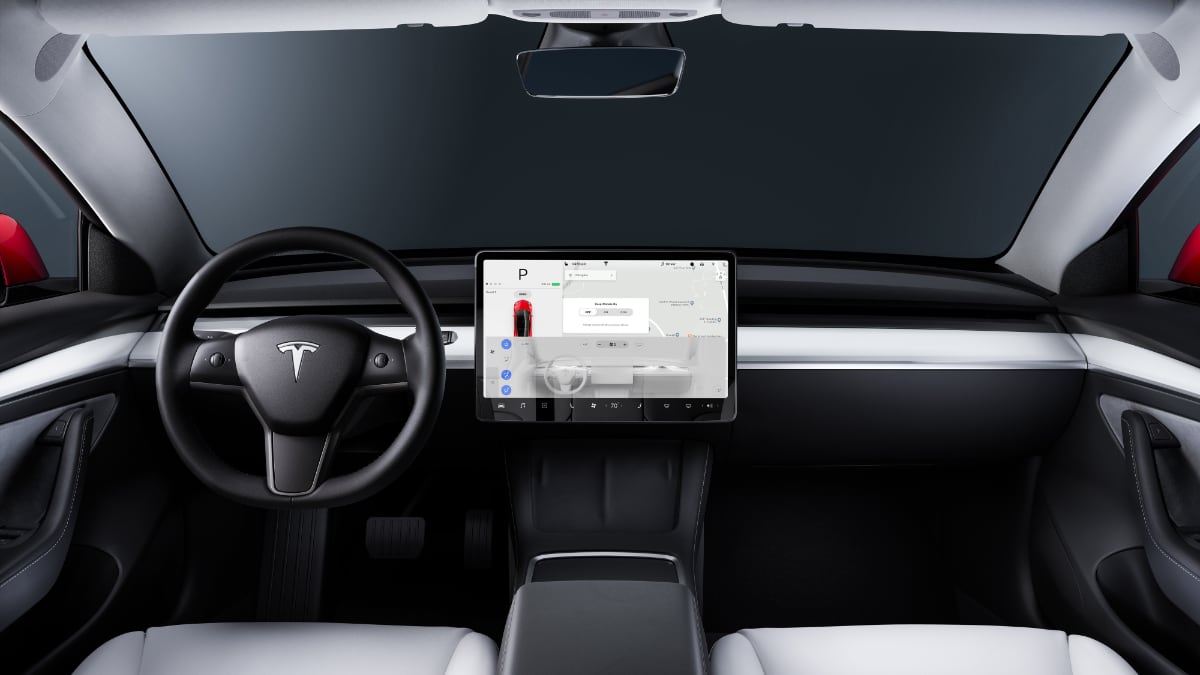 Tesla has stopped offering free unlimited Standard Connectivity for new vehicle orders.
According to Teslarati, vehicle orders placed after July 20, 2022 will include free Standard Connectivity for a period of eight years.
The EV automaker will notify owners when their free Standard Connectivity is about to expire. Tesla's Connectivity section on their Support page reads:
"All new Tesla vehicles ordered on or before July 20, 2022, will have Standard Connectivity features at no cost for the lifetime of the vehicle (excluding retrofits or upgrades required for any features or services externally supplied to the vehicle - e.g. telecommunications network). As additional features and services become available in the future, you will have the opportunity to upgrade your connectivity plan."
At $9.99 per month or $99 for a year, Premium Connectivity is worth the upgrade right now.
The contrast between Standard and Premium Connectivity is quite drastic; there aren't many reasons to argue for staying on Standard. I think the live traffic visualization and music streaming are worth $9.99 alone.
The features included in Premium Connectivity further enhance the vehicle's features and are important for the full experience of owning a Tesla. Premium Connectivity also includes live traffic visualization, satellite-view maps, video streaming, Caraoke, live Sentry Mode view, and a few others.
"An important part of all Tesla vehicles, further enhancing the driving experience providing access to features that require data usage - including streaming music and media, live traffic visualization, and more," reads the Tesla Connectivity page on their Support section.
Tesla has yet to say what the price of Standard Connectivity will be since the first cars to expire are still eight years away, but we can speculate it may end up being somewhere around $5/month.
Currently if you do not subscribe to Premium Connectivity, you can still use some of the premium features such as music streaming or watch Netflix if you're connected via a Hotspot or WiFi connection. However, Tesla has added a new footnote to their site that suggests this may not always be the case.
The new footnote reads that items such as music and video streaming, internet browsing, Caraoke and others are "Currently available over Wi-Fi for Standard Connectivity."
It appears that Tesla either has plans to make these features exclusive to Premium Connectivity subscribers or that they're at least leaving the door open to change their minds in the future.
Although Tesla doesn't explicitly call it out on their website, it's expected that you will not need Standard Connectivity to use the Tesla app and that functionality will remain intact with or without Standard Connectivity.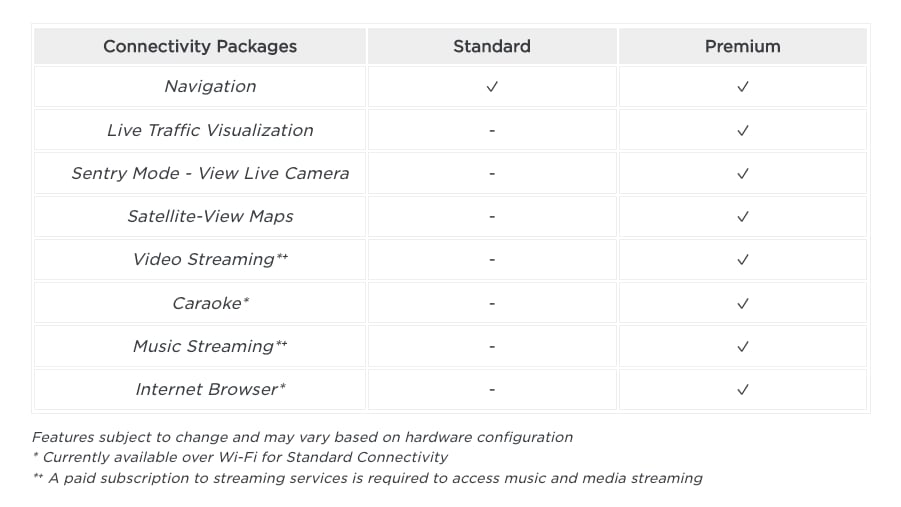 The features that will no longer work without Standard Connectivity will include maps, navigation and voice commands. There may be others as well if Tesla adds any new features that require connectivity in the coming years.
Tesla will still include WiFi and cellular connections in the vehicle so that the app and software updates continue to function properly, so this comes across as a small money grab by Tesla.
The actual bandwidth costs for Tesla are very small since Standard Connectivity doesn't feature any bandwidth extensive features. To take away a feature like navigation seems odd, especially since it takes up two-thirds of the screen in a Model 3 or Model Y and the owner has no way to replace the maps with anything else.
It may have been preferred for Tesla to raise the price of their vehicles by a few hundred dollars (assuming Standard Connectivity would cost $5/month or $60/year) rather than reduce the functionality of the vehicle.
| Feature | Included | Standard | WiFi / Hotspot | Premium |
| --- | --- | --- | --- | --- |
| Phone Notifications | | | | |
| Ability to Use Tesla App | | | | |
| Voice Commands | | | | |
| Maps | | | | |
| Navigation | | | | |
| Video Streaming | | | | |
| Caraoke | | | | |
| Music Streaming | | | | |
| Internet Browser | | | | |
| Live Traffic Visualization | | | | |
| Satellite-View Maps | | | | |
| Sentry Mode Live | | | | |
If we look at this in a slightly different way, it looks like Tesla is essentially going to charge a monthly subscription for the use of its navigation system, which isn't a great look for the leader in car software.
This is one feature I hope Tesla backtracks on.
Ordering a New Tesla?
Consider using our referral code to help support our site and get credits toward Tesla Merch.