Emily Schubert, a senior manager for Apple presenting at Apple's WWDC 2022 event, couldn't sum up the impact of CarPlay better: 98% of new cars available in the US have CarPlay compatibility.
According to Apple, 79% of car buyers wouldn't buy a car unless it was CarPlay/Android Auto capable.
You have to hand it to Apple, they managed to fundamentally change the auto industry in the eight years since CarPlay was introduced.
Offering a superior internet-connected car UI experience to the various proprietary (and frequently painfully slow and unintiutive) automaker infotainment systems, CarPlay has dominated the auto market.
Doubling-down on the success of CarPlay in dictating UI interfaces and interactions with entertainment and navigation functions, it appears Apple is interested in taking more UI-design and control away from automakers.
New CarPlay Features Coming in 2023
The next version of CarPlay will integrate more car-based functions, enabling the control of systems like climate control and the display of information like speedometer data.
Apple describes the next iteration of CarPlay (available in 2023) as "the ultimate iPhone experience for the car. It provides content for all the driver's screens including the instrument cluster, ensuring a cohesive design experience that is the very best of your car and your iPhone. Vehicle functions like radio and temperature controls are handled right from CarPlay. And personalization options ranging from widgets to selecting curated gauge cluster designs make it unique to the driver."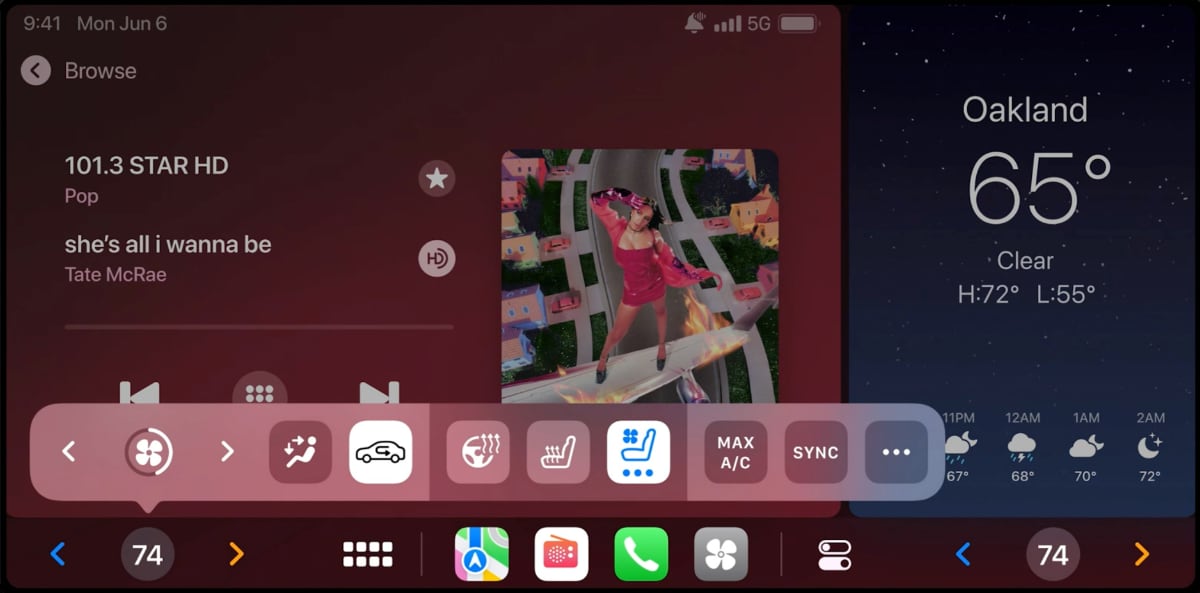 The infotainment and instrument gauge cluster mock-up that Apple used in the presentation was stunning (as one would expect from a mock-graphic from a multi-billion dollar technology company).
The icon tray, in truth, resembled Tesla's latest UI changes. The incredibly large and immersive screen, however, resembled the 65" MBUX Hyperscreen found in the Mercedes EQS design.
Automanufactuers have lined up to implement the new integration demands from Apple. Partners include Land Rover, Mercedes, Porsche, Nissan, Ford, Lincoln, Audi, Jaguar, Acura, Volvo/Polestar, Honda, Renault, and Infiniti. Noticeably absent was Tesla.
Tesla has an odd history with Apple. There were even rumored attempts to sell Tesla to Apple in 2015. The current speculation for a lack of CarPlay support is that Tesla is hesitant to give up their mostly successful UI design and control in favor of CarPlay.
In Tesla's defense, Tesla doesn't have a painfully slow infotainment like most automakers. Old automakers are happy to give up control of their infotainment system to Apple to help improve the user experience.
With this iteration of CarPlay, Apple is offering a whole car experience, meaing it not only has a dock to navigate to your favorite iPhone apps, but also to change car specific functions.
Functions such as adjusting your vehicle's climate control, and seat heaters.
However, Teslas have many features that likely wouldn't fit into CarPlay's offerings. Features such as the Toybox, car visualizations, Dashcam, Sentry Mode, and popular HVAC features such as Dog Mode and many others.
Advantages of CarPlay
The inclusion of CarPlay would mean that Teslas would instantly gain a huge amount of new audio streaming services and apps, along with better text messaging integration and Siri support.
Tesla owners would finally have access to SiriusXM, Apple Music, Pandora, YouTube Music and so many more services that have been highly requested by Tesla owners. Tesla has a good set of audio choices, but there are countless music streaming services nowadays.
The same could be true for video streaming, where Tesla owners wouldn't be limited to YouTube, Netflix and a couple others.
Apple CarPlay and Google's Android Auto have the huge advantage of having a robust ecosystem with millions of developers. We spend hours a day on these devices and store our most important information on them, such as photos, health and financial informaiton and more.
Phone apps already exist to do almost anything imagaineable. This makes it difficult for Tesla to compete with the amount of data and apps available on our devices.
Furthermore, Apple is adding widgets to CarPlay in this iteration. Widgets that could show you the weather, our workout activity, access to home controls and more.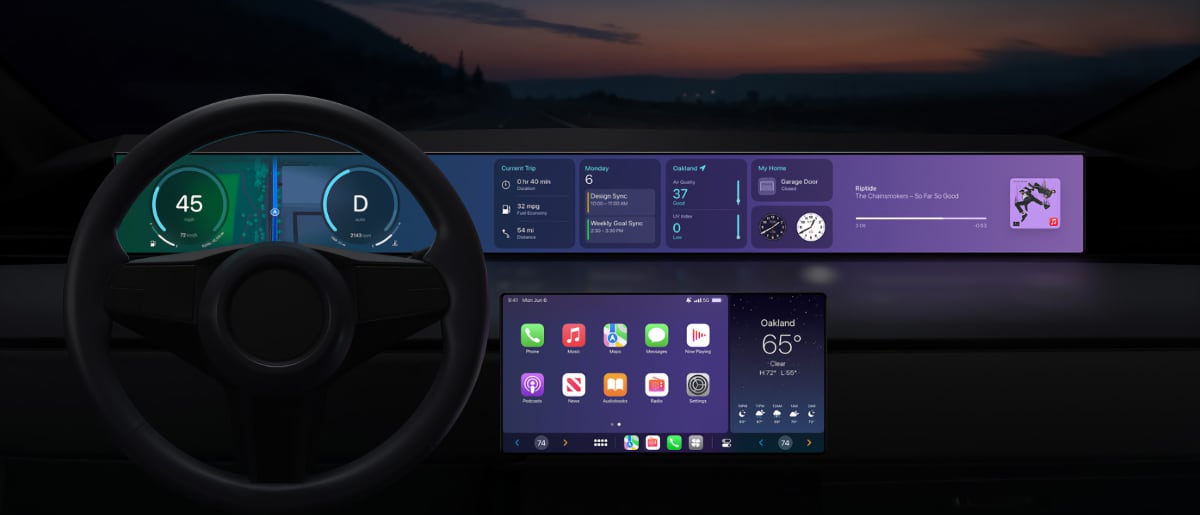 Some of things these Tesla may never be able to incorporate because they don't have access to the user's data.
Disadvantages of adding CarPlay
For Tesla to implement CarPlay it could mean giving up a certain amount of control of their UI.
Some initial questions that come up are how would visualizations, AutoPilot controls and other features tie into CarPlay?
Would CarPlay live on a portion of the screen, leaving other portions available to Tesla specific features? Would it require two docks, one for CarPlay functions and another for Tesla specific functions such as Dashcam access and Caraoke?
Although Apple is offering various layout options for the speedometer and other features, Tesla would still be limited to Apple's offerings.
If Tesla were to adopt CarPlay, Tesla would likely have to adopt a similar UI to Apple's for their own features, so that CarPlay and Tesla functions would flow and the integration would look seamless.
This may be giving up more control than Tesla is willing to.
Competition is Heating Up
In addition, Tesla may be hesitant to partner with a company that is secretly designing an EV to directly compete with Tesla. Apple enthusiasts would point out that the new version of CarPlay does not require taking up the entire screen (and could be integrated into a window, similar to the jerry-rigged Tesla CarPlay solutions floating around the internet). But, ultimately, it is unclear if Tesla will budge on CarPlay implementation.
The impact of Apple's latest CarPlay features remains to be seen, but one can't deny that continuing to ignore customer demand for CarPlay functionality may ultimately affect demand for Tesla (as other car manufacturers start delivering their planned EV lineups).