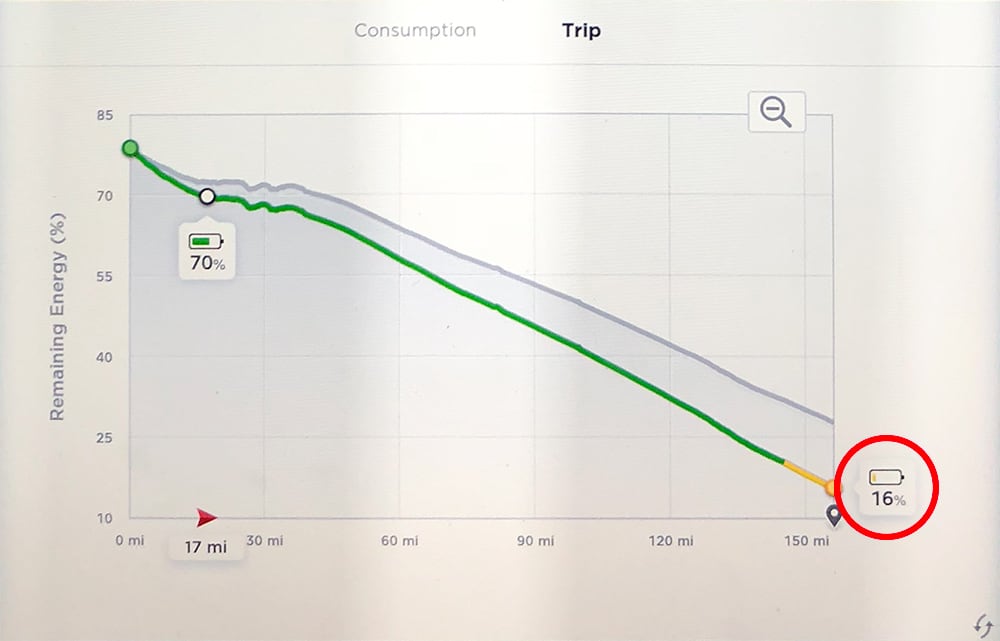 Tesla's latest update, version 2022.16.0.2, makes calculating energy consumption on your next trip even more precise.
When navigating to your destination, your Tesla will already show you the estimated energy available upon arrival.
However, with update 2022.16, Tesla's 'Navigation Energy Prediction' will become even more accurate.
Before the update, Tesla's routing system estimated energy usage by distance, elevation changes, and some additional information such as your vehicle type and its wheel configuration.
The new Navigation Energy Prediction makes this projection even more definitive by forecasting wind conditions, assessing if you will be driving into a headwind or crosswind, determining the humidity, and gauging the ambient temperature.
Since Tesla is relying on additional weather information for these predictions, your vehicle will need to have an active cellular connection, but Premium Connectivity is not required.
All Teslas in supported regions (US included) will have access to this information except for older Teslas (2015 and older) that only supported 3G cellular networks which have recently gone offline in the US. Tesla offers an upgrade for those owners affected.
This latest update may not be the most significant factor for short trips; it could be a meaningful upgrade for those who use their Tesla for long-distance traveling when every acceleration and regenerative braking matters.
Also, for those who live in regions with a wide range of inclement weather conditions. One of the biggest rebuffs about Tesla, and all EVs, is that they are not as efficient in extremely cold conditions. Certainly, using the heater will use more energy.
Those concerned about traveling in the winter months now have access to even more detailed information about consumption and can better plan for stops along their way to the chilly destination.
Tesla first included environmental factors in a 2018 update, and the wind calculations have been showing up in the code since March 2022, but it's now available in the production build of 2022.16.
Although these changes are completely invisible to the owner they will help reduce range anxiety on long trips and increase our confidence in the vehicle's predictions.
These changes will also improve the accuracy of your suggested wait time at a Supercharger before you're able to move on to your next stop or destination.
Energy App
A great way to track your energy usage on a long trip is by using the graph in the Energy app.
The energy app will also use these new predictions and will now more accurately display the predicted energy curve.
The energy graph displays two graphs. Your predicted energy usage and your actual energy usage. You may sometimes see your vehicle performing worse or better than the prediction. With 2022.16, these graphs should be even more similar, as the predictions have become more accurate.
Before 2022.16, if you were driving against a headwind, it was possible to use significantly more energy than anticipated, but those instances should be far reduced now.
The energy graphs are still a great way to keep tabs on your energy usage on a long trip and a reliable way to see how your car is performing compared to its prediction.
The Energy app is available on all Teslas, except the new Model S and Model X. Tesla appears to still be tweaking the app to work on the larger display, but there is a little workaround to get it to work.
If you have a new Model S or Model X, you can access the Energy app by using the voice command 'Open Energy'.
Increasing Range
There are several ways to increase the range of your Tesla's energy consumption with or without the Navigation Energy Prediction enhancements.
These include driving in Chill Mode and using Speed Assist to monitor bursts of speed. Tesla also encourages users to understand how to control the accelerator pedal to slow down instead of using the brake pedal.
Then, of course, regenerative braking slows the car and puts energy back into the battery. Drivers can also reduce the use of creature comforts such as heat, air conditioning, driver assistance, and even the Toy Box.
However, Caraoke is a must for long trips, so you may want to better plan your route by using the Energy app.
This action ensures you can sing all the tunes you want to entertain, or annoy, your passengers.