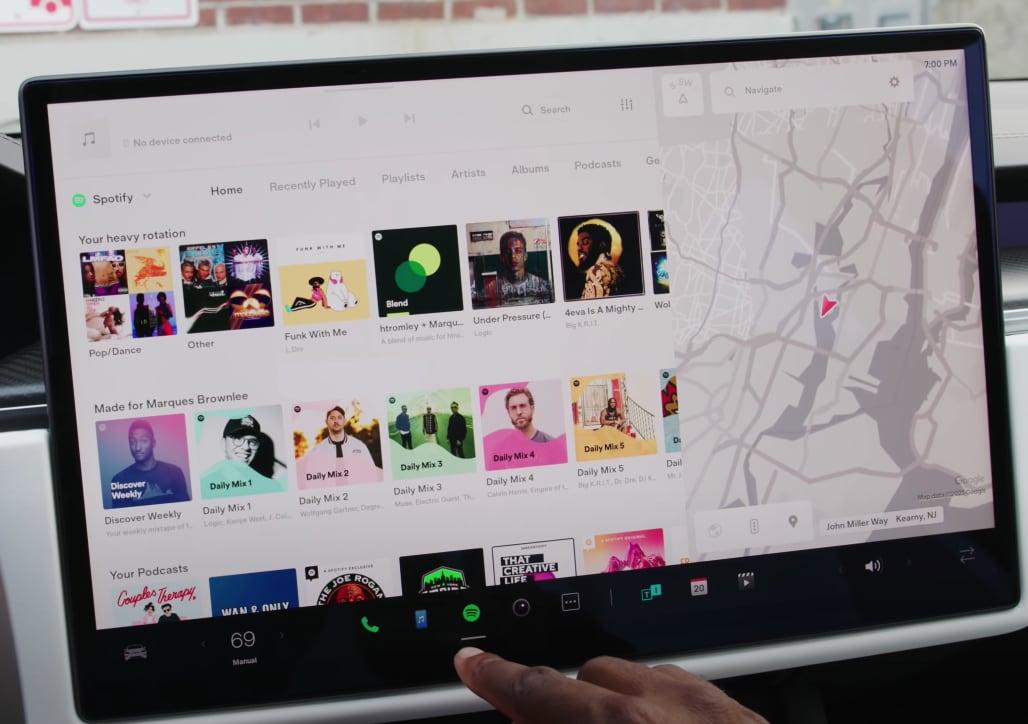 A welcome feature that allows Tesla driver profiles to independently control their streaming accounts has dropped as part of software update 2022.16.
Tesla introduced their Spotify integration in 2019, delighting premium Spotify users with a seamless streaming experience that enabled users to log in and easily stream their playlists.
But, for owners sharing a Tesla with multiple driver profiles, it required users to login in and out of their respective accounts if they wanted to view their own playlists, song likes, and suggested content.
This led many owners to create a separate shared Tesla Spotify account that would be shared for everyone in the vehicle.
Thankfully, taking pity on the countless users stuck listening to their significant other's playlists, Tesla has now tied streaming account logins to driver profiles.
Users have begun to note that the differentiated account experience works with the other streaming services available on Tesla like TIDAL.
There are no new menus or options to set. When you log in to Spotify or another music service, your car will now simply remember that login should be used for the current driver profile.
This does not yet work for video streaming services like YouTube since those are essentially web pages, but we hope that Tesla can separate out more user specific information like browser data in the future.
While Tesla drivers are undoubtedly thankful for the integration of multiple streaming profiles, one cannot help but wonder if Tesla will get around to the other popular streaming services believed to be coming in future updates.
Apple Music, the second most popular music streaming service, remains absent from the streaming lineup.
Amazon Music, a close third-place finisher, also misses the cut. If the rumored Tesla App Store is on track for deployment before the first Cybertrucks, there is hope that additional music streaming apps will appear as Tesla opens up their software to others.
It should be noted that workarounds exist for playing content from excluded streaming services like Pandora, Apple Music, Amazon Music, Youtube Music, etc. through the use of Bluetooth streaming.
Audiophiles would point out that the act of streaming via Bluetooth degrades the quality of the music to compress the data stream for wireless transmission.
You can also store music on a USB drive to play directly in your car, but there's no doubt that streaming music directly in your Tesla is the most convenient way, even if it requires Tesla's Premium Connectivity.
Dedicated Tesla streaming integrations ensure a higher-quality stream. For now, Tesla owners are just thankful they don't have to listen to their co-owner's German Techno Spotify playlist on repeat ever again.