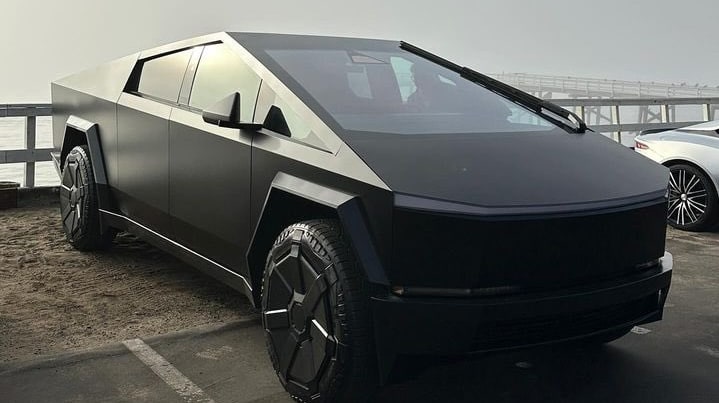 The Tesla Cybertruck was on display in Malibu on Sunday. It wasn't the stainless steel beast that was catching rays. No, Tesla's Chief designer, Franz von Holzhausen, went for a Sunday drive in a matte black Cybertruck.
Remember when "experts" thought the Cybertruck appeal would wear off because there would be too many that look alike? Well, the wrap game changes all of that, and Tesla has done a great job demonstrating that over the past few months.
The Aesthetic Array of Cybertruck Wraps
Since its unveiling, the Cybertruck has promised a departure from the mundane, and the various wraps spotted recently solidify this claim. Here are some of the unique skins that have adorned the Cybertruck's angular frame:
Matte Black: Sleek and undeniably badass, the matte black wrap gives the Cybertruck a stealthier yet distinguished presence.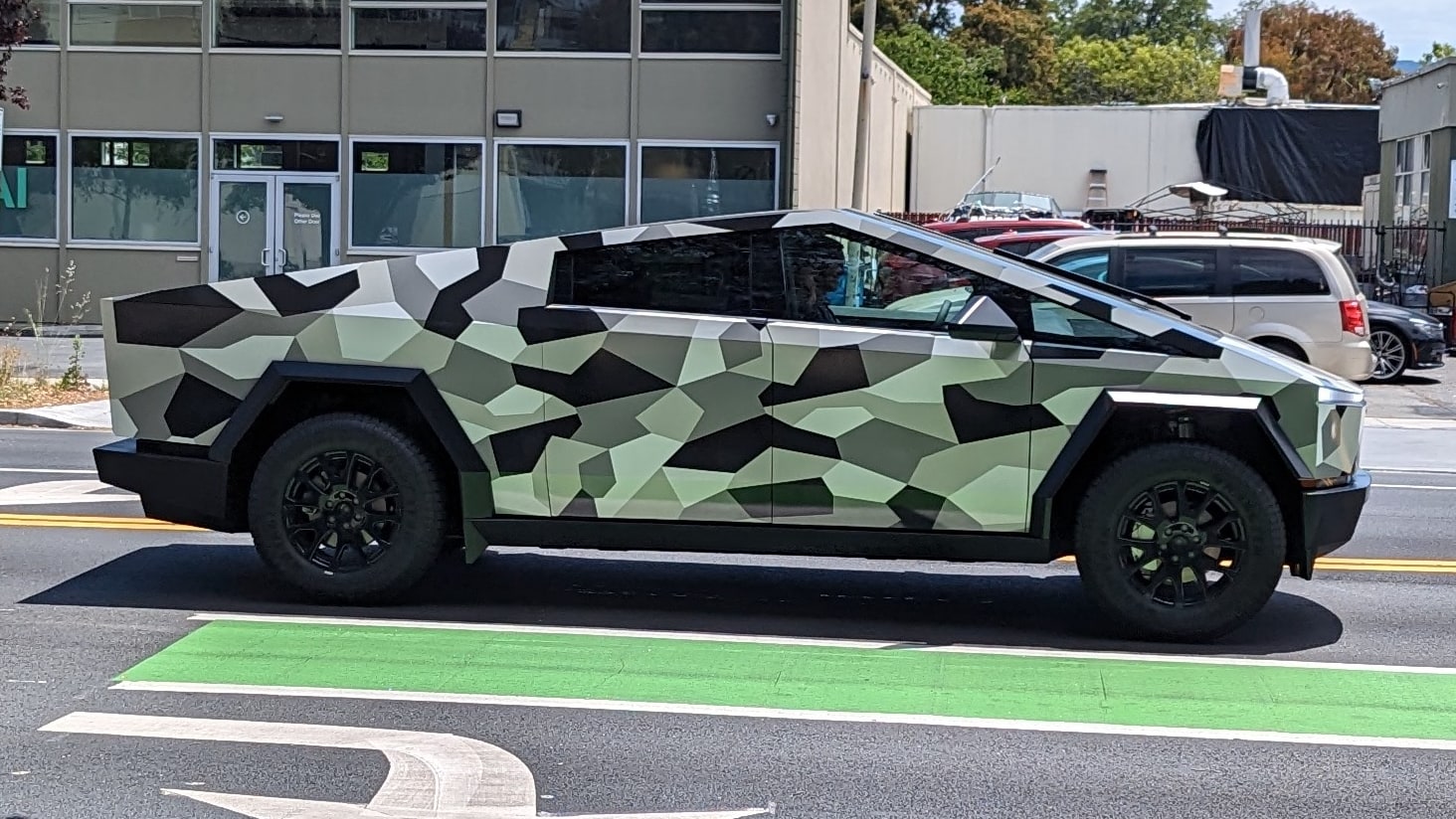 Camo: For those looking to blend in (or stand out), camo wraps take the Cybertruck from an urban warrior to a potential wilderness navigator.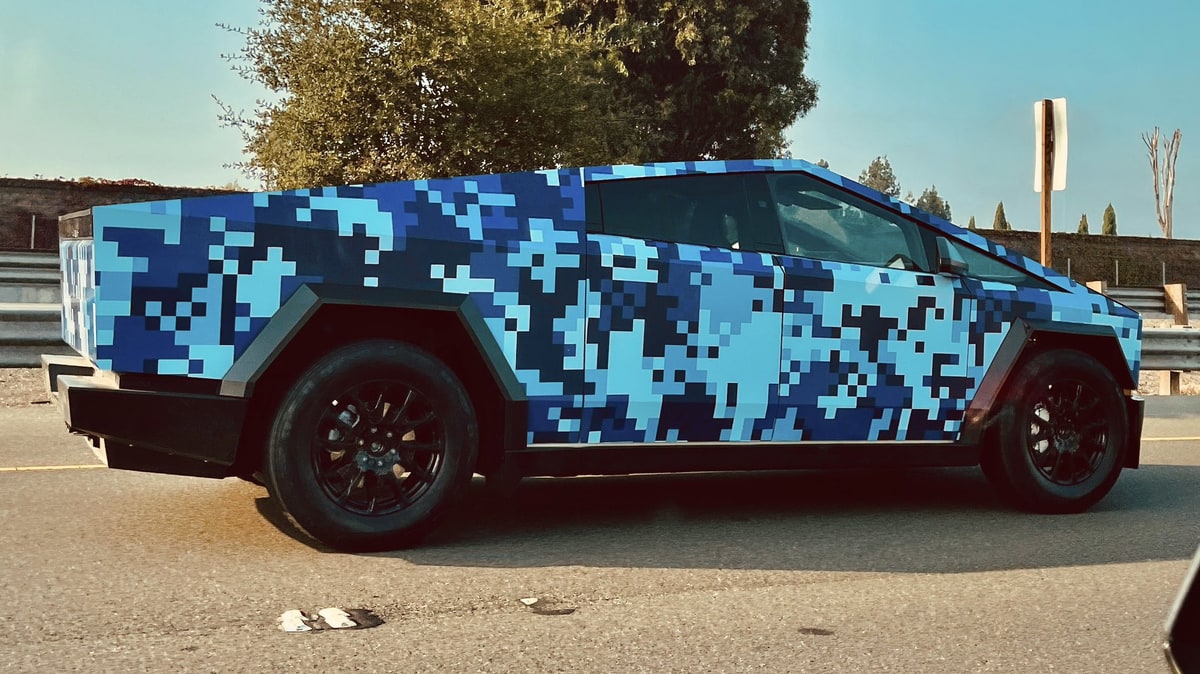 Digital Camo: This option brings a touch of modernity to the classic pattern, offering a pixelated twist on concealment.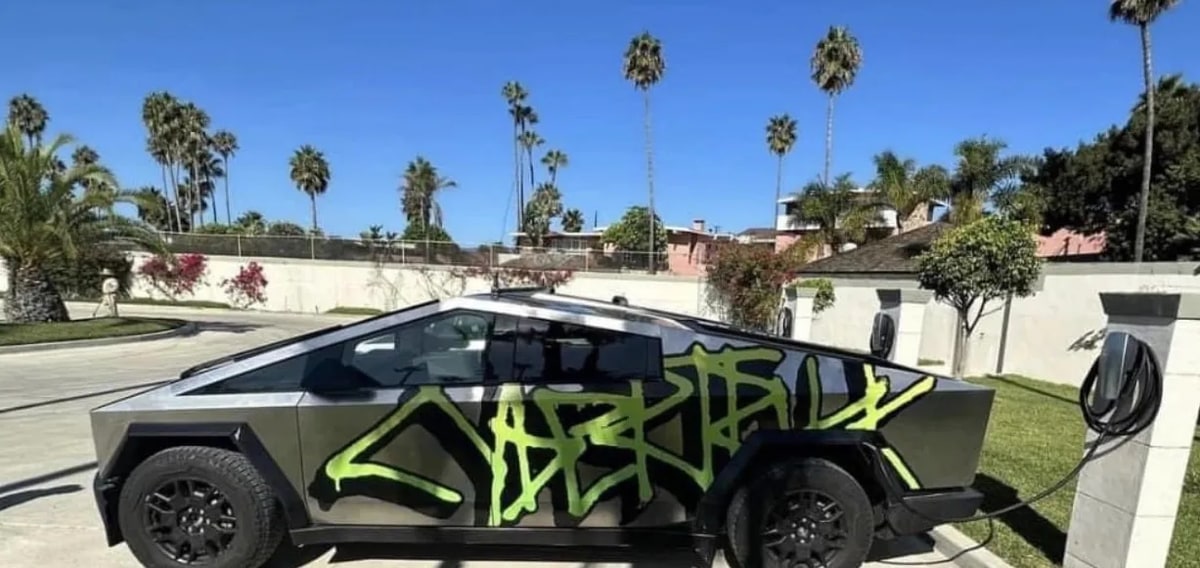 Graffiti: The Cybertruck that took a tour through Baja had a graffiti "Cybertruck" on the side.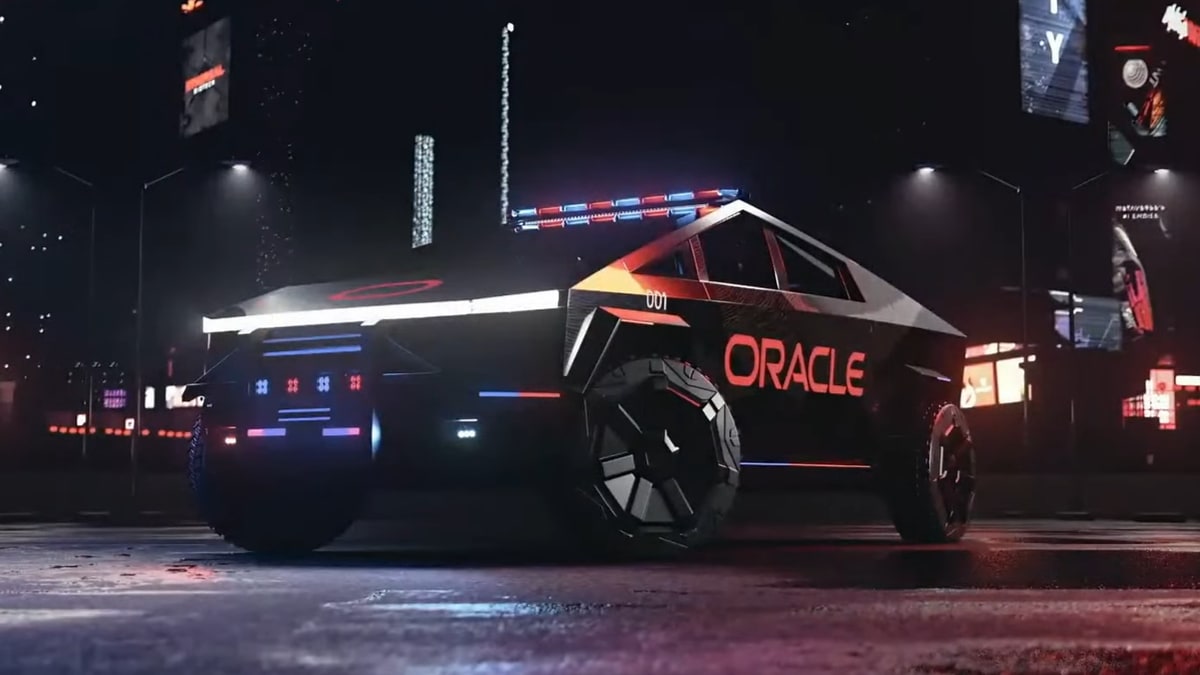 Oracle: Larry Ellison showed just how fantastic a company logo will look on the side and the hood of these futuristic trucks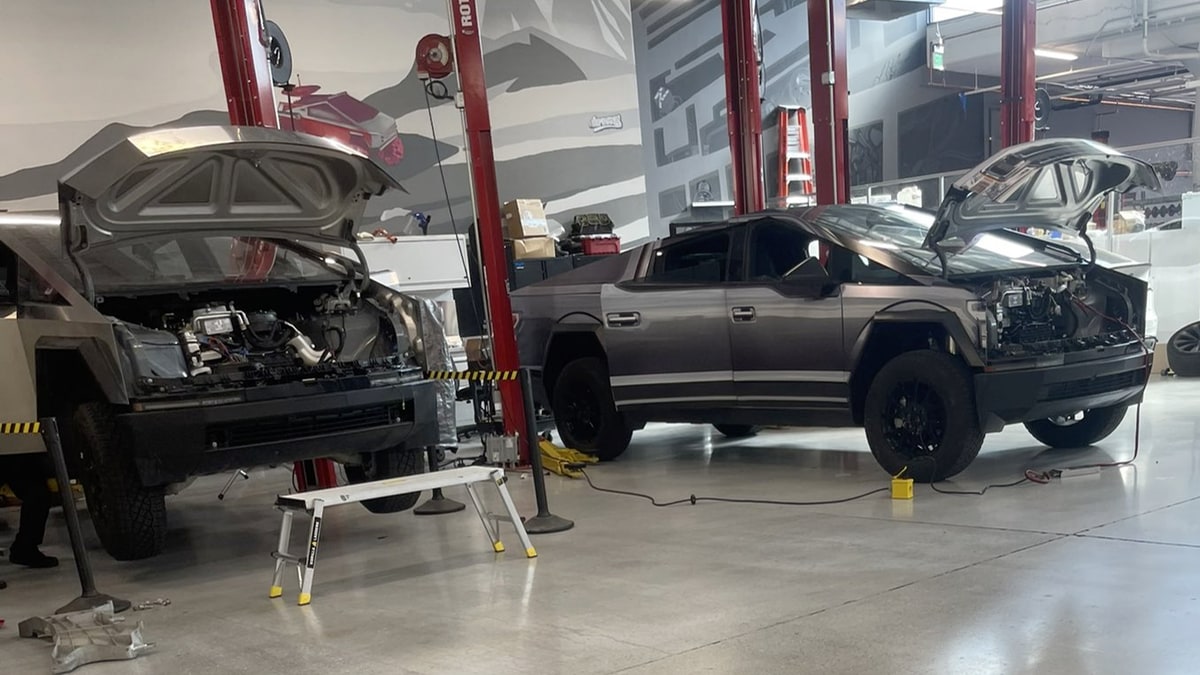 Faux Ford F-150: In an old display of bravado, one wrap mimics the appearance of the Ford F-150, complete with imitated door handles. It's a playful wink at traditional truck designs, perhaps teasing at the Cybertruck's intention to disrupt.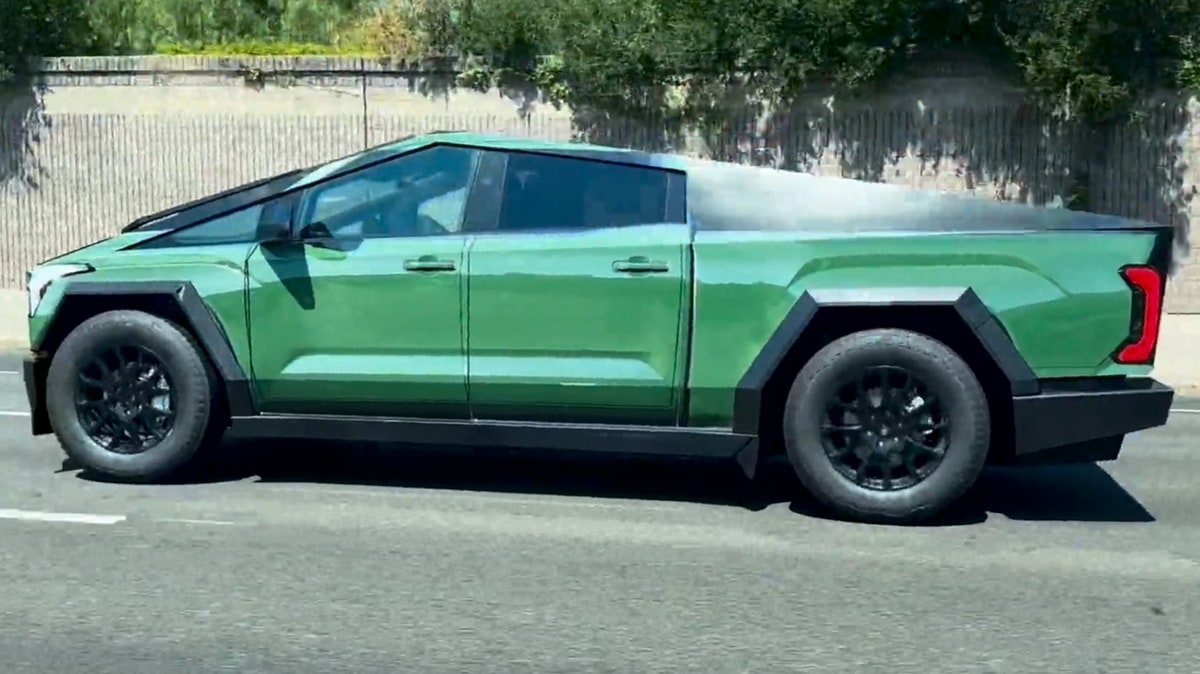 Faux Toyota Tundra: Not to be outdone, Cybertruck has also been spotted with a resemblance to Toyota's Tundra — another old guard truck that will soon be disrupted.
Unique Cybertruck
Adam Jonas, Morgan Stanley's managing director, advised staff to manage expectations for clients excited about investing in Tesla. He listed several reasons for downplaying the Cybertruck, calling it a financial "side-show," a "cultural/zeitgeist," and an "enthusiast/cult car."
The investment advisor called the Cybertruck the "ultimate avant-garde vehicle," believing that the unique aspects of Cybertruck will lose some appeal when there are several on the road, losing that "indescribable something." That argument is dead.
Tesla's Wrap Service: Personalization Meets Protection
Tesla is no stranger to the concept of vehicle wraps. With the Model 3 and Model Y, they've introduced an official wrap service, suggesting that Cybertruck owners may soon have the same option. It's not just about aesthetics; these wraps come with a layer of protection against the elements and the rigors of the road.
From the practical to the peculiar, the wraps we've seen on the Cybertruck suggest that Tesla owners will have no shortage of options to make their electric pickup their own.
Franz driving the Matte Black Cybertruck ? at the Paradise Cove Cars & Coffee. pic.twitter.com/siwk4RJvxY

— Royce Young (@Royce_Young) November 5, 2023