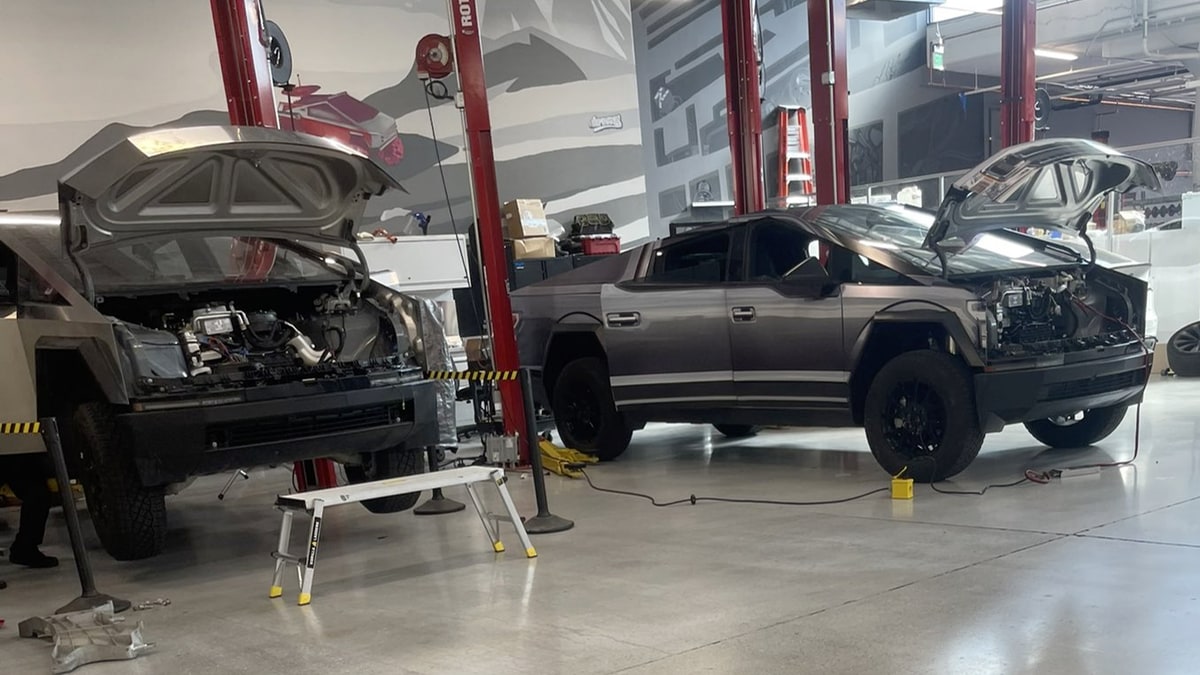 In the ever-evolving saga of Tesla's Cybertruck, the Beast was spotted wearing a few different wraps over the weekend, including one disguised as a Ford F-150. While the Cybertruck's unique stainless steel design is awesome on its own, the wrap may play a bigger role when more of the same colored Cybertrucks are on the road. Is Tesla going to get into the vehicle wrapping business?
Tesla's Cybertruck, known for its one-of-a-kind, metallic, geometric exoskeleton, was initially introduced with just one base color. This led to speculation about the potential monotony of the design over time. However, the recent sightings of wrapped Cybertrucks have laid those doubts to rest, demonstrating the electric pickup's potential as a blank canvas for creativity.
The discovery of a Cybertruck wrap mimicking the iconic Ford F-150, down to faux door handles, has been interpreted as a cheeky nod or a nasty troll of the traditional pickup designs. The numerous other wraps sighted, from camo to multi-colored designs, promise an exciting range of possibilities for customization, allowing customers to make the vehicle truly their own.
Tesla's Wrapping Service in China: The Dawn of Customization
Interestingly, Tesla already operates a wrapping service in China, giving its vehicles a fresh look, to compensate for the limited range of paint options. Announced through their official customer service account on Weibo, the service, initially available in five cities, is set to expand further across the country. While the exact range of color options remains uncertain, the aftermarket industry offers a seemingly infinite array of wraps. It would be fascinating to see Tesla introduce vibrant, multi-colored wraps or intriguing patterns.
These developments, coupled with Elon Musk's earlier assertion that Cybertruck owners would be able to wrap their vehicles in "any color or pattern," suggest that Tesla could be gearing up to offer a similar service in North America. If true, this could revolutionize the vehicle customization landscape while ensuring Cybertruck's uniqueness in an expanding fleet of EVs.
Vehicle Customization: The Future of Tesla?

Introducing a wrapping service could mitigate criticisms about the lack of color variety in Tesla vehicles. It would not only uphold Tesla's streamlining efforts for more efficient production and easier repairs, but also allow customers to personalize their Cybertrucks, adding a touch of individuality to each vehicle.
As Tesla edges closer to the production date of the Cybertruck, these developments hint at a thrilling era of customizable EVs, transforming each vehicle into a statement of personal style. Whether teasing competitors with playful disguises or revolutionizing vehicle customization, the Tesla Cybertruck is set to maintain its groundbreaking status in the automotive world.
Smaller Than Expected Frunk
This new image of the Cybertruck also gives us our best look yet into the Cybertruck's frunk.
It's hard to say for certain, but given what we see in this new photo, the Cybertruck may offer the smallest frunk of any Tesla. It may not be surprising given its smaller front end, but it's certainly going to be a disappointment to some. Ford's electric pickup, the F150 Lightning offers a massive frunk that rivals the trunk size of many vehicles.
However, future Cybertruck owners aren't buying this vehicle for its frunk size, and in fact, Musk recently announced some impressive dimensions for their future pickup, declaring it'll be the "first truck that we're aware of that will have four doors over a six-foot bed and will fit into a 20-foot garage."