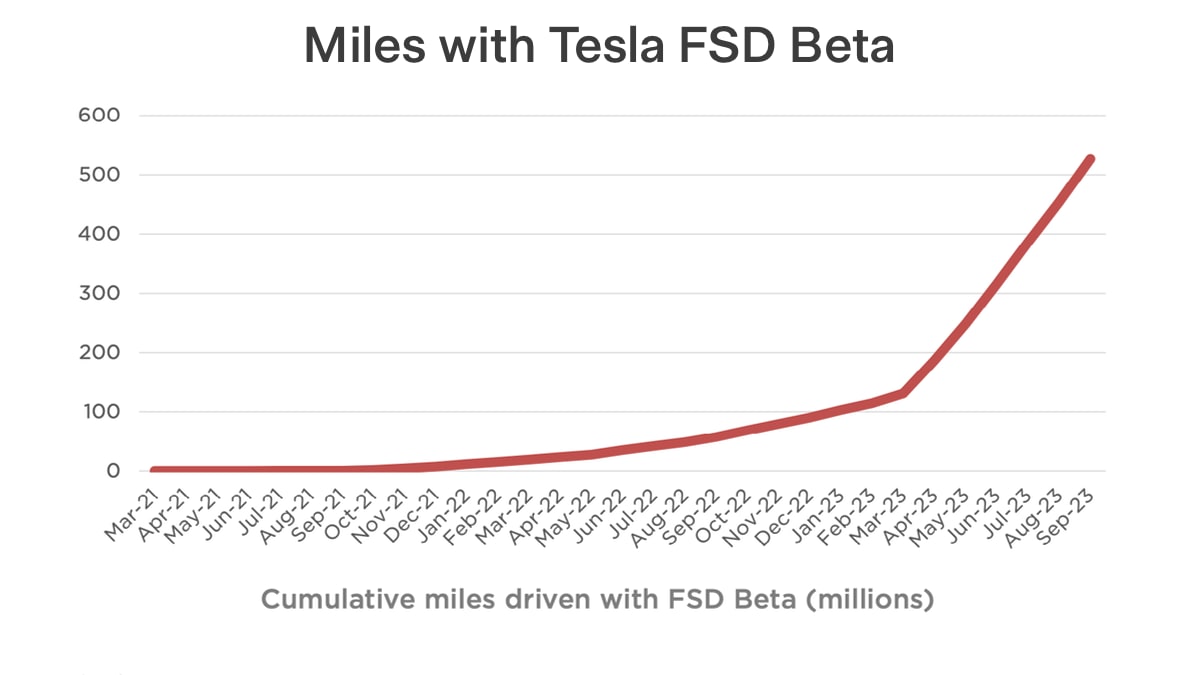 Tesla's relentless pursuit of full self-driving (FSD) technology and the broader implications of its AI initiatives garnered a lot of attention during the 2023 third-quarter earnings call - and for good reason. While the term "game-changer" is often thrown around, autonomous vehicles are worthy of that title.
FSD Beta 11.4.7.3 Gets Released
Yesterday Tesla released its latest FSD Beta, v11.4.7.3, internally to some of its employees. However, just a day later, we're now seeing this newest beta go out to some customers.
This latest update appears to only include bug fixes to FSD as the release notes remain the same as v11.4.7.2. However, as Tesla continues fixing bugs with FSD Beta in these latest builds, we may see an iteration of v11.4.7 go into the main production builds, which currently include a slightly older build of FSD Beta, v11.4.4.
Milestones in FSD Beta
Tesla vehicles have now covered a staggering 0.5 billion miles using FSD beta, underlining a significant data repository the company has been collecting. This treasure trove of real-world data is pivotal for refining and enhancing AI-driven systems.
To expedite AI training and realize FSD targets, Tesla has activated a 10,000 GPU cluster of H100s. This impressive infrastructure is operationalized at a speed that sets industry benchmarks.
Understanding FSD Version 12
Musk unveiled insights about FSD version 12, an "end-to-end AI." He explained the concept of "photon in, controls out," comparing the mechanism to human optics. This perspective reflects Tesla's drive to emulate human-like decision-making in its vehicles.
Terming Tesla's AI system as a "Baby AGI" (Artificial General Intelligence), Musk emphasized the system's necessity to operate and comprehend reality, signifying a more profound philosophical approach to AI-driven autonomy.
Revised FSD Pricing: A Strategy Unveiled
Tesla's recent decision to adjust the FSD price downward raised eyebrows. However, Musk clarified that this price is a "temporary low," hinting at future escalations in pricing commensurate with the system's value and advancements (FSD price history).
With other automakers, like Mercedes, stepping into the autonomous driving arena and accepting associated liabilities, Tesla delineated its position. The company highlighted Tesla's system's superior adaptability and versatility, drawing attention to its commitment to safety and legal considerations.
International Expansion Challenges
Tesla's strategic decision to limit the Neural net path planning system to North America currently stems from wanting to perfect the system before navigating rigorous global approval processes. The company's approach is to prioritize quality and safety over rapid, global deployment.
In a rare moment, Musk said, "I apologize it's not in those countries, but we keep plenty of ways to make it better. And it needs to drive such that it exceeds the — even unsupervised, significantly exceeds the probability of entry of a human or significantly better, a lower probability of entry than a human by far. I think we're tracking to that point very quickly."
Musk was explicit about the transformative role of AI and FSD in Tesla's future. Achieving autonomous vehicles and creating humanoid robots could potentially skyrocket Tesla's valuation, marking it as the preeminent company on a global scale.