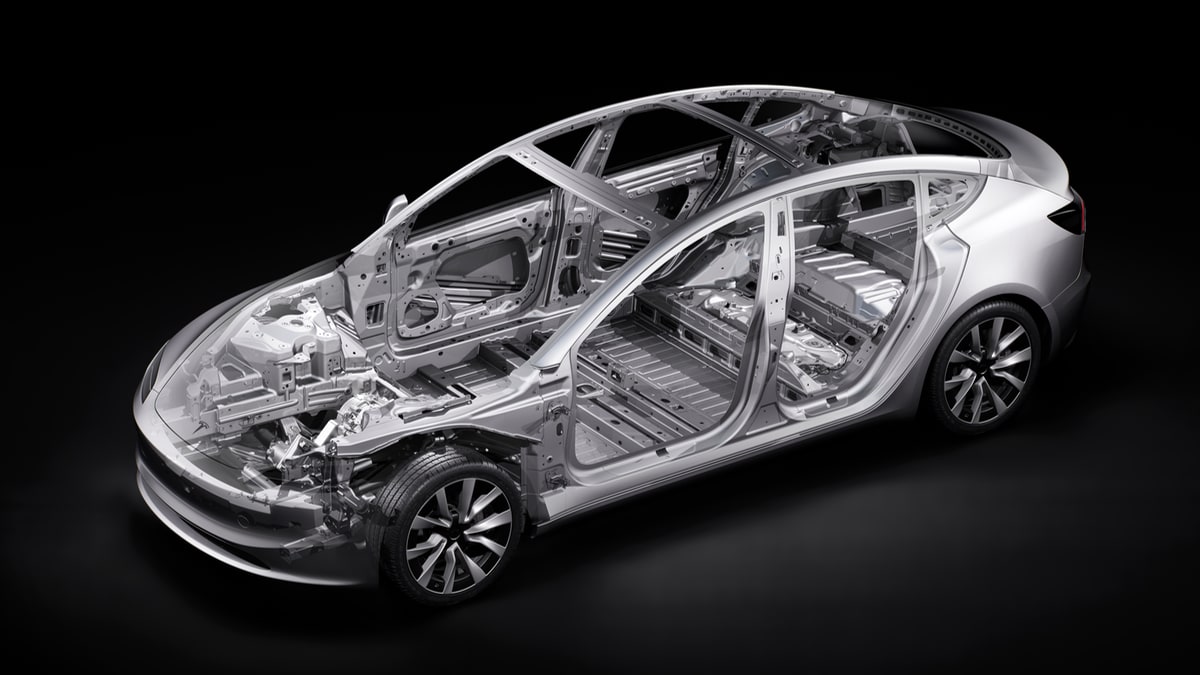 The 2024 Tesla Model 3, also known as the Highland or refreshed Model 3, introduced several refinements and enhancements that bring it to a new level. The advancements include a new front and back appearance, new rims, a completely redesigned interior, no stalks, ambient lighting, and so on. Some things are bound to slip under the radar, like the magnetic glove box and the improved suspension.
A detailed video by Tesla's engineering team in China explained several improvements, most of which we have covered. However, we haven't heard of the innovative "frequency selective damping" technology integrated into the Model 3's suspension system.
Selective Frequency Dampening: A Leap Forward
Tesla's introduction of frequency selective damping technology significantly enhances ride quality while preserving the car's dynamic handling. Based on KONI's patented design, this technology operates by adjusting damping forces according to the frequency of the suspension movement. High-frequency movements, typically caused by road irregularities, are dampened less, improving ride comfort, while low-frequency movements, associated with aggressive driving and cornering, are dampened more, ensuring optimal handling.
Addressing the age-old compromise between comfort and handling, selective frequency dampening emerges as a game-changer. Traditional shock absorbers face limitations, unable to provide the dual benefit of comfort and performance. Tesla's integration of this technology demonstrates a pivotal solution, offering a seamless driving experience that adjusts to both the driver's demands and the road's imperfections.
Community Anticipation and Reception:
Several Tesla owners have previously sought aftermarket solutions to enhance their ride experience. Users on Tesla Motors Club have expressed satisfaction with Koni's products, noting improvements in ride comfort, handling, and even an increase in range. The anticipation for the brand's adjustable models and integration into Model 3 and Model Y highlights the community's desire for customizable ride dynamics.
The Tesla community was incredibly excited about introducing Koni Reds, boasting frequency selective damping, which was met with enthusiasm, and users reported enhanced comfort, reduced noise, and improved handling, affirming the technology's potential.
The new Model 3, equipped with selective frequency dampening, is expected to start hitting roadways around the globe later this year. However, there is still no date for when we can expect the new Model 3 in North America.
Tesla's incorporation of frequency selective damping in the new Model 3 exemplifies innovation in addressing ride comfort and handling. This technology and other enhancements like dual-pane glass for noise reduction signify Tesla's commitment to delivering an unparalleled driving experience.
Testing the upgraded Model 3 in Shanghai ?

Our goal is to increase the size under the curve of customer happiness�"for example, Model 3 now has double-pane glass all around the vehicle, helping to significantly reduce road & wind noise

We've also added frequency selective… pic.twitter.com/ySLHTvHOQe

— Tesla Europe (@teslaeurope) September 28, 2023