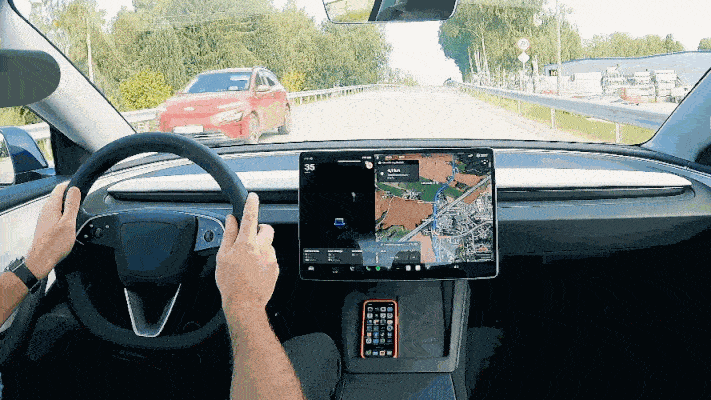 Tesla has finally introduced a blind spot indicator, more than 20 years after the technology was first introduced, but only in the new Model 3. This feature, commonplace in contemporary vehicles and initially integrated by Volvo back in 2001, raises questions on why the innovative company lagged in adopting such a fundamental safety feature, and yet the version it did release seems a little flawed.
Odd Placement and Missing a Vital Element
The implementation of the blind spot indicator has a peculiar placement - tucked away in the speaker grill of the driver's door. While this step marks Tesla's bid to align with a standard safety feature present in other vehicles, it inevitably conjures questions regarding the prudence behind the choice of location. Possibly, a revision in the hardware could have presented an opportunity to explore more ergonomic spots that facilitate easier and quicker reference for the drivers.
Moreover, early reviews and an examination of the European Model 3 owner's manual suggest that the blind spot indicator has only been installed on the driver's side, which seems nonsensical considering the equal prominence of blind spots on the passenger side. It appears somewhat unbalanced and potentially neglects the safety concerns of changing lanes or turning in the opposite direction.
Blind Spot Indicator in Action
In the video below by Automobile Propre, you can see Tesla's blind spot indicator light up at the 9-minute, 15-second mark.
Tesla Cameras For Blind Spots
Historically, Tesla relied heavily on its Autopilot camera system, providing visualization features that necessitated drivers to glance at the vehicle's center screen to gauge their blind spots, a system arguably not ideal due to its diversion of the driver's attention from the road. Despite their efforts to improve upon this through the new indicator, whether they've achieved a solution that matches the industry standard set by many other automakers years ago is questionable.
However, it's undeniable that Tesla has attempted to create a comprehensive blind spot assist system, including features such as an automatic blind spot camera and a blind spot collision warning chime. These add-ons indicate that Tesla aims to offer a multi-faceted assistive system, primarily focusing on auditory and visual screen alerts rather than physical indicators, maintaining its penchant for tech-heavy solutions.
What is clear is that Tesla has responded to a long-standing request, although not with an earth-shattering innovation but with a feature that has been standard for many years in the automotive industry. While the effort is commendable, one cannot overlook that it comes with a shade of playing catch-up and carries with it a slew of questions concerning the execution of the feature in terms of its placement and partial implementation. Perhaps a birds-eye 360 view is next?