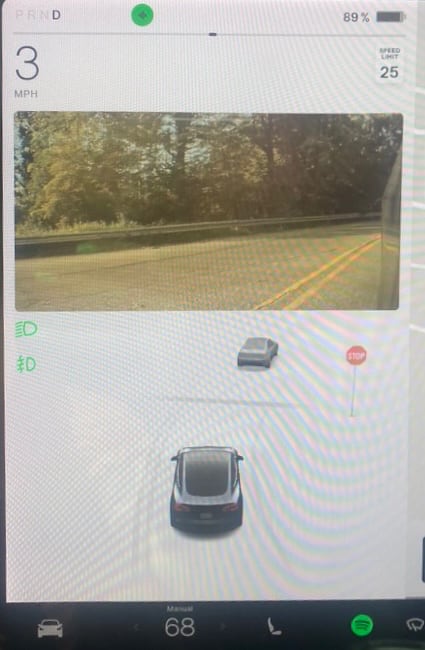 Tesla's newest update 2022.24 is now in the beginning stages of rolling out.
While it's still early and it may be several weeks before your vehicle receives the update, we're now hearing about some of the first features in this update.
Tesla introduced its Blind Spot Camera feature in late 2021 with the holiday update.
Blind Spot Camera lets you display your vehicle's fender camera feed displayed directly on the screen when you activate your turn signal.
This is the same camera view that can be displayed when you put your car into reverse.
In Model 3 and Model Y, the blind spot camera feed normally appears in the bottom left corner of the screen. While this keeps it close to the driver, it is obscured by your hand or the steering wheel at times.
With update 2022.24 Tesla is fixing this. Not only is Tesla improving the location of the Blind Spot Camera, but they're going to let you choose its location.
You'll be able to choose whether the Blind Spot Camera appears in its original bottom left location, or you'll be able to change it so that it appears at the bottom right corner, top right, or even the top left corner of the screen.
Update: It looks like you'll be able to pick from three different positions, instead of four. The bottom corner closest to the steering wheel, the top corner closest to the steering wheel or in the top corner of the maps area, closer to the driver.
Blind Spot Camera in Action
To choose your preferred position you'll simply drag the Blind Spot Camera feed and the three selectable areas will be highlighted. To choose one, you'll simply drag the feed to your preferred location.
This slight improvement is going to make the Blind Spot Camera much more convenient for a lot of owners and it's sure to be one of the most exciting features in Tesla's 2022.24 update.
Thanks to a loyal reader for this information. More information about Tesla's 2022.24 to come soon.
Tesla's 2022.24 update also includes themuch awaited for cloud profiles.