Details
Release Date
July 27, 2022
An early look at some of the features in this update.
Blind Spot Camera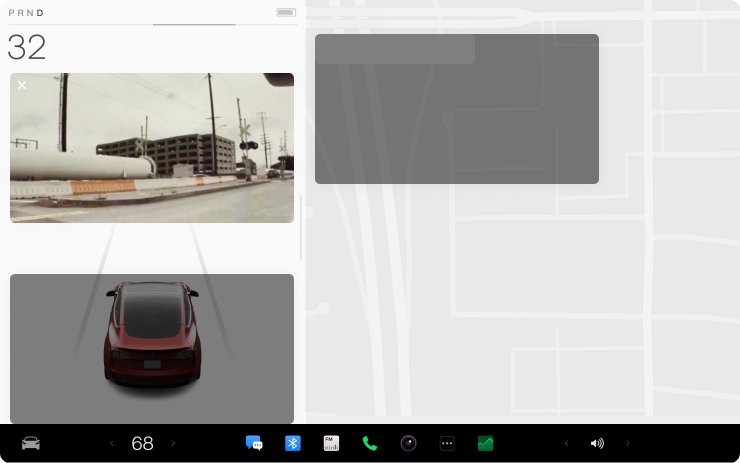 Adjust the placement of your blind spot camera on your display by dragging the camera feed. The camera feed will appear in the same position when your blinker is active. To enable, tap Controls > Autopilot > Automatic Blind Spot Camera.
Tesla Profiles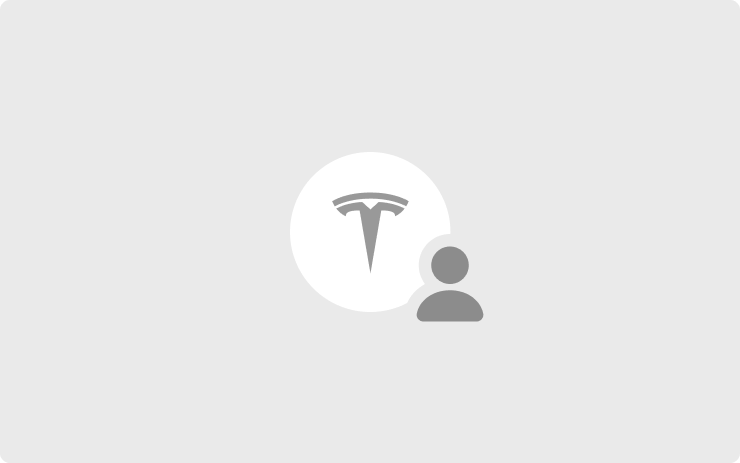 Keep your settings and preferences synchronized across all supported vehicles using your Tesla account, including:
- Mirror, seating and steering wheel adjustments
- Autopilot, driving and climate control preferences
- Navigation, media and data sharing preferences
You can set up your Tesla Profile from Driver Profile settings and change your profile picture from the Tesla Mobile app.
Traffic Along Route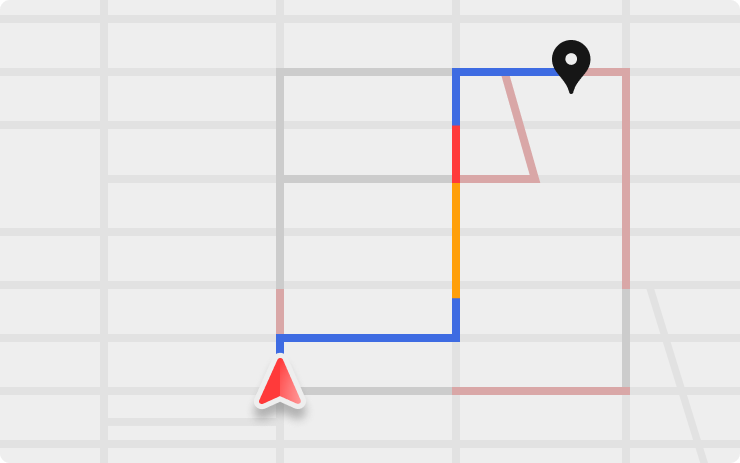 Any slow traffic conditions along your navigation route are now shown prominently as part of the route line on the map Note: This feature requires Premium Connectivity.
Disable Sentry Sounds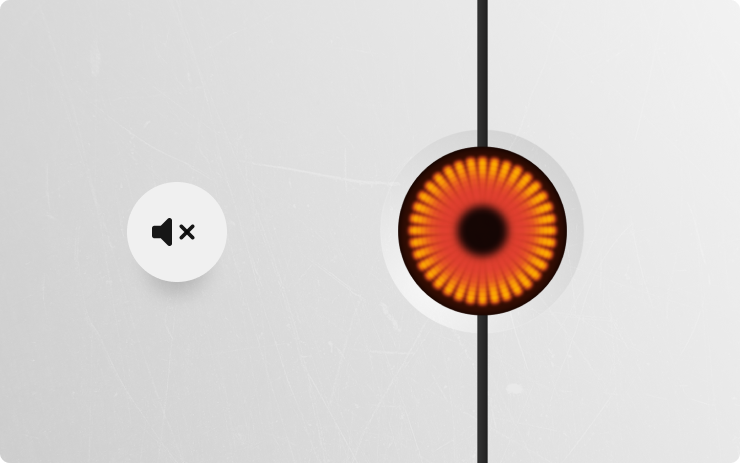 To prevent disturbing neighbors, you can now disable the sounds made by Sentry Mode. Mobile app notifications will still be delivered. To enable this setting on the touchscreen, tap Controls > Safety > Sentry Mode > Disable Sentry Sounds.
Driver Profiles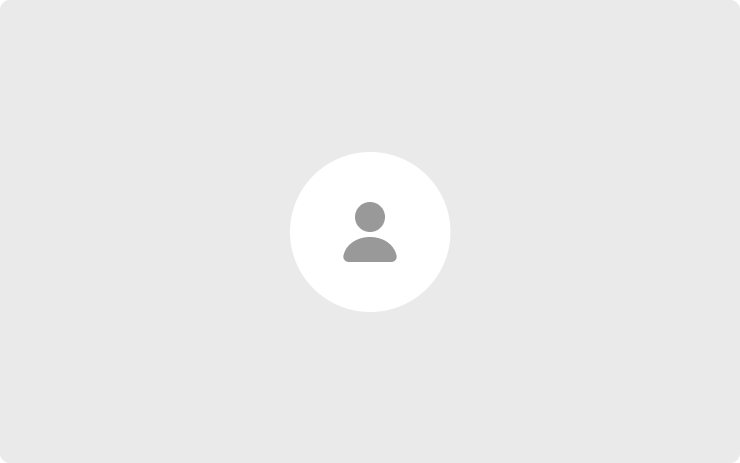 Available Worldwide
MCU 2
MCU 3
Any navigation recents or favorites will now be saved to the active driver profile.
Auto Rear Climate Controls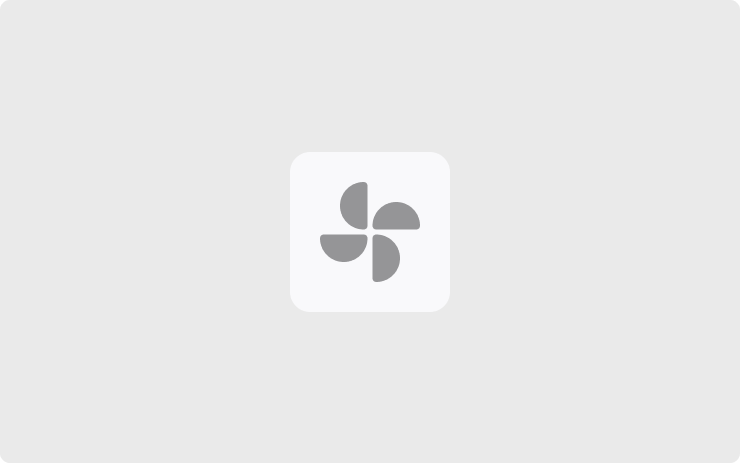 Rear climate controls can now be set to Auto. Tap on the climate icon > Auto on the rear screen, or Rear > Auto on the center display climate popup. When Auto mode is enabled, the fan speeds will adjust automatically in order to reach the desired temperature.
Additional Bottom Bar Customization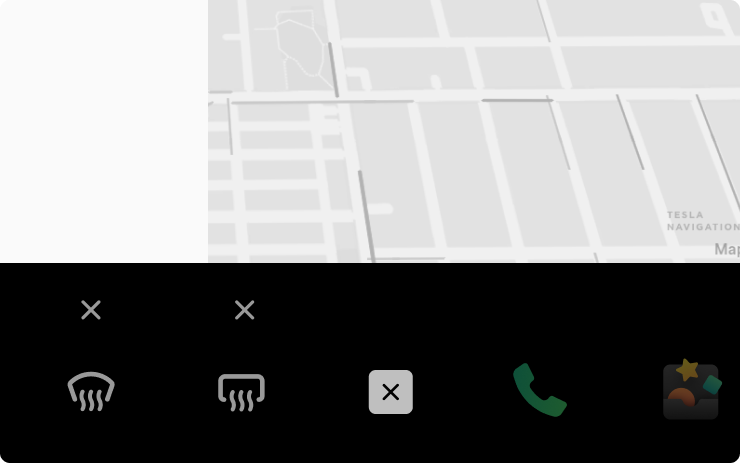 You can now add vehicle controls such as defrost, windshield wipers and seat heaters to the bottom bar. Long press any app icon to enter edit mode, then drag the desired control to the bottom bar.
Regenerative Braking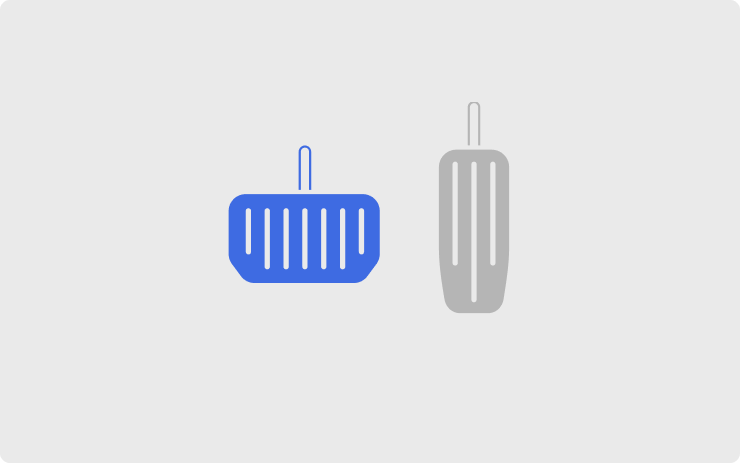 Your vehicle can now automatically apply regular brakes for consistent deceleration when regenerative braking is limited due to battery temperature or state of charge. To enable, tap Controls > Pedals & Steering > Apply Brakes When Regenerative Braking Is Limited.
Turn Signals
Available Worldwide
Undocumented Change
In order to create additional room for the Blind Spot Camera, the vehicle's turn signals have moved up to the top of the screen. They're now located above the regeneration/acceleration line and will appear between the gear indicator and battery icon.
GPS Directions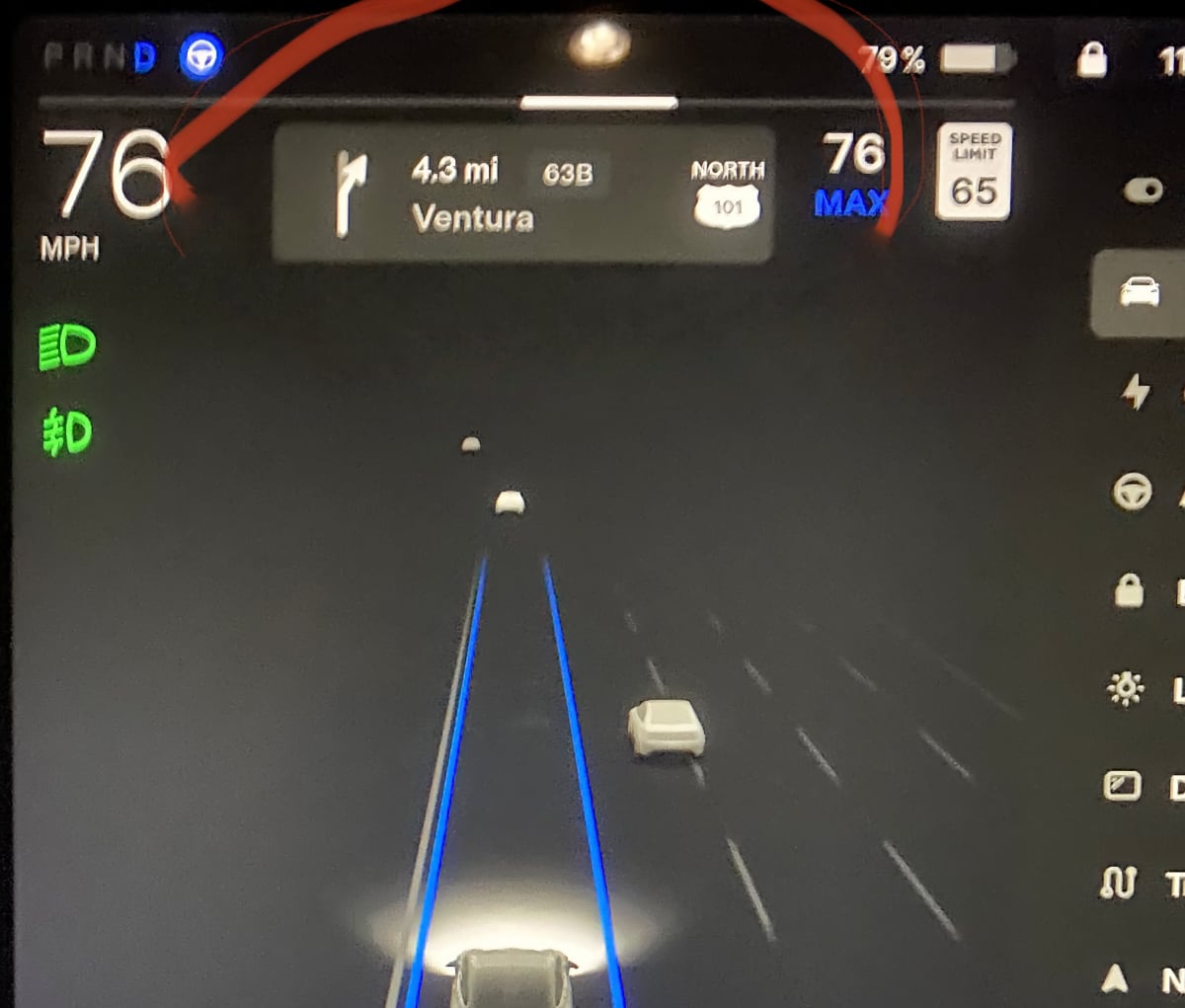 Available Worldwide
Undocumented Change
When the vehicle's navigation is active and the maps are covered with another application, the next step in the directions will now be shown at the top left corner of the screen, instead of the bottom left corner.
Photo by @ aestheticsjess
Tire Pressure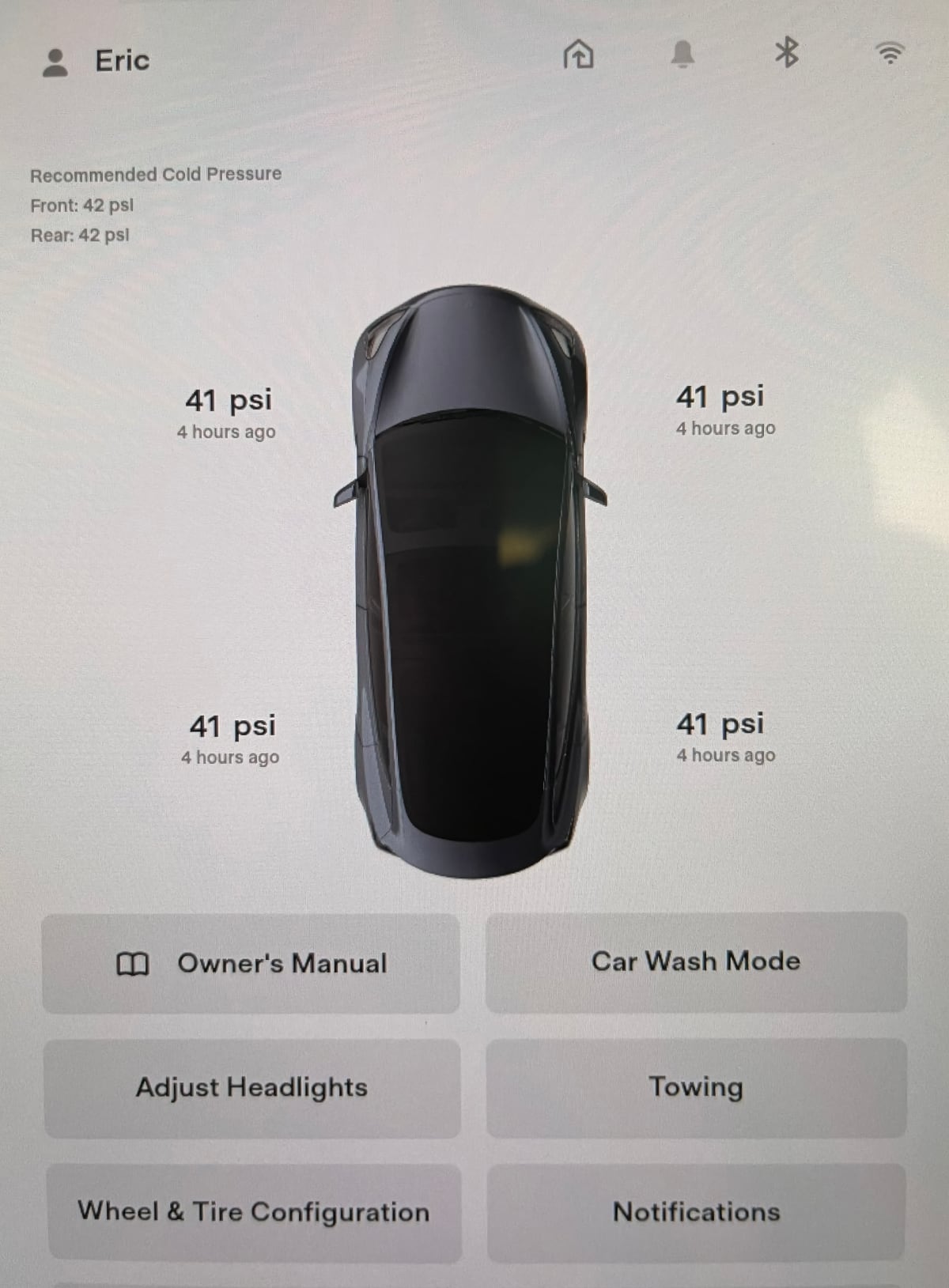 Available Worldwide
Undocumented Change
Since tire pressure data is only sent while wheels are in motion, the Service section under Controls will now display the last known tire pressure for each wheel.
At the top of the screen the recommended cold tire pressure will also be displayed for the front and rear wheels.
Photo by @Eric5un
Uninstall Games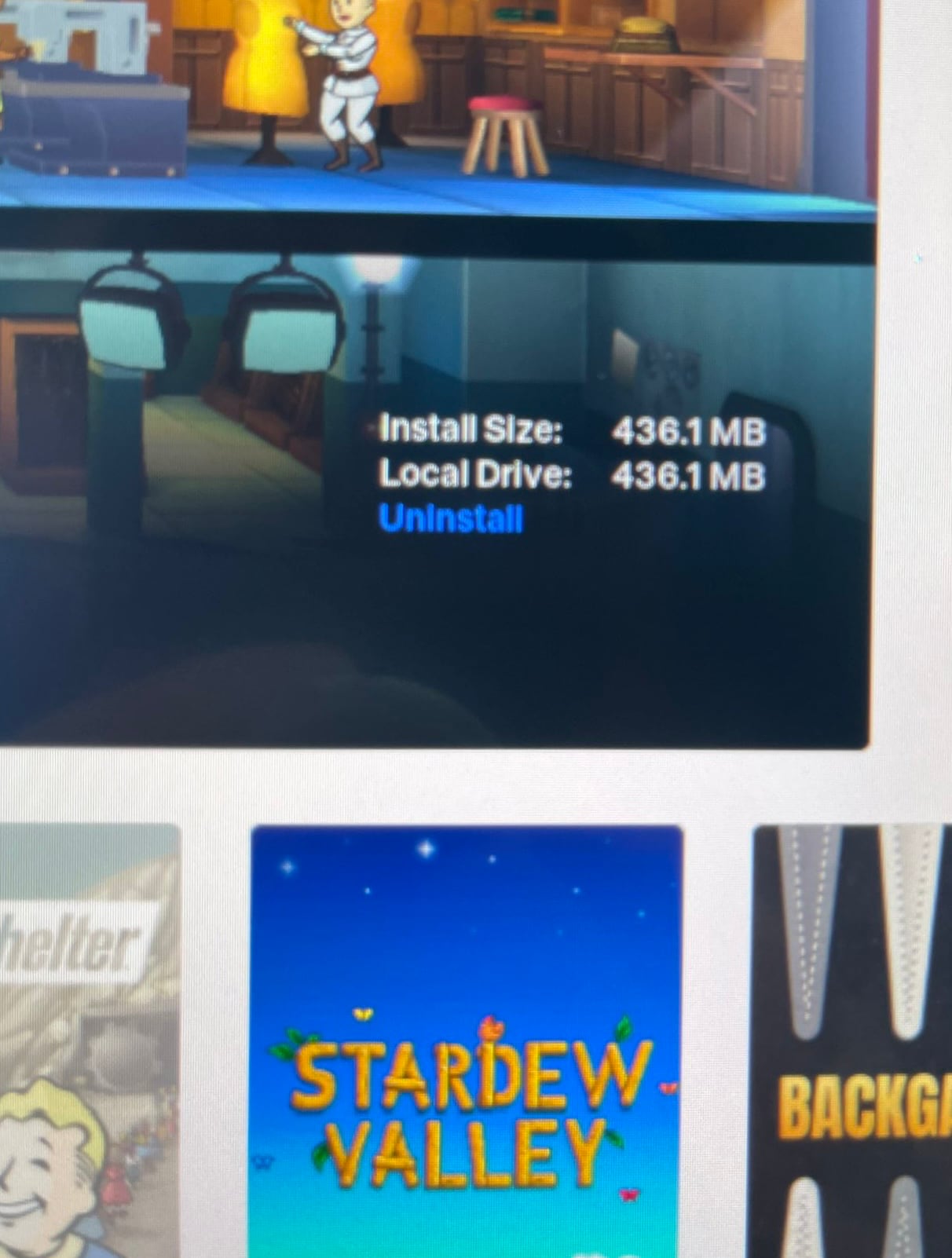 Available Worldwide
Undocumented Change
You can now uninstall individual games, freeing up space on the vehicle's internal drive. In addition to uninstalling games, you can also view the size of each game and which drive they're installed on.
Photo by @Eric5un
This is an early look at this update's release notes and additional features may be available for specific vehicles or regions.
Multiplayer Vampire Survivors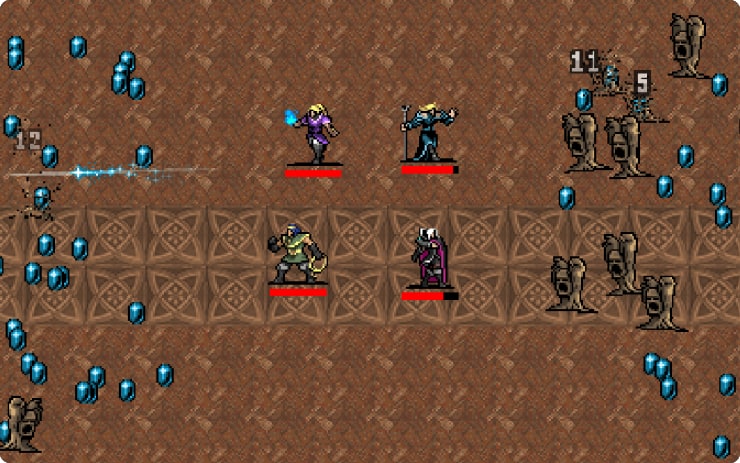 Team up to mow down swarms of the undead, with co-op gameplay for up to four passengers.
To play, shift to Park (P) and go to the App Launcher > Arcade > Vampire Survivors. Requires one controller per player.
Location Sharing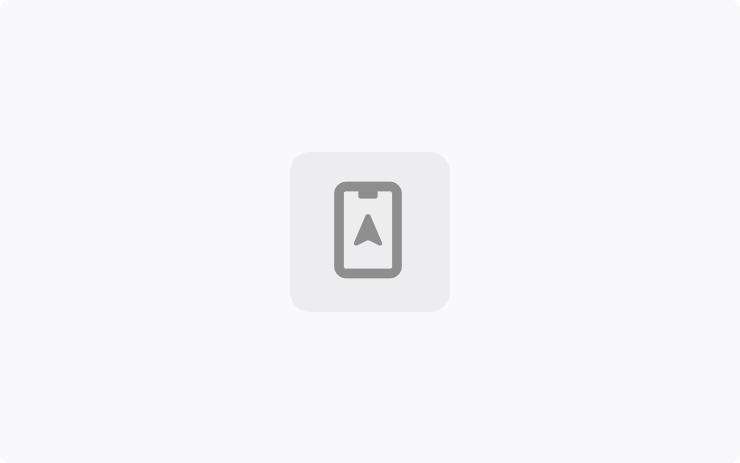 An icon appears at the top of your touchscreen when an app requests your vehicle's live location data.
You can turn off sharing at Controls > Safety > Allow Mobile Access. This also turns off Tesla app access.
When this setting is on, your vehicle communicates directly with the Tesla app and other apps, but Tesla doesn't track your location (see tesla.com/privacy).
Windows During Update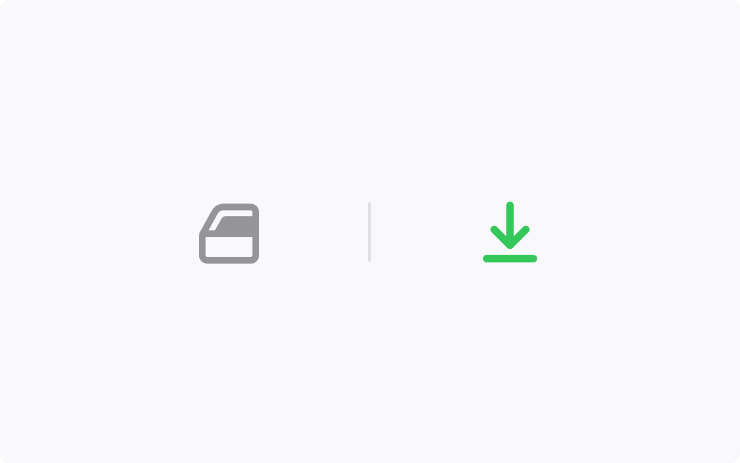 During a vehicle software update, the windows may adjust minimally, so doors can open and close more easily. Windows will return to position after the update.
Please check back shortly. If you have received 2022.24, you can share release notes with us below.
Hebrew Language Added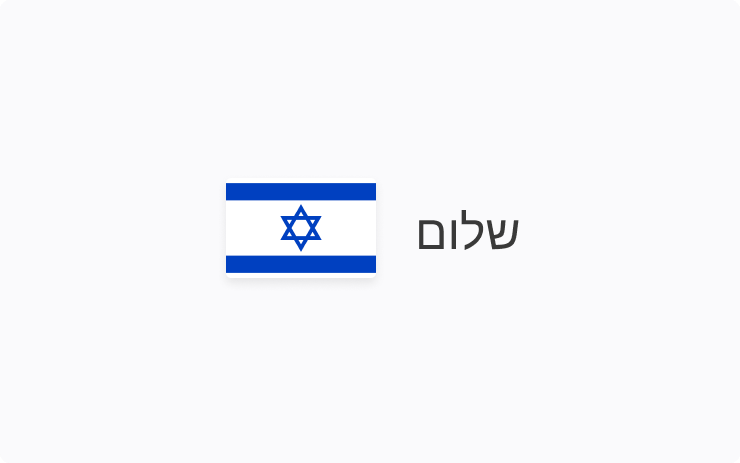 You can now choose Hebrew as your touchscreen language.
To change the language, shift into Park, and go to Controls > Display > Touchscreen Language.
Improved Autopilot Visualizations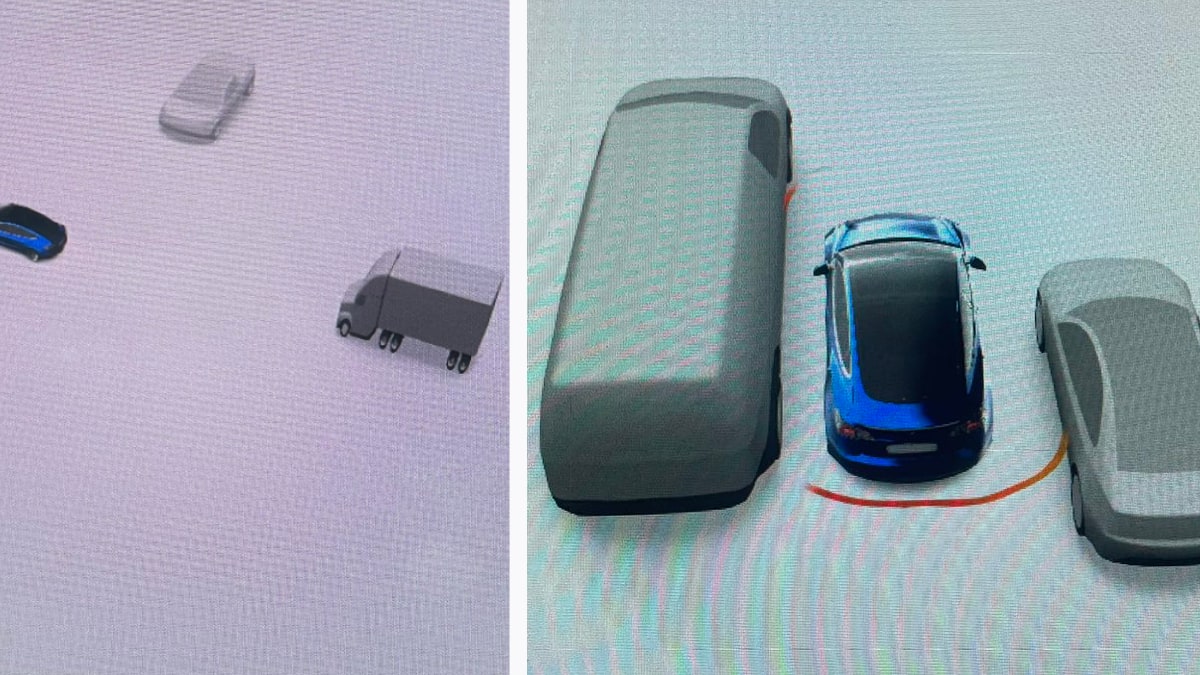 Available Worldwide
Undocumented Change
Autopilot visualizations (non-FSD) now include some features that were previously only available on FSD Beta.
Improvements include dynamic vehicle sizing and open door visualizations. The vehicle will now determine the width, height and length of each vehicle in its surroundings and size the 3D model appropriately in the visualization. Open doors will also be displayed in gray or orange, depending on whether they're in the vehicle's path.
Improved Reverse Camera View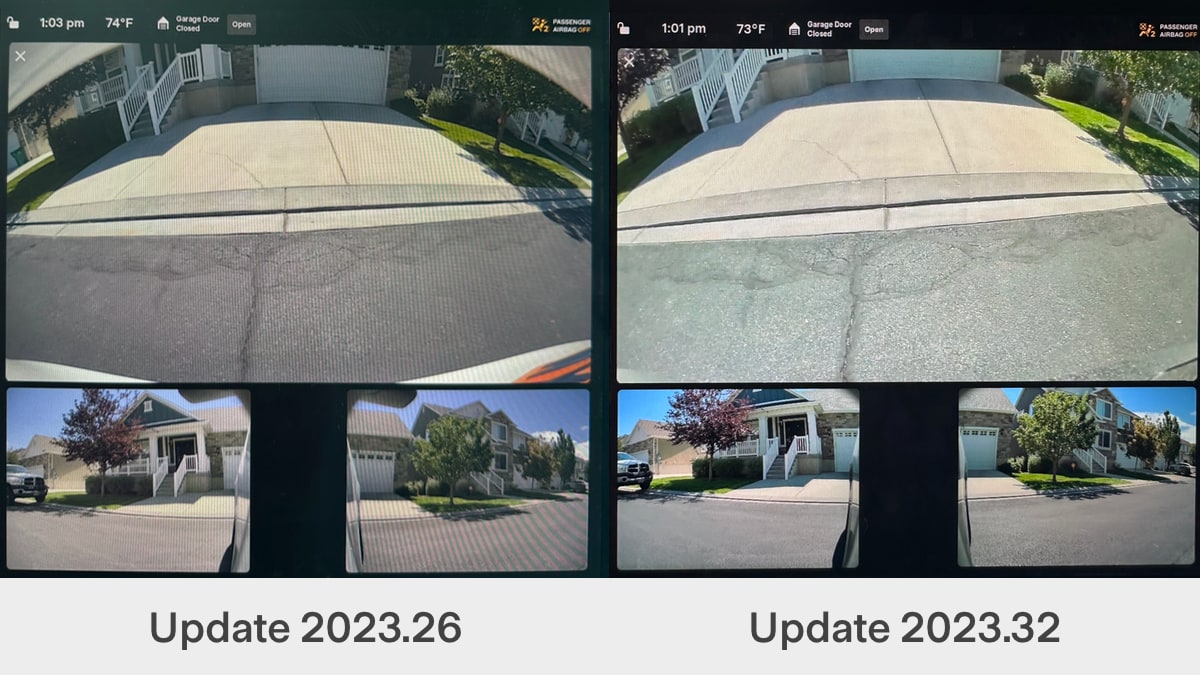 Available Worldwide
Undocumented Change
HW 4
The reverse camera view has been improved by cropping parts of the video to minimize distractions. The top portion of the video feed no longer shows the vehicle trunk and the bumper is now hardly visible along the bottom of the reverse camera.
Service Mode Release Notes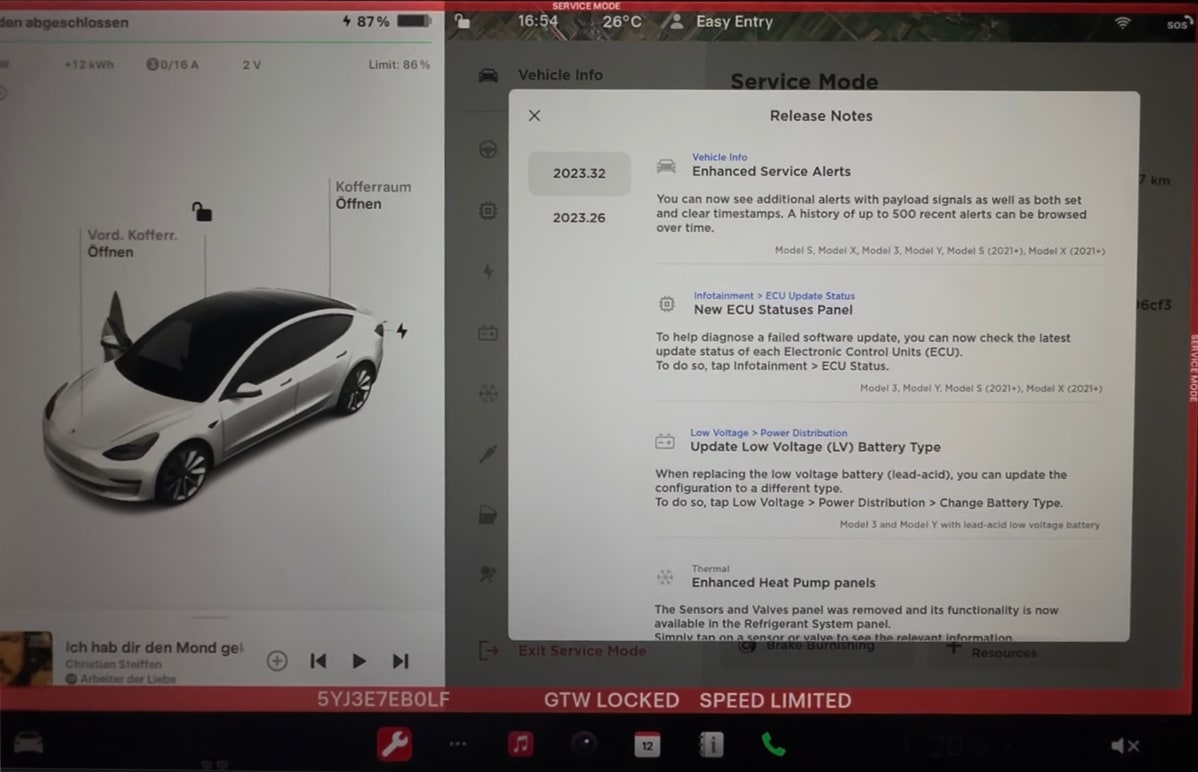 Available Worldwide
Undocumented Change
Service Mode specific release notes have been added with this update. When entering Service Mode, you can now tap on 'Release Notes' near the top of the screen to view any improvements to Service Mode in this vehicle update.
Each new feature is listed with a description and which vehicles it applies to. You can also tap the Service Mode section name in blue to jump directly to that area in Service Mode.
Improved Camera Clarity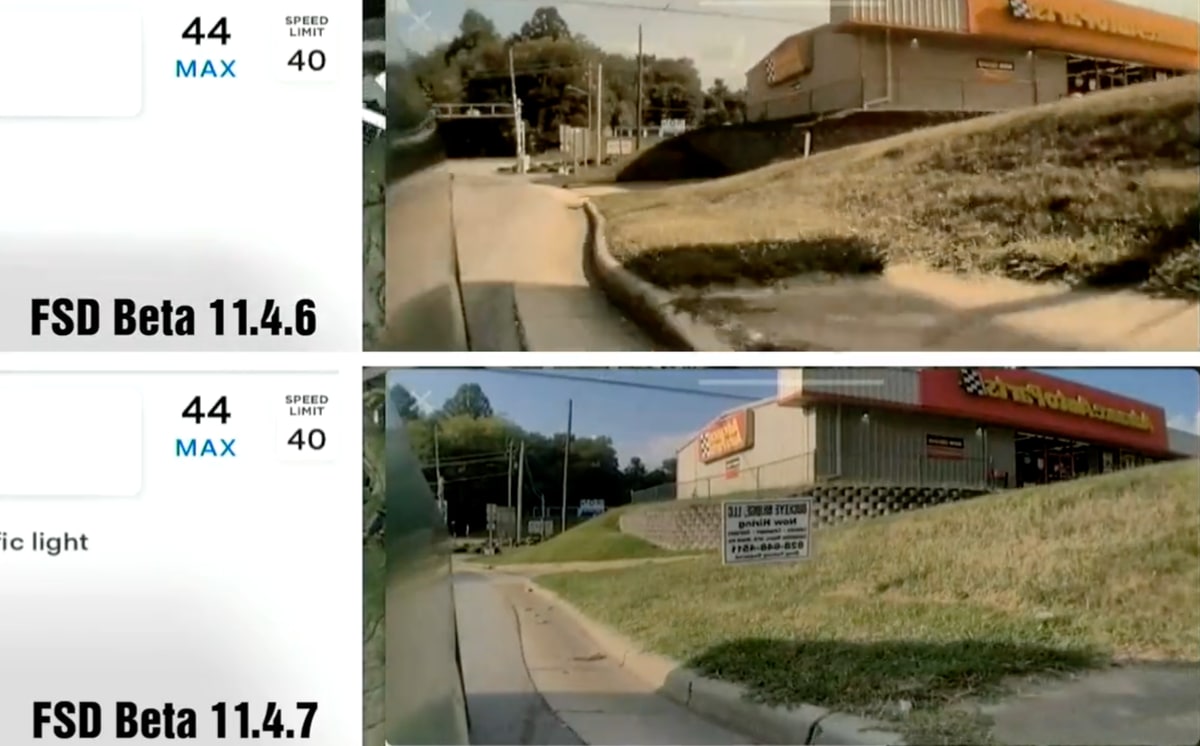 Available Worldwide
Undocumented Change
Video post-processing has been improved by providing white and color balance to the vehicle's camera feeds.
This results in more natural-looking videos when using the vehicle's cameras on screen and when utilizing Sentry Mode or the Dashcam.
The clarity of the videos is also notably improved in this update, resulting in clearer video when using the vehicle's reverse or repeater cameras.
Service Mode ECU Status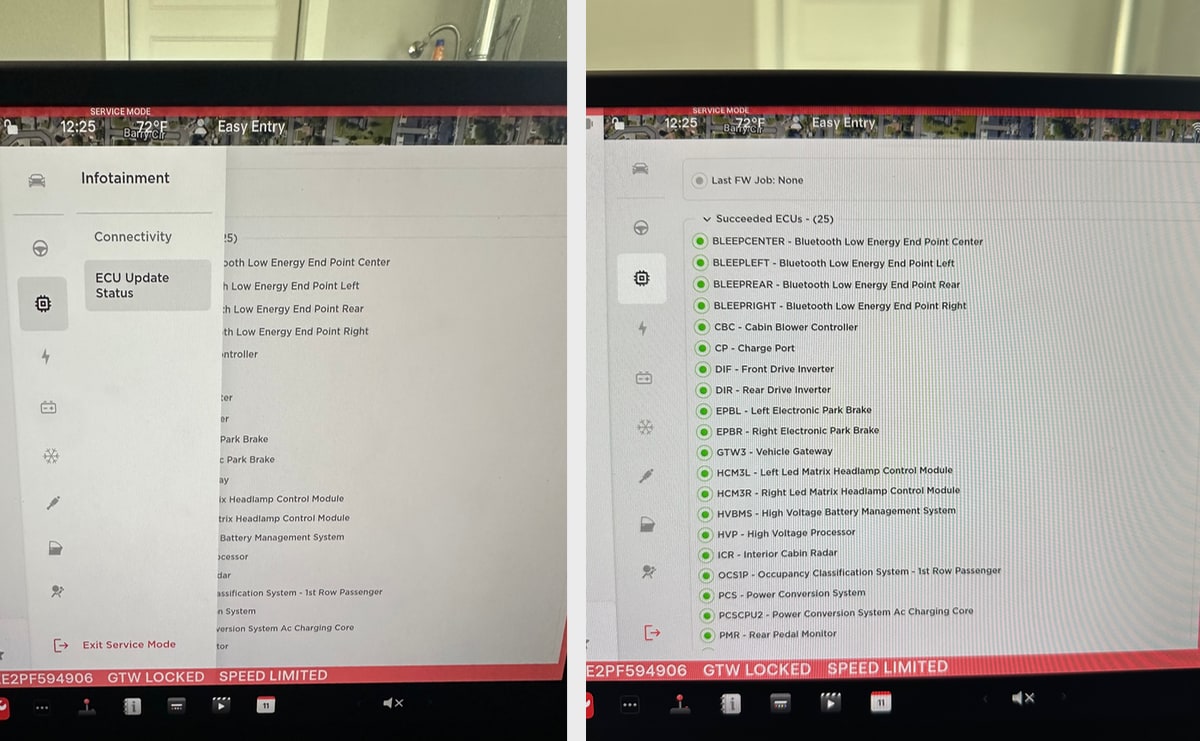 Available Worldwide
Undocumented Change
Tesla's Service Mode now lets you view the status of the vehicle's Electronic Control Unit (ECU). Under Infotainment > ECU Update Status, you can now view the status of a variety of sensors and vehicle sub-systems.
Service Mode is a special vehicle mode that's typically reserved for service technicians, although it can be accessed by anyone. It is used to view information and test various aspects of a vehicle.
Volume Indicator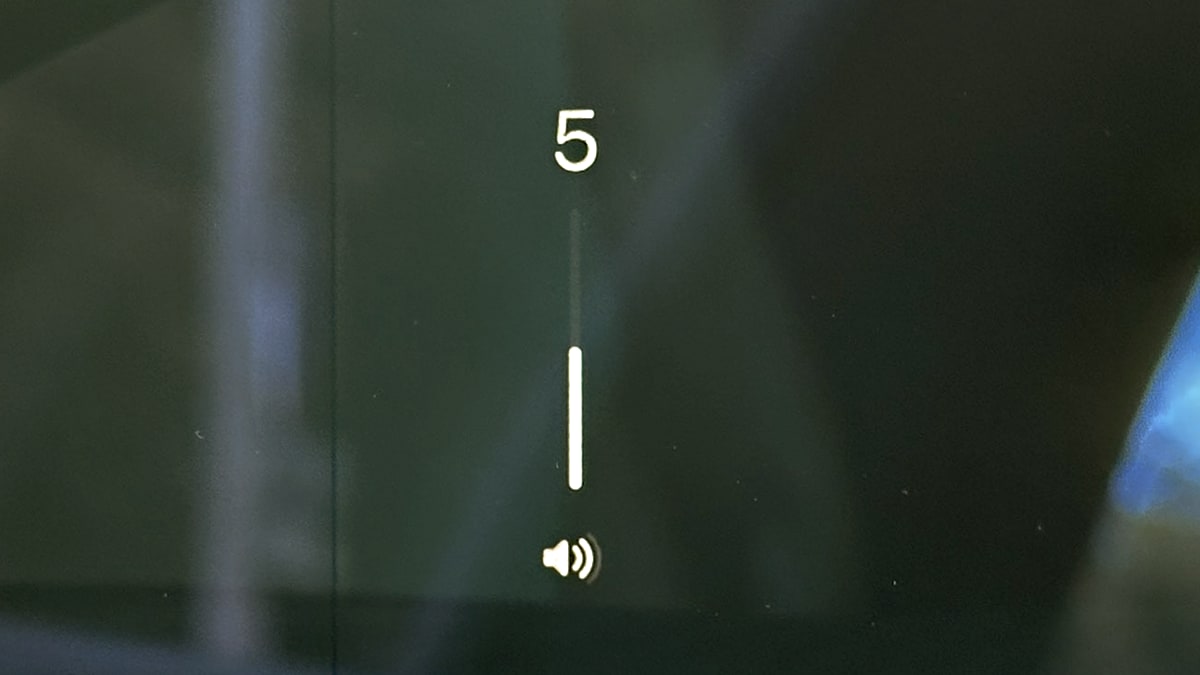 Available Worldwide
Undocumented Change
Tesla has updated the volume indicator on the instrument cluster to be vertical instead of horizontal.
Sponsors
Although we share official Tesla release notes, we are not affiliated with Tesla Motors. We are Tesla fans and supporters.