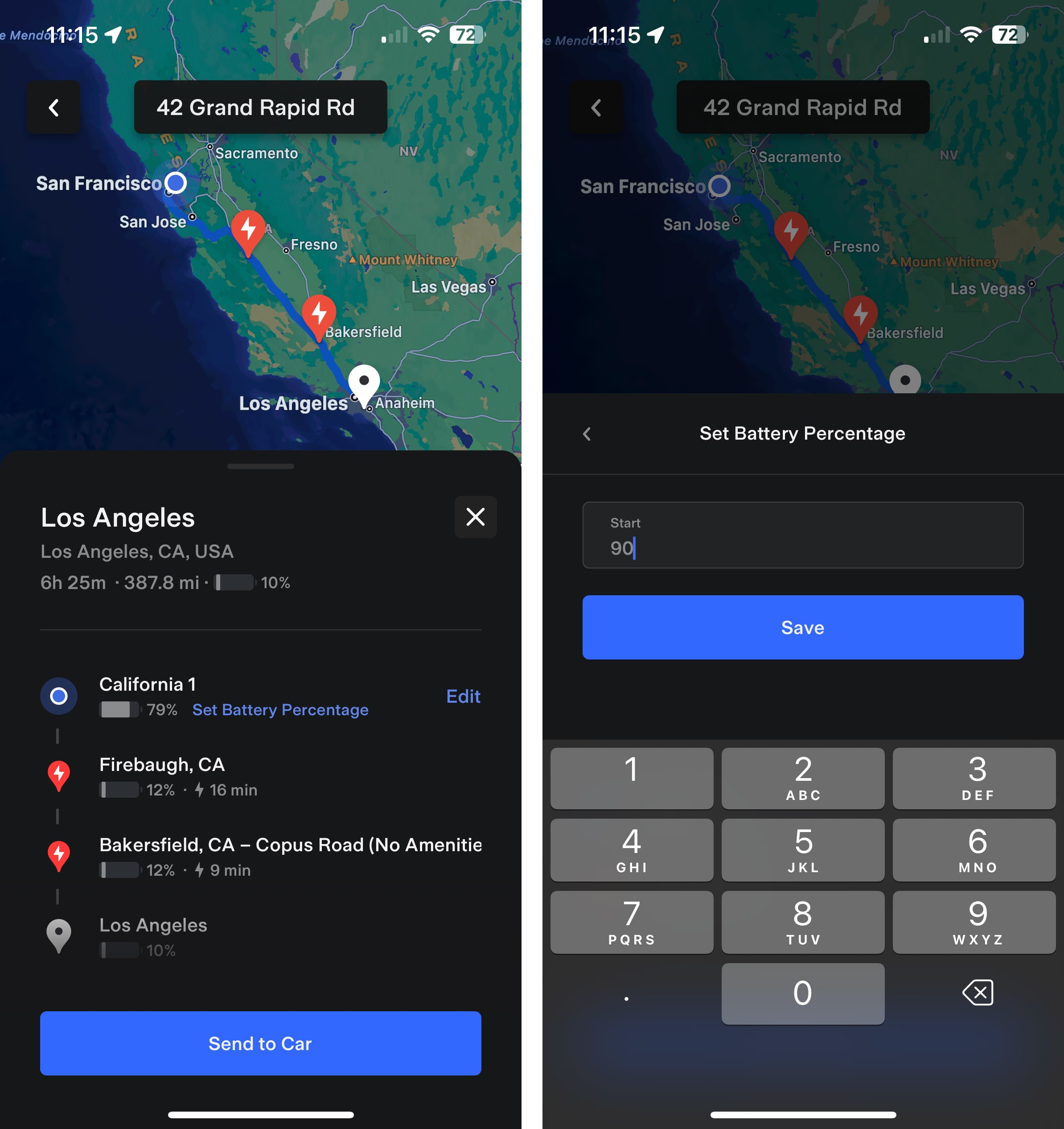 Tesla has updated their app to version 4.20.69, introducing a much-anticipated trip-planning feature. With this addition, Tesla owners can plan a trip through the app and send it directly to their car. This guide will walk you through the new features, limitations, and other updates in this release.
How to Use Tesla's New Trip Planner
To use the Trip Planner simply go to the location section of the Tesla app, tap on "navigate," and input your destination. The app will then find Superchargers along the route, give an ETA, show how much to charge at each charger, display the state of your car's battery, and plot the route on a map.
Customizing Your Trip
The trip planner offers customization options for your journey. You can set your beginning battery percentage, default to your car's current level, or input a custom value if you leave with a different charge level. The app also defaults to your car's current location, but you can change the start location if needed. When you're ready, send the trip to your car.
Limitations of the Trip Planner
Although the new trip planner provides a convenient way to plan your route ahead of time, it does come with some limitations:
It does not support waypoints (multiple destinations).
You cannot set your own charging stops.
The arrival battery percentage cannot be set.
Trips cannot be saved for later; they must be sent to your car after being planned.
The feature is available in most regions, but it's not available to everyone.
The app does not show Supercharger prices or total trip cost.
Other App Update Features
In addition to the trip planning feature, Tesla app update 4.20.69 brings other enhancements:
Phone Key pairing no longer requires your Key Card to complete, simplifying the process.
Customers with Tesla insurance can now schedule service for Tesla Insurance claims directly through the app.
You can now also tap and hold on a Supercharger's price and availability chart to see estimated chargers available at a given time, with labels such as "Most Chargers Available," "Some Chargers Available," or "Most Chargers in Use."
Future Enhancements
While the current version of the Tesla app's trip planner has limitations, it's reasonable to expect that Tesla will continue refining and expanding the feature in future updates. For now, Tesla owners can enjoy a more seamless and convenient electric vehicle experience with this latest app update.