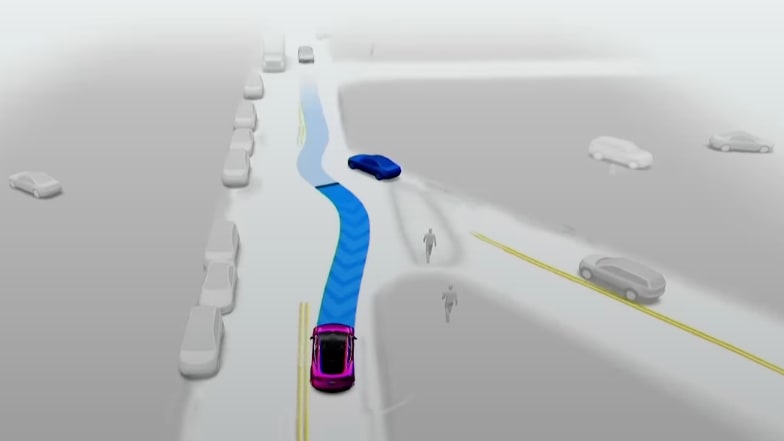 Elon Musk, the CEO of Tesla, initially said that FSD Beta version 11.3.2 would be the one distributed to all subscribers. However, Musk now says that Tesla is ready to expand FSD Beta to more owners this coming weekend. Given that the weekend is only three days away, it sounds like Tesla is happy with FSD Beta 11.3.1 and that will be the version that expands to more owners. At 11 PM last night, Musk tweeted:
V11 starts going wide this weekend
FSD Beta v11.3 was sent to employees exclusively and v11.3.1 later went out to the original 1,000 beta testers. More than 350,000 owners with access to FSD Beta are ready for this milestone release.
What's in the New FSD
With the new upgrade, drivers will find it simpler to grasp what the car is doing, thanks to various new representations. For instance, the path the car travels is now shown by a considerably thicker line, showing the whole space the car is currently using and will occupy soon. Moreover, chevrons have been added to the Tesla's exterior to indicate when the vehicle is slowing down. A white or black line now shows in front of the Tesla to indicate to the supervising driver exactly where the vehicle will stop.
New FSD messages are also included in the update to inform the driver of their actions, such as halting at a red light or waiting for pedestrians. Also, a brand-new voice drive-notes feature enables drivers to leave audio feedback if they need to take over from FSD.
Along with these new features, FSD version 11.3.1 also includes several enhancements, including a new "Minimal Lane Changes" option that limits the number of lane changes the car makes, a new shortcut to the FSD profiles, and a redesigned Autopilot menu that eliminates older options and improves the clarity of the options for drivers. Release notes are available for FSD Beta 11.3.1 as well as an article describing all of the new features and visualizations.
Another Step Toward Autonomous Driving
The new FSD update is a huge step towards reaching autonomy, which Musk claims is the company's top priority. During a recent conference with Morgan Stanley, Musk reaffirmed his commitment to creating a car that can function almost totally in autonomous mode.
Musk also spoke on Tesla's goal to bring out a cost-effective, environmentally friendly, and driverless vehicle in the near future. This vehicle, which Musk anticipates to be substantially cheaper than Tesla's current selection, will be produced at the company's new facility in Mexico, which was unveiled during Investor Day. With autonomy as the company's top priority, Musk sees the new car as a step in the right direction that will allow Tesla to support more drivers of sustainable powertrains.
Overall, the company's dedication to autonomy and its goal for a more sustainable, autonomous future is highlighted by the most recent FSD upgrade and Musk's remarks regarding the impending Tesla vehicle. Tesla is well-positioned to be a leader in developing autonomous vehicles as long as self-driving technology advances.
Ordering a New Tesla?
Consider using our referral code to help support our site and get credits toward Tesla Merch.