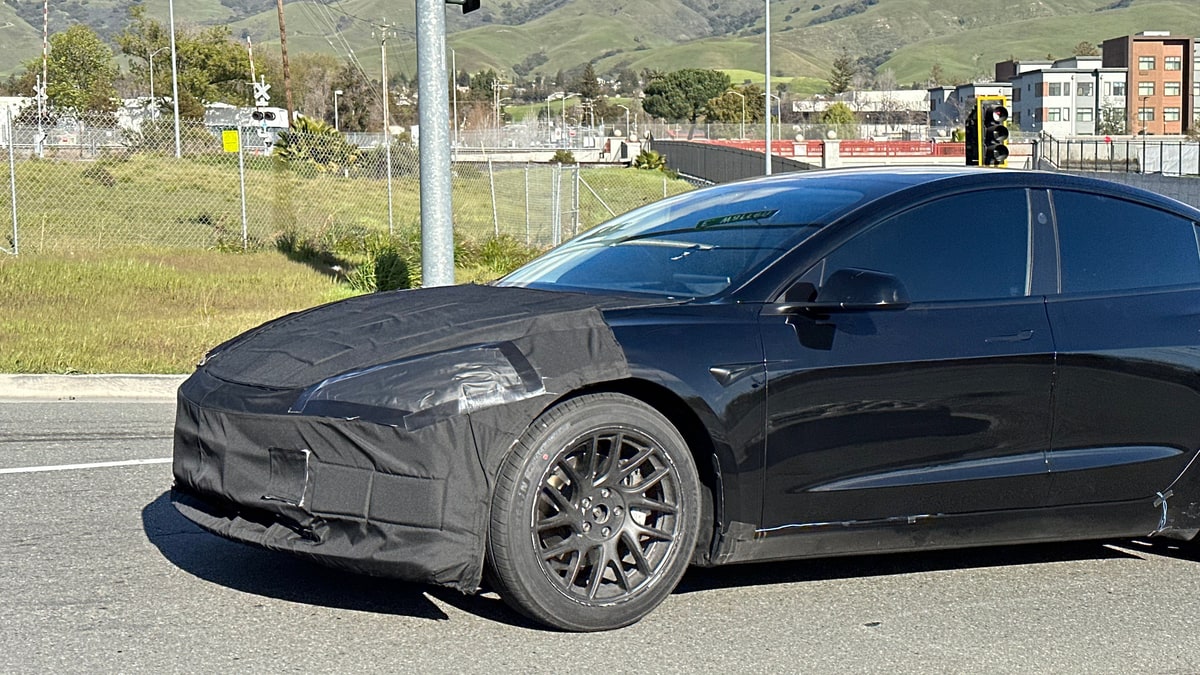 Tesla's mysterious caped crusader has once again appeared. Twitter and YouTuber The Kilowatts posted pictures of a black Model 3. For months these cars, sporting covers on the front and back, have been noticed in California, but this is the first time we've seen one without aero covers on the wheels. So the refreshed Model 3, known as project Highland, will apparently have new wheels. But some other changes are also revealed in these images.
New Wheels on the Highland
The rims in the Kilowatts post have 14 points of contact with the outer edges instead of the current 10-spoke rims. The spokes are slightly off-center to give a swirl effect, another difference from the straight lines the current rims offer. There is a large circle in the middle where the center cap will go. That circle will replace the five-star piece on the existing wheels.
These wheels offer more coverage, possibly cutting down on wind resistance and giving you a half mile more in range. As we know, Tesla always looks for more ways to improve capacity.
Body Molding Change and Wires
While the wheels draw attention, there may be another change. Check out the side repeater. It almost looks like the body modeling has ben extended around the repeater camera, but it's not terribly clear in the photo and it could just be the reflection. We know that Hardware 4 comes with new cameras, and other evidence points to the side repeater cameras changing the angle that they point. However, the housing of the cameras appears the same as the previous model.
The bumper also appears to have a slightly different shape than the current Model 3, with the top lip appearing to be reduced or moved further down.
It's all a mystery after that. Check out the duct tape used to cover the headlight thoroughly. Previous pictures of these cars had the headlight exposed, it seems there may be some changes there. It was believed cameras were being added to the headlight housing, but that speculation was put to rest with images of HW4-equipped Model S, and Model X spotted in Fremont.
Finally, some wires come from under the car and run along the inside and partially on the outside of the doors before going back under the car.
Reuters reported that Project Highland would go into production in Shanghai in September. This new Model 3 is expected to cut production costs by focusing on reducing the number of components and some interior changes. In addition, the exterior is expected to see some changes to improve efficiency and reduce cost.