By Gabe Rodriguez Morrison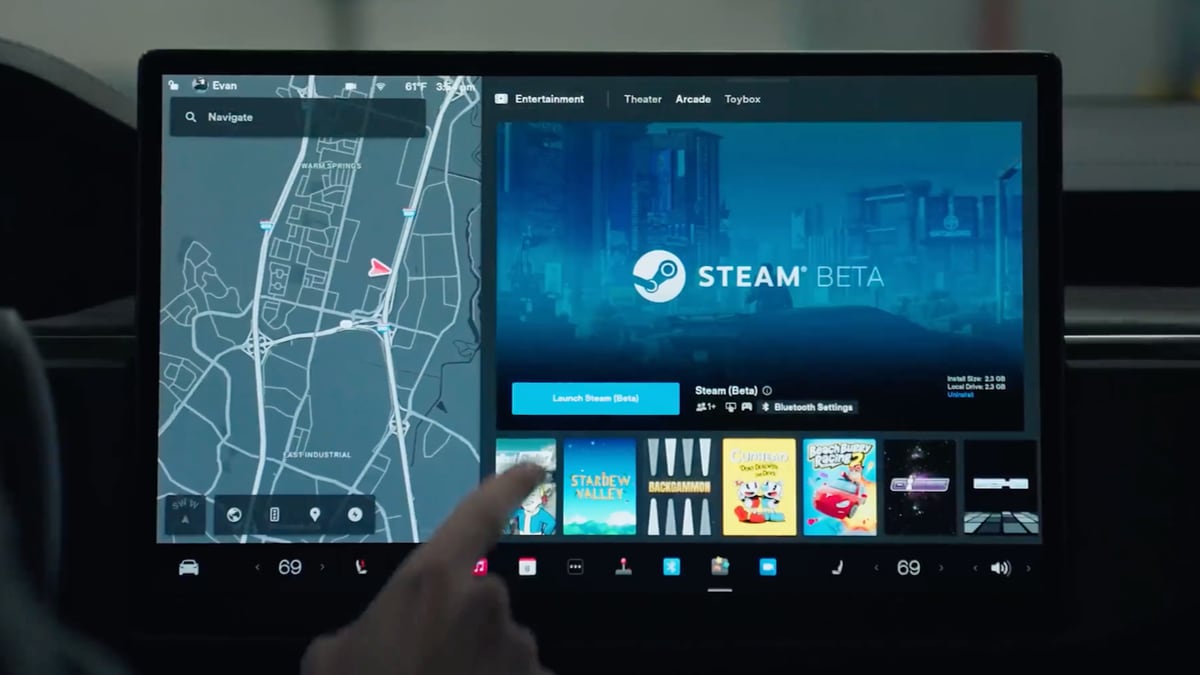 Tesla has integrated Steam's library of thousands of games in its Model S and Model X electric vehicles. In July, Elon Musk said that Tesla would release a demo of the Steam integration by August. The demo never came to fruition, but Musk reiterated the plan to integrate Steam into Tesla vehicles. Tesla just launched a beta version of the video game library as part of its holiday update.
Supported Vehicles
For now, Steam is only available on newer versions of the Model S and X with 16GB of ram, but Elon has said that there will be a retrofit available for earlier S and X models in the future.
Although newer Model 3 and Model Y cars have the AMD Ryzen chip, they did not get beta access to Steam because these vehicles do not have a discrete GPU like the Model S and X. It's not clear whether Steam will eventually be integrated into other MCU 3 cars (with a smaller catalog), including the Model 3 and Model Y, but it's unlikely that it'll ever come to any MCU 2 vehicles.
Storage
Games must be downloaded on WiFi and stored locally in the vehicle. This could be in the vehicle's internal drive, which appears to have about an 80GB partition allocated for games or via external storage. The holiday update that added Steam also added support for external storage devices. Additionally, Tesla has released a 1TB SSD that costs $350 and will be available in February 2023. The SSD offers storage for any vehicle data including dashcam footage but is optimized for fast loading. It is also designed to withstand the potentially extreme temperature fluctuations that can occur inside a car and is guaranteed to have a long life span.
However, owners can use almost any solid-state drive they own. In fact, Tesla's own hard drive appears to just be a rebranded Samsung T7 SSD, which is known for its speed and durability. It currently sells on Amazon for less than $140.
Video
Cloud Saves
For games that support Steam Cloud, Tesla will automatically sync your game progress, so that you can pick up right where you left off, regardless if you're at home or in your car.
Premium Connectivity
Tesla's Premium Connectivity allows vehicle owners to access more bandwidth-hungry features such as streaming music and video. Although Steam games are downloaded over WiFi, Tesla requires Premium Connectivity to access Steam. This could be due to Tesla keeping your Steam profile and game process synced.
Rear Display
Unfortunately, Tesla does not currently allow users to play Steam on the vehicle's rear 8" display which can be used to watch streaming video while the car is in motion. Tesla could allow this in a future update, but at the moment Steam is limited to the vehicle's 17" display when the vehicle is in park.
Bluetooth Controllers
Along with Steam support, Tesla has added support for Bluetooth controllers and even keyboard and mouse setups in supported games. Tesla says that PS5 controllers work best with this feature.
In June of 2021, Tesla unveiled a proprietary controller which closely resembled a PS5 controller with two analog sticks, four directional buttons and four action buttons. The controller also resembles a steering wheel with a closed-loop design, likely to accommodate racing games. Since the unveiling, we haven't heard much about the Tesla controller.