Tesla's highly anticipated holiday update is reintroducing UI cards to the Model 3 and Model Y.
Tesla's Model 3 and Model Y contained widget-like cards in the lower-left corner of the screen that could be swiped to view certain information such as the vehicle's trip meters and odometer, as well as tire pressure readings.
However, with Tesla's UI redesign during last year's holiday update, these cards were removed and integrated into the vehicle's menus. It certainly makes sense to have this information in the menus as that's where all of the other vehicle information is available, however, it was a step backward in terms of quick access to this information.
Version 2022.44.25.1, which is Tesla's Holiday Update has started rolling out, features a wide breadth of added improvements, but one of the most wanted are the updated UI cards.
The information these cards provide is almost identical to the ones previously available, however, their design and layout have been updated.
Two informational cards provide quick access to the vehicle's tire pressures and the vehicle's odometer.
The tire pressure readings display a photo of the vehicle with the tire pressure reading displayed near each wheel. Previously tire pressure readings were only available while the vehicle was in motion, but thanks to a recent update, the vehicle will now display the last known tire pressure reading if the vehicle is parked.
The odometer and trips card will display the amount of energy used for each trip as well as the distance traveled. Like before, you'll be able to view energy and distance traveled for the current drive, since last charged and for each trip meter.
Differences From Old Cards
There are two small changes here. The previous iteration of cards displayed the time your "Current Drive" started, and also displayed how many minutes you had been driving, which was a useful metric. However, now all trip meters display the same information, which is the distance traveled, kWh used and average Wh/mi.
The old cards also required you to scroll vertically to go through the various trip meters. However, Tesla has now designed it so that all trips are viewed together on a single card, which is a nice improvement.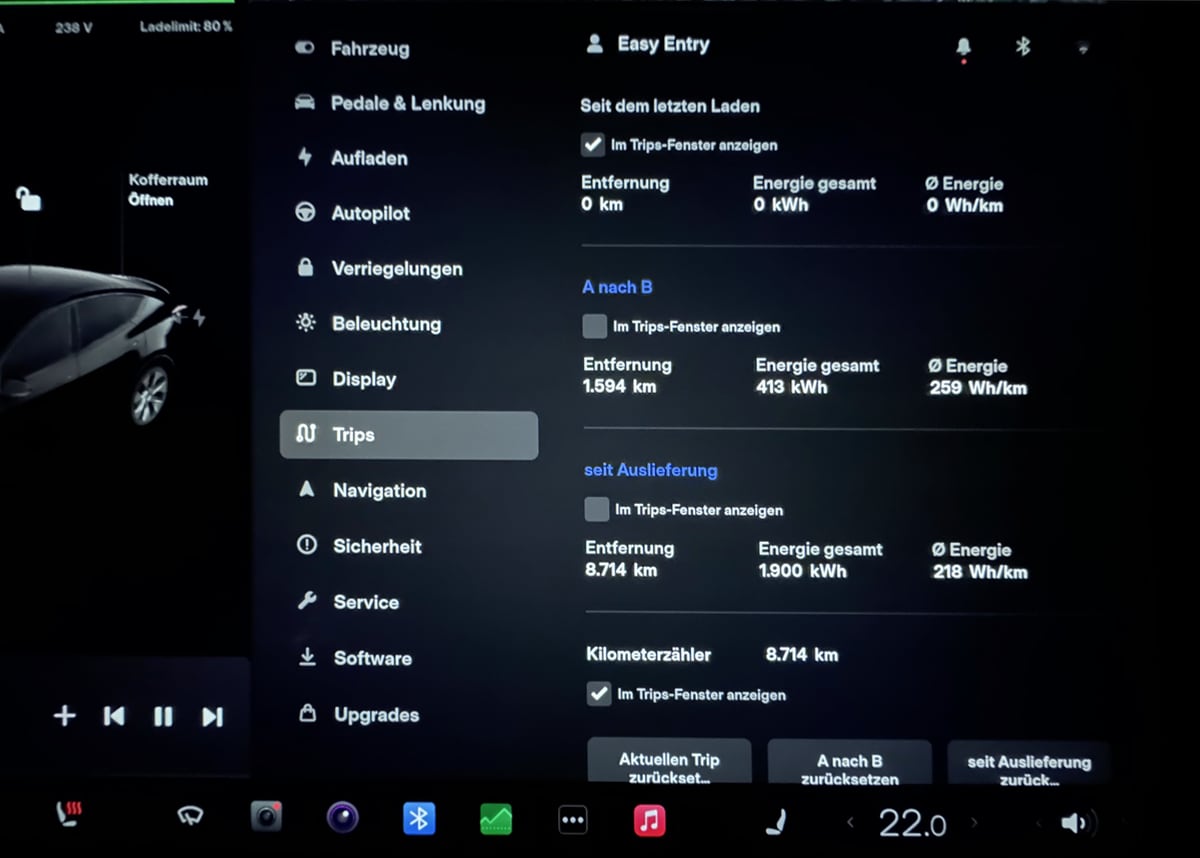 However, the downside of this is that not all trip meters can be viewed at once, since there are five in total when counting the current drive, since last charge, Trip A, Trip B and the odometer. To fix this issue Tesla now lets you decide which trip meters should show up in the 'Trips' card.
By navigating to Controls > Trips, there is now a new checkbox under each trip, letting you choose whether that trip meter should show up in the card.
A nice addition is that you can now tap these cards to jump to the specific area in the vehicle's menu. For example, tapping on one of the trip meters will take you to Controls > Trips.
Cards in Action
View Cabin Camera
With version 2022.44.25.1, owners will also be able to remotely view their internal camera when their vehicle is in Sentry Mode or Dog Mode. In the event of a break-in, owners will have footage of the bandit and be able send that footage to local authorities. This has been a highly requested feature for years now.
View the cabin camera from the Tesla app while using Dog Mode or Sentry Mode to keep an eye on your puppy ? pic.twitter.com/yyeyfF5XTd

— Tesla (@Tesla) December 13, 2022
A Look at the Old Cards