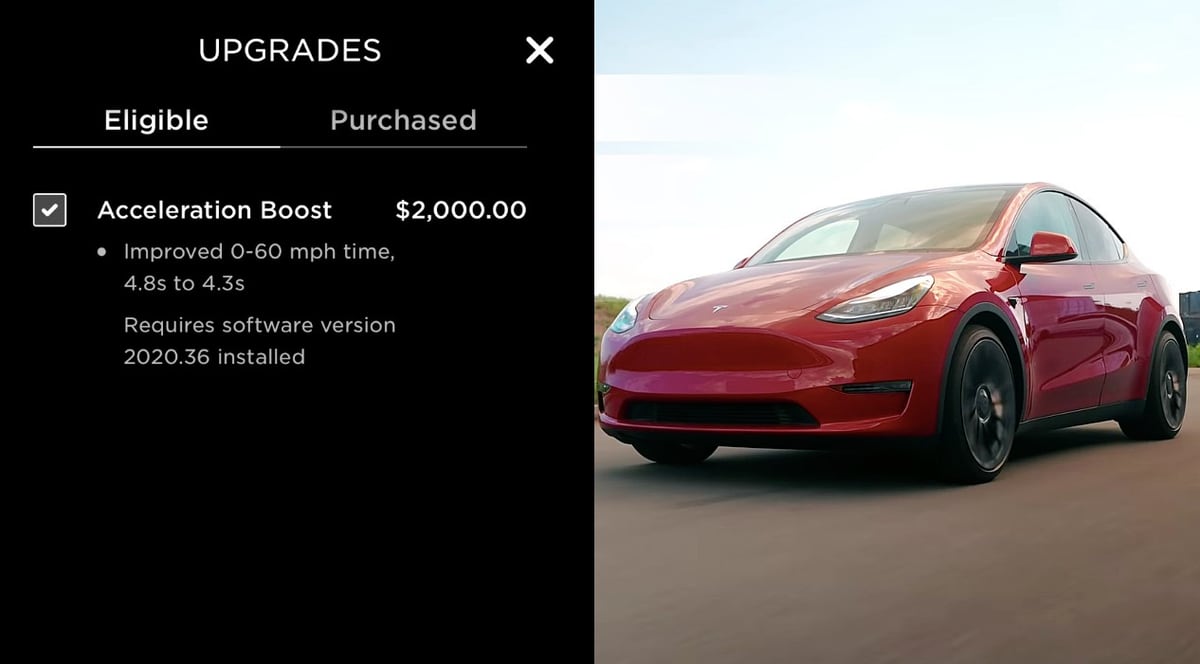 If you haven't driven a Tesla, you might not be familiar with the rollercoaster-like feeling of going from 0 to 60 mph. The Long Range Model 3, for example, can accomplish this in 4.2 seconds as-is. All Teslas pull you off the line almost instantly and are already quicker than most internal combustion engine vehicles.
What if, though, you could increase the speed of your Tesla even more? We break down what Tesla's Acceleration Boost is, and whether it's worth the price tag.
What Does Tesla's Acceleration Boost Do?
If you drive a Long Range Model 3 or Model Y, you may be able to purchase the 'Acceleration Boost' upgrade that increases your vehicle's acceleration and lowers your 0-60 time.
The Tesla Model 3 Long Range already has an acceleration from 0 to 60 mph time of about 4.2 seconds. With Acceleration Boost, Tesla claims that time is reduced to 3.7 seconds.
The Tesla Model Y Acceleration Boost shaves off half a second on the vehicle's 0 to 60 mph time, dropping its run from 4.8 seconds down to 4.3 seconds.
It's worth highlighting that these are the only two vehicles that are eligible to purchase this upgrade. When Tesla first started delivering the new Model Ys with the 4680 cells, owners of the Standard version were able to upgrade, but the company has since removed this option.
Acceleration Boost vs Performance Times
While Acceleration Boost will give you a very noticeable boost in all performance aspects, it will not turn your vehicle into a Performance model.
Here are the 0 to 60 mph time comparisons between the Long Range model, Long Range with Acceleration Boost and Performance models.
| | | | |
| --- | --- | --- | --- |
| Model | Long Range | Acceleration Boost | Performance |
| Model 3 | 4.2 seconds | 3.7 seconds | 3.1 seconds |
| Model Y | 4.8 seconds | 4.3 seconds | 3.5 seconds |
As you can see from the table above, a Long Range model with the Acceleration Boost upgrade falls roughly between a Performance model and the Long Range model in terms of acceleration.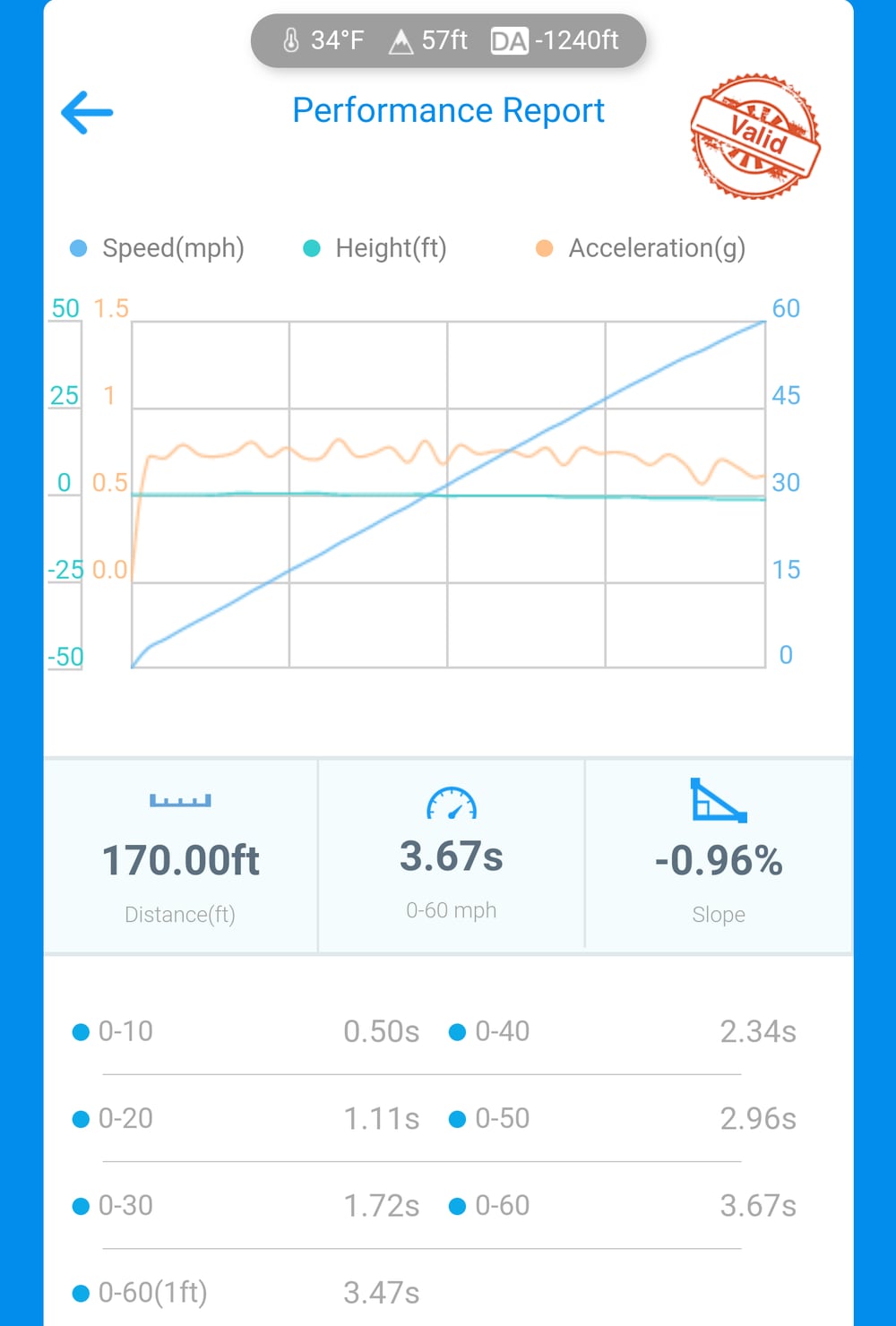 The graph above was created by an independent owner and displays the vehicle's performance from 0 to 10, 0 to 20, 0 to 30 and 0 to 60 mph after purchasing Tesla's Acceleration Boost. From the graph we can see how the vehicle's acceleration rate remains fairly constant from 0 all the way to 60 mph.
Does Acceleration Boost Add Track Mode?
Track Mode is a feature that is exclusive to Performance models. It allows you to adjust how your vehicle handles and performs. For example, it allows you to adjust features that may be useful on a track, such as adjusting the motor bias from front to rear, reducing traction control or adjusting vehicle cooling.
Although vehicles with Acceleration Boost have better performance than their Long Range counterparts, they do not include Tesla's Track Mode feature.
Is Acceleration Boost Worth It?
While the Acceleration Boost update can be a costly one at $2,000, it unquestionably gives drivers acceleration capabilities that are comparable to those of the Performance model.
According to Tesla drivers who have purchased the upgrade, the actual acceleration boost is quite notable and affects all speeds, not just 0-60 mph.
On the other hand, your Model 3 or Model Y's quick acceleration will result in quicker tire wear. Additionally, it can result in decreased efficiency, which results in higher ownership costs. However, this does depend on the individual and how often they take advantage of the speed boost.
Performance models are usually quite a bit more expensive than the Long Range models, so in terms of value, the Acceleration Boost upgrade is a good deal that will increase the vehicle's value. If you own your vehicle, you'll also likely recoup some of the upgrade's cost if/when you decide to sell the car or trade it in at some point in the future.
Cost and How to Purchase
The price for Acceleration Boost hovers around USD 2,000, depending on your region and local tax rate. Owners can conveniently purchase the upgrade directly from their Tesla app, or through Tesla's website.
To purchase or see if the upgrade is available for your vehicle, open the Tesla app and navigate to the Upgrades section.
Then tap on Software Upgrades and if the feature is available for your Tesla you will see Acceleration Boost listed.
If you'd like to purchase the upgrade, make sure your vehicle is in Park and connected to Wi-Fi or has a strong cellular connection so that the vehicle can download an updated configuration.
You can add the Acceleration Boost upgrade to your cart and follow the payment instructions.
The upgrade is a one-time payment that can be made with a credit card, debit card, or Apple Pay. However, it is not possible to add the cost of the upgrade to your lease or vehicle loan payments.
Once the payment has been processed, the update should only take a few minutes to show up in your vehicle.
How to Check if Your Vehicle Has Acceleration Boost
Once you've made the purchase, you can confirm that you have received the upgrade by tapping on Controls (car icon) and navigating to Software. Below your vehicle's image, you'll see a list of features, including possible features like Full Self-Driving, Premium Connectivity and more.
If your car has received the upgrade, you should now see Acceleration Boost listed.
In addition to the upgrade appearing under the Software tab, you can also navigate to the Pedals & Steering section and your acceleration choices will now be 'Chill' and 'Sport,' instead of the previous options of 'Chill' and 'Standard.'
Your vehicle should now be noticeably faster.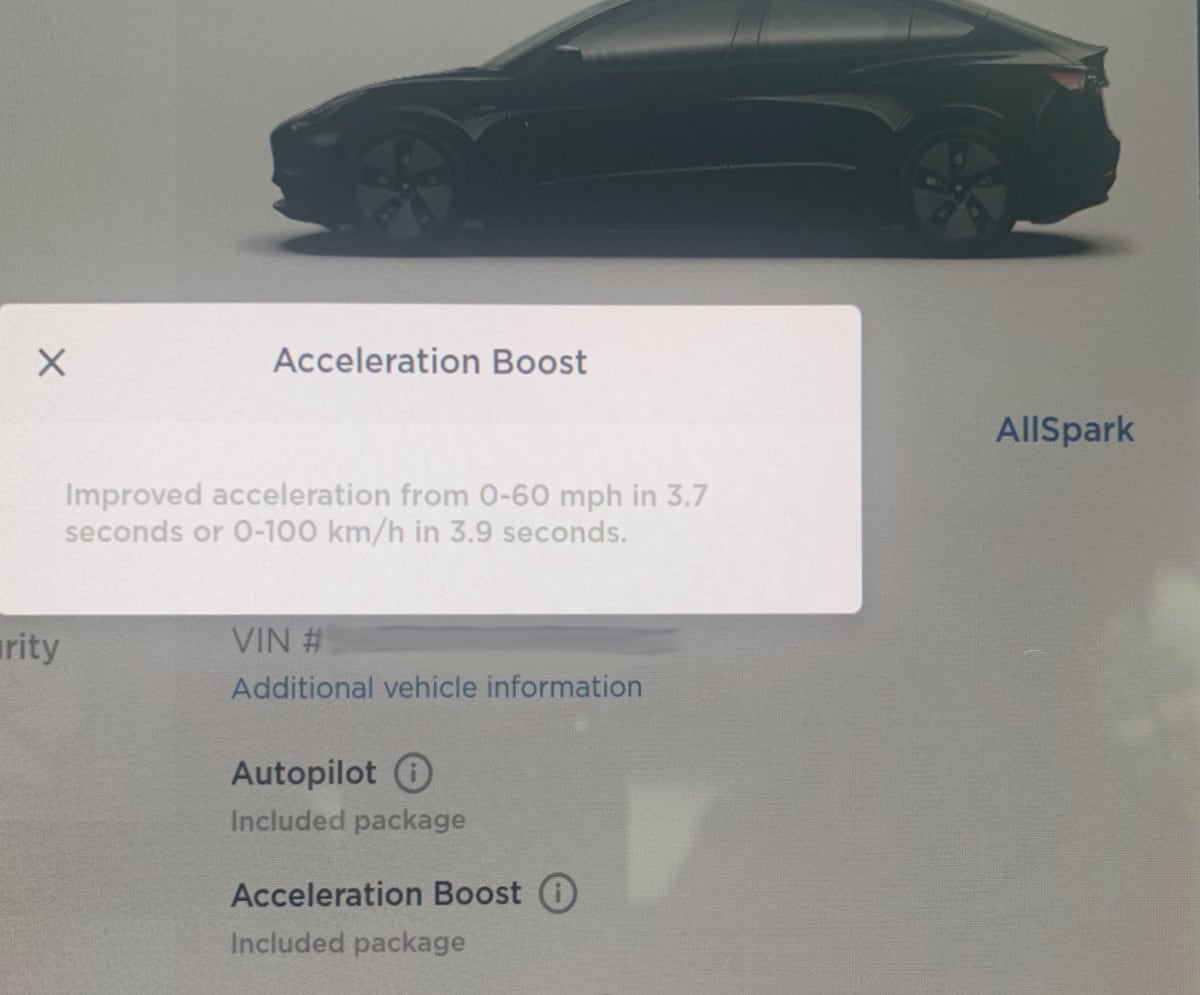 Is there an Acceleration Boost Trial?
Although not formally promoted as a trial period, Tesla does provide you the chance to get a refund for your original purchase within 48 hours of purchase, if you change your mind or the upgrade didn't meet your expectations.
It is not possible, however, to receive another refund if you re-purchase the Acceleration Boost upgrade at a later time. Any future purchases for Acceleration Boost will be final.
The Acceleration Boost upgrade might be worthwhile for you if you frequently travel on long, open highways or appreciate experiencing the acceleration surge when you depress the pedal. But if you use your Tesla for routine activities like grocery shopping or being stuck in traffic on the way to and from work, it might not be the best bang for your buck.
However, if you initially had your eye on the Performance model and ultimately decided on the Long Range version, Acceleration Boost is a great way to get closer to the performance of the higher-end trim.