When the refreshed Model S was revealed this summer, we were introduced to a brand new user interface. An interface that was different from all other Teslas.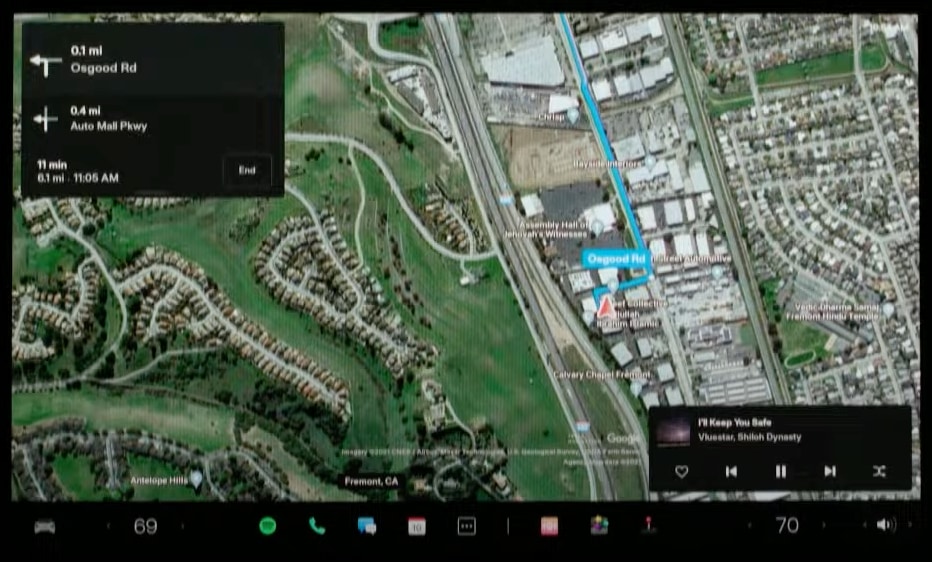 The feature set of the new software is essentially the same as other Tesla models, minus any features that are exclusive to the refreshed Model S, such as Active Road Noise Reduction.
However, the new UI does bring some capabilities that make it easier to use and more versatile.
Some of the biggest changes in the UI include customizable buttons along the bottom of the screen.
It also introduces the ability to drag and dock windows to different parts of the screen.
There are many smaller changes as well, such as a mini music player that sits on top of the map. The mini player gives you quick access to music controls used most often, such as skip and pause.
The new Model S and Model X contain Tesla's latest infotainment hardware, known as MCU 3. It features a more powerful processor, the AMD Ryzen, instead of the Intel Atom processor that is used in MCU 2.
MCU 3 gives Tesla the ability to have a richer UI. The animations in the new UI are smooth and fluid when dragging windows and tapping buttons.
Up until recently Tesla's MCU 3 was exclusive to the new Model S and Model X, however recent Model Y vehicles coming out of China now also include the new MCU.
Although new Model Ys in China now feature Tesla's latest MCU, they are still running the same UI that is found in all Model 3 and Model Y cars.
The speculation began whether these Model Ys would be upgraded to run the new UI that is found in refreshed Model S vehicles. Since they use the same hardware, they should both be capable of running the same software.
New User Interface Coming
A new document that was presented to the European Union outlines changes coming to the Model Y. The document confirms that new 2022 Model Y vehicles, known as V20 will indeed support the new user interface that is used on the new Model S.
The new interface will need to be adapted to a slightly smaller screen since Model Ys have a 15" screen instead of the Model S' 17" screen. However, the bigger adjustment and likely the reason why new Model Ys are not running this new UI yet, is because the software still needs to be adapted to support a single screen.
Since Model 3 and ModelYs only contain a single screen, all the information that is included in the Model S' intrument cluster needs to also appear on the Model Y's main screen. This includes information such as the car's visualizations, speedometer and more.
It's not clear whether visualizations in the Model Y will be permanently docked to the side of the screen like they are in current Model Ys, or whether Tesla will treat them as an app and let you move them around or even hide them.
Current Model 3 / Model Y
The big question on everyone's mind is whether current Model 3 and Model Ys will support the new UI.
There has been no official word from Tesla or Elon Musk, but we expect that this question will be asked more often and Tesla will provide an official answer in the future.
There are various possibilities and reasons why Tesla may or may not support the new UI on current vehicles.
The first possibility is that Tesla will support the new UI on current vehicles, but it will require an upgrade to MCU 3.
This won't be a cheap upgrade, likely in the $2,000-$3,000 or more range, but there would be additional benefits by upgrading the MCU as well, such as faster rebooting, faster loading of apps and even new features that may be exclusive to MCU 3.
The other two possibilities are more obvious, either Tesla will support the new UI on MCU 2 or they won't.
There is currently speculation and good arguments for both sides.
Up until 2017 Tesla was releasing vehicles with MCU 1. All Tesla UI updates in the past have applied to MCU 1 and MCU 2 vehicles. Of course, there are some features that are exlusive to MCU 2, like Tesla Theater, but the look and feel of the interface is the same across the vehicles.
It's possible that Tesla will follow a similar approach and make the new UI available to all.
There are other smaller reasons, such as Elon saying that Auto Shift is coming to all Teslas. That feature is exclusive to the new UI thus far.
There are various other reasons that lead us to think that Tesla may bring the new UI to all vehicles. This may mean that some features such as window dragging or window docking get dropped, but it's very much possible we'll see the new UI in all Teslas.
As many reasons as there are for Tesla supporting the new Model S UI on older Teslas, there are just as many reasons why Tesla won't be able to.
It's obvious that the new interface requires more horsepower, more than MCU 1 or maybe even MCU 2 can deliver. The UI lets you drag apps around. It lets you have multiple apps on screen at the same time, but these more intensive features could be removed for vehicles that may not be able to handle them.
Perhaps the most convincing reason for the new UI not becoming available for all vehicles is that Tesla engineers have said MCU 2 isn't capable of running the new interface. These comments were made by a couple Tesla engineers, so it's definitely not official by any means. They were also said when the new Model S was released this summer, so it's possible a lot has changed since then.
One thing is for sure. Tesla has a history of supporting older vehicles, regardless of the model year. In fact, Tesla still delivers updates to the original Model S that was released in 2012. If Tesla can find a way to bring the new UI to all Teslas, then they most likely will.
Elon tweeted just yesterday that Tesla will be releasing a Holiday Update this year with many 'cool' features. Who knows what's in store for us. However, just like Christmas, lets temper our expectations and be thankful for anything we receive.