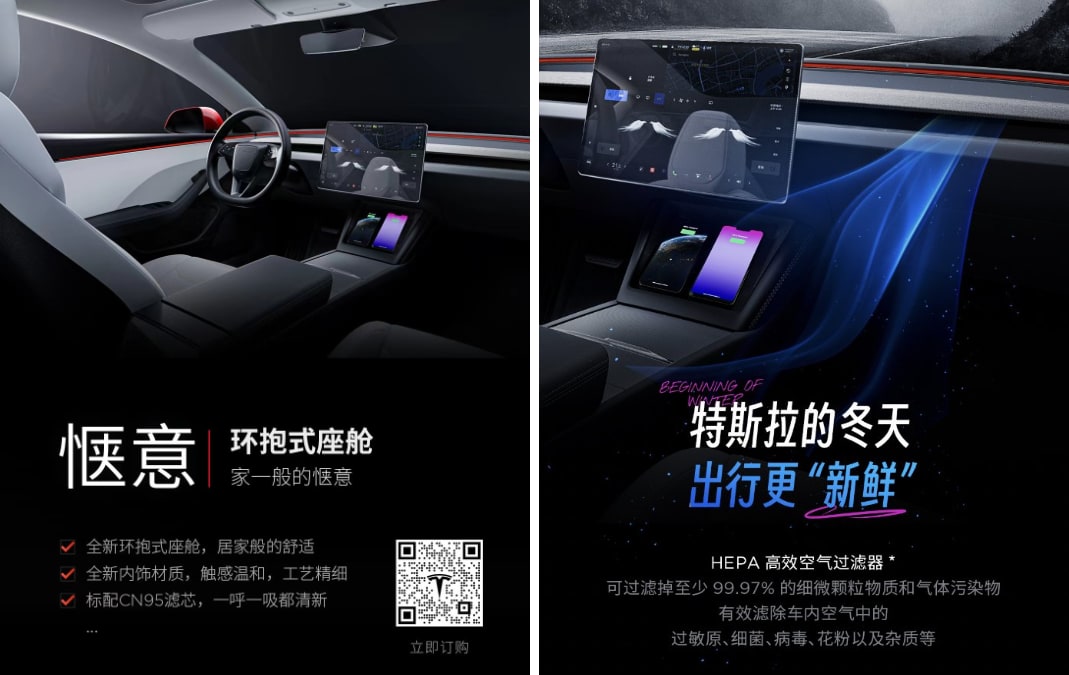 In September, Tesla introduced its updated Model 3. The car received a number of changes, from the exterior and interior, to improvements under the hood. One of the significant changes was the addition of a HEPA filter, so there is a possibility that the company will also provide Bioweapon Defense Mode.
Updated Tesla Model 3 Gets HEPA Filter
Tesla's official Weibo account (via @VidasL/X) today posted information about HEPA filters in its cars. The company did not list specific models that are equipped with them. However, one of the images contained a new Model 3, and the text on it talked about HEPA filters and their effectiveness.
Previously, the car could not be equipped with the much larger HEPA filter. However, it was a feature that highly desired by the owners as it could provide the Bioweapon Defense Mode feature. Since Tesla has largely upgraded the Model 3 and made a fundamental redesign, installing a HEPA filter appears to now have become possible.
What is Bioweapon Defense Mode?
Bioweapon Defense Mode is an advanced air filtration system to protect vehicle occupants from various air pollutants. It uses a HEPA filter to condition the air inside the vehicle, and provides protection against exhaust fumes, smoke, allergens, airborne pathogens, and other potentially hazardous particles.
HEPA is a high-performance molecular air filter with more than 99.97% efficiency, providing hospital-grade air filtration. The filter is capable of capturing particles up to 0.3 micrometers in diameter, and also has a secondary filtration system with activated carbon filters to remove odors, gases, bacteria, viruses, pollen, and mold spores.
Can we expect Bioweapon Defense Mode in the updated Model 3?
As of now, Tesla has not made an official announcement that its updated Model 3 will have Bioweapon Defense Mode. However, the installation of a HEPA filter in the car hints that it may be available to owners down the line. In September, @VidasL reported that he had discovered the Bioweapon Defense Mode for Model 3 in the Tesla App. It appears this also was a hint at the addition of the long-awaited feature to the only Tesla model that did not have it.
Update: Tesla has now edited their post on Weibo. The text remains the same, but the background is now of the updated Model Y in China with ambient lighting on the dash, instead of the new Model 3. It appears that sharing the image with the Model 3 may have been a mistake, but we should know more soon.