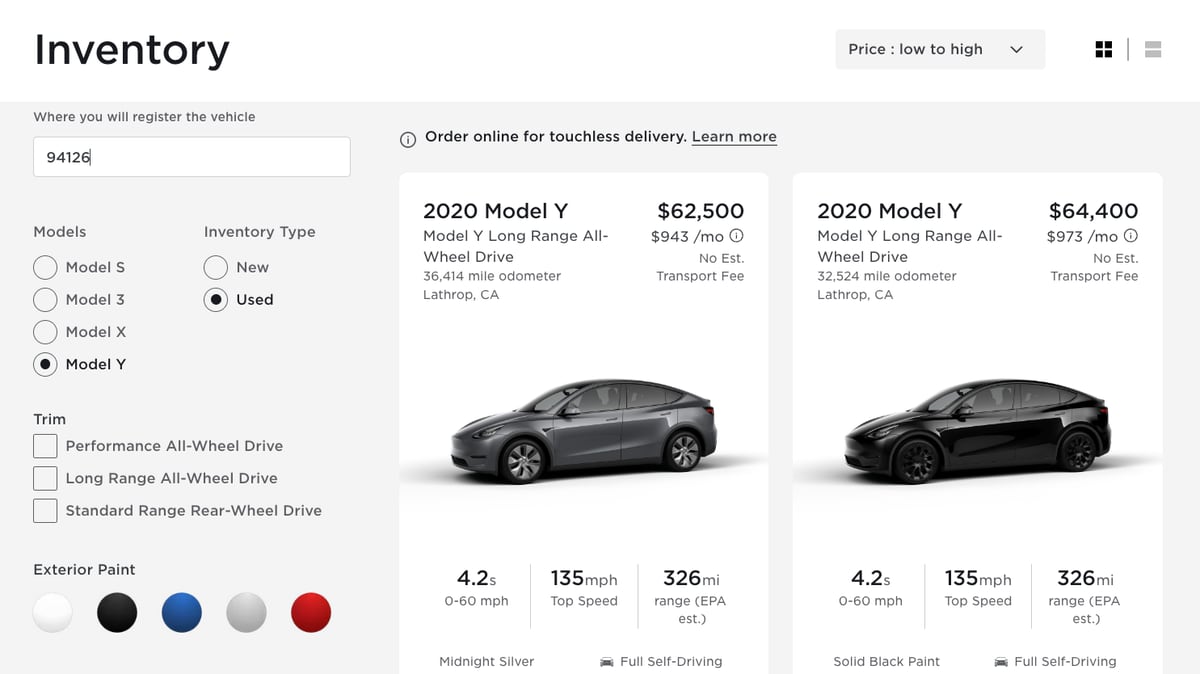 Tesla's used car division is transforming how people buy vehicles, and they are not resorting to "wacky waving inflatable arm flailing tube men" to do so. Tesla's Director of Sales and Delivery Operations, Jimmy Douglas, told Electrek that he doesn't need the attention-grabbing inflatables to beat the online used car giants.
Tesla seemingly stumbled into a brilliant plan to sell its used cars. In 2019, the electric vehicle trailblazer announced that it would not allow people who leased their Model 3s to sell them after; instead, the vehicle must be returned to the dealership. The original plan was to retrofit these previously loved cars to become the RoboTaxi. The RoboTaxi program, a fully autonomous vehicle that would take over the ridesharing sector, is still under development, so now Tesla has thousands of cars coming back to the lot.
The timing could not be more ideal. The demand for EVs has never been higher. However, some prospective buyers get sticker shock when shopping for electric vehicles, including the biggest name in the sector. A simple solution is to buy used. Used vehicle sales topped 40 million in the United States alone in 2021, compared to 15 million new vehicles.
Nevertheless, there is still the longstanding stereotype of the sleazy, used car salesperson pushing a shiny lemon at unsuspecting shoppers. That is certainly not the case with Tesla. Instead, the used car sales run similarly to the new car buying experience.
Douglas said to Electrek, "Most people don't realize that Tesla runs its own vertically-integrated, nationwide online used car retailer. It's as big as some publicly traded used car retailers you've definitely heard of, despite no Super Bowl commercials." It can only be assumed he is referring to Carvana, which launched its Over Sharing Mom commercial during the 2022 Super Bowl. The used car company is valued at $4.69 billion.
Tesla does not have a line item showing how much its used car division is worth. That section of the company falls under Services and Other; on the most recent filing with the SEC, that number is $1.4 billion.
While it is not Carvana's value, it is still a big chunk of change, especially because Tesla has recently stopped lessees from selling any of its products at the end of the term. That means a never-ending supply of used cars will be returned to the dealership.
In addition, the company is preparing for growth in this division. A recently posted job at Tesla reads: "Would you like to be part of a team transforming the way people buy a car?" Douglas is hiring an associate manager of used car quality. The posting continues, "As a leader in Tesla's Used Car business, you are responsible for the development of the refurbishment process and managing daily refurbishment operations."
Perhaps the used car division will get more respect in the future at Tesla and not be lumped into the 'other' category. That category has grown by 50 percent since last year. At this pace, used cars deserve a line of their own.