Tesla introduced FSD Profiles with FSD Beta 10.3 last October.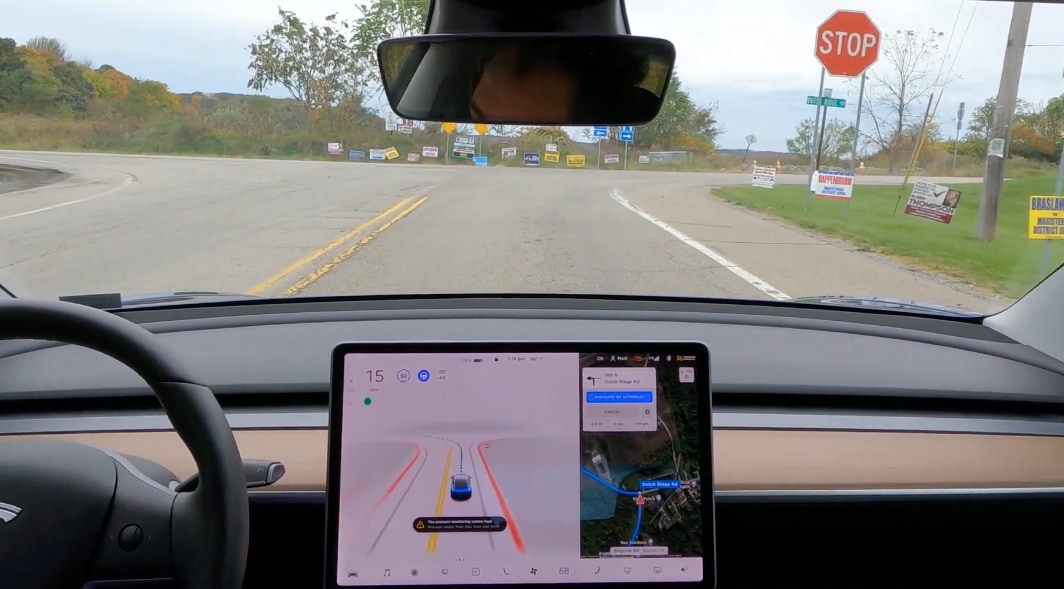 FSD Profiles let you pick from three different driving styles and assertiveness. By adjusting your FSD profile your vehicle will adjust its following distance, acceleration, how aggressively it makes lane changes, and more.
When using the 'Assertive' FSD Profile, the vehicle may also perform rolling stops at a stop sign when certain conditions are met.
The NHTSA is now asking Tesla to remove the ability for Teslas to roll stop signs. It's not clear if this recall is delaying the release of FSD Beta 10.9 to all testers.
Only about 38% of FSD Beta users are on version 10.9, with the majority (61%) still on the previous beta, version 10.8.1.
This change is making headlines, but it impacts a very small amount of owners. Tesla recently revealed that it has almost 60,000 FSD Beta testers. This change will only affect those testers who have their FSD Profile set to assertive, which is not the default setting. So it's going to be a fairly small amount of users.
It's pretty clear why Tesla added FSD Profiles and the ability to roll stop signs. If you go out on the roads and perform four-second stops at every stop sign, drive the speed limit and follow every traffic law under every condition, you're likely to run into some pretty angry drivers.
It was forward-thinking of Tesla to add driving profiles, letting you set Autopilot to your preference and match the driving style in your area. Drivers in New York City and drivers on country roads are clearly not driving the same way.
What's interesting in this recall is that Tesla outlined exactly when a Tesla may perform a rolling stop. It's not enough to have just your FSD Profile set to assertive. The vehicle goes through a checklist to confirm that it's safe to make a rolling stop, much like a human might do when coming up to a stop sign. You look around, make sure there are no other cars coming, there are no police cars, no pedestrians, etc.
FSD Beta will only perform a rolling stop if all these conditions are met:
1. The functionality must be enabled within the FSD Beta Profile settings; and
2. The vehicle must be approaching an all-way stop intersection; and
3. The vehicle must be traveling below 5.6mph; and
4. No relevant moving cars are detected near the intersection; and
5. No relevant pedestrians or bicyclists are detected near the intersection; and
6. There is sufficient visibility for the vehicle while approaching the intersection; and
7. All roads entering the intersection have a speed limit of 30 mph or less.
After going through the list above, one may actually be able to argue that FSD Beta will perform a rolling stop much safer than a human.
After speaking with NHTSA, Tesla agreed to send out an update to FSD Beta testers that will disable rolling stops when using the assertive driving profile. The recall outlines that Tesla will release the update as version 2021.44.30.15.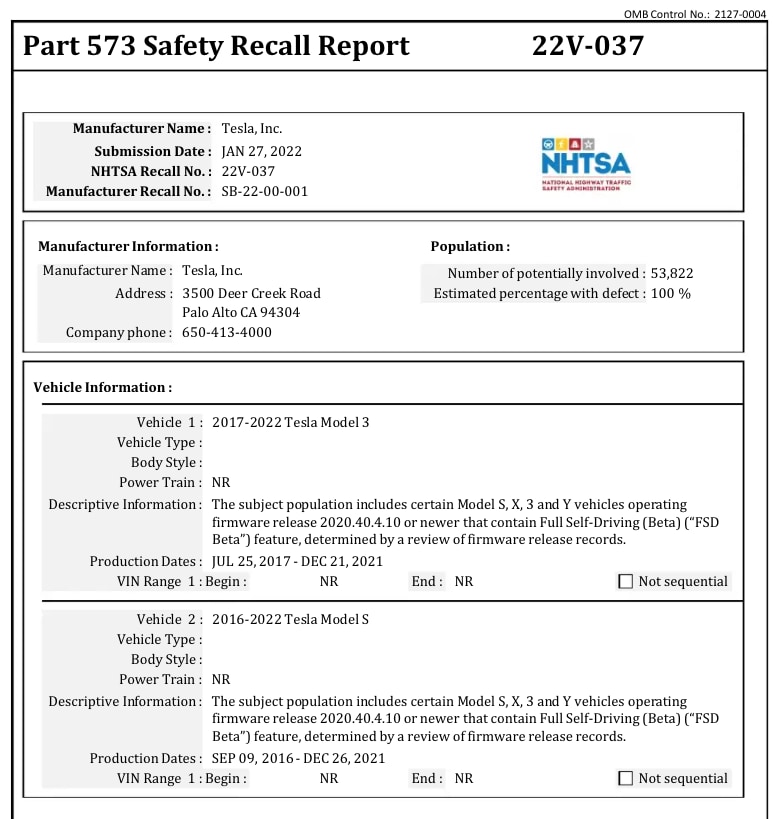 Tesla's latest FSD Beta, Beta 10.9 is version 2021.44.30.10.
It's not clear whether this update will simply be a point release of FSD Beta 10.9 or if it will be part of FSD Beta 11, which Elon has previously said was coming after Beta 10.9.
Everyone in the Tesla community knows that this is a simple software update, but in NHTSA's safety report, they're still calling these kinds of issues recalls, which could be misleading.
It'd be nice to see NHTSA use different language when a vehicle needs to be physically brought in and when it can simply be performed as a remote software update that requires almost no owner intervention.