Tesla's v11 update was received with mixed feelings. It's split about 50/50 whether you love the update or hate it. There doesn't seem to be much in between.
The UI is cleaner and better organized, but it comes at the expense of quick access to many settings.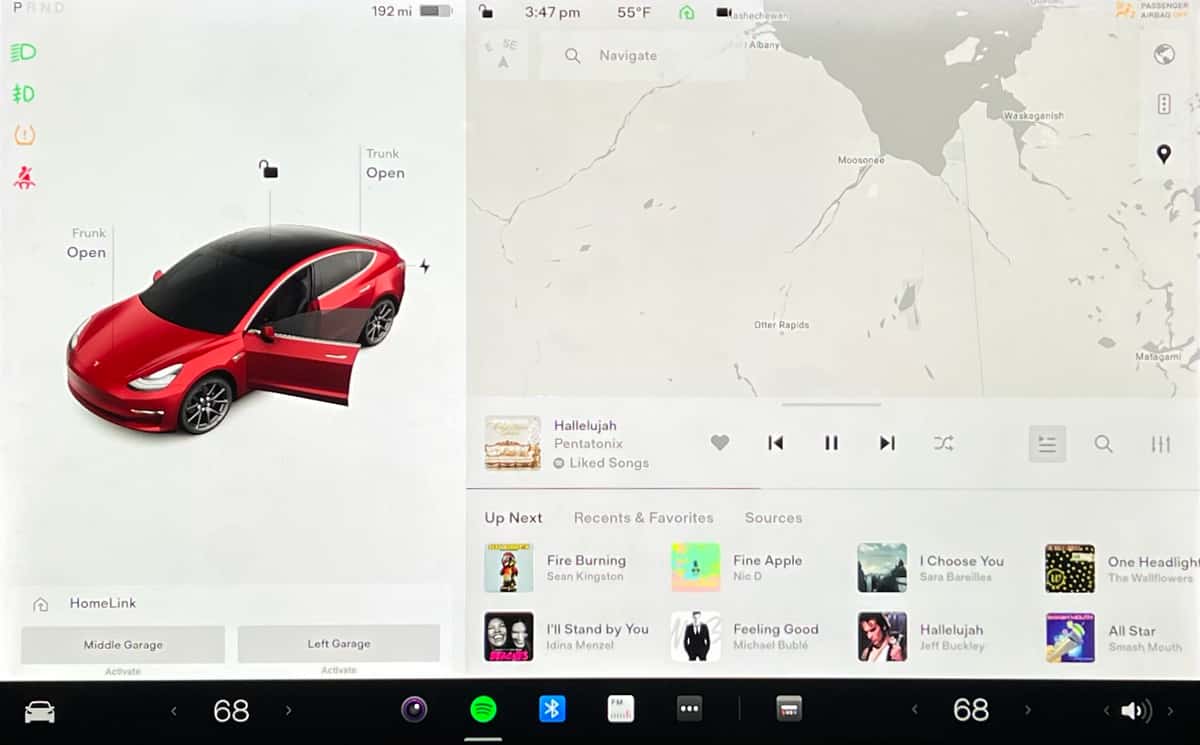 Some things we'll all just need to get used to. For example, checking your tire pressure in a card-like view will likely not be something that Tesla adds back.
While in other areas we'll certainly see Tesla make some needed updates.
Until the next update, there are a few tips that could make v11 a little easier to use.
Climate
You don't need to tap the temperature to access the climate controls. You can access them at any time by swiping up anywhere from the app launcher.
Once you have the climate open, you can close it by waiting for it to timeout, or by swiping down anywhere in the screen except the vent area, which would aim the direction of the vent instead.
Minimizing Apps
Unfortunately in version 11, Tesla replaced a lot of buttons with sliders, which are less than ideal to use while driving.
Each app used to have a close button, but they have mostly been removed. Apps are now closed by swiping downward in the app.
However, if you prefer you can still close an app with a single tap. It's not as obvious as a close button, but you can tap the app's icon to close it. The music app which has multiple states may require multiple taps on the app icon as the app cycles through its various sizes.
Dismissing Alerts
Tesla now displays various alerts on the bottom left of the screen for the Model 3 and Model Y. This is used for HomeLink, blind spot camera, seat belt warnings, phone calls, and more.
If you receive multiple alerts at once, they can sometimes hide other information you'd like to interact with such as your phone or HomeLink.
Any of these alerts that show up on the bottom left corner can be dismissed by swiping downward. This lets you dismiss HomeLink or another alert if you're trying to interact with another alert that is underneath.
HomeLink
HomeLink is contextually aware and the controls will show up based on the location you have set for your garage door or gate. However, if you use Auto-Open, it's not very obvious how to cancel it if the garage door is already open.
Underneath the HomeLink buttons, you'll see a word named Activate or Cancel. That will be the action performed when you tap the garage door button.
So when pulling up to your garage, you'll initially see Cancel underneath the garage door button, with the number of feet before the garage door will auto-open. Tapping on the button will cancel the automatic opening of your garage.
This solution isn't very intuitive and we hope Tesla will revisit this.
Customizable Launcher
The customizable launcher in v11 is a welcome addition, although it shouldn't remove options that owners had access to before.
We believe Tesla will be adding more options to the app launcher, including seat heaters and window defrost in the future, however for now we have to deal with what we have.
The app launcher will always contain shortcuts to Controls, Volume, and cabin temperature.
Five additional apps will be shown before the driver and passenger temperatures. If you customize 2, then the other 3 will automatically show recently used apps.
You can customize up to 4, as one will always be reserved for a recently used app.
This also means that regardless of which app you're using, the icon for the app will always be the launcher. This lets you quickly close the app by tapping on the app's icon.
Quick Access to Wipers and Headlights
Some of the actionable alerts that can show up on the bottom left portion include windshield wipers and headlights.
In a Model 3 or Model Y, you can quickly adjust these without having to navigate into Controls.
You can tap the end of the left stalk to have the wipers' speed come up on the display.
Similarly, you can flick your high beams to get light controls to come up on the display, which will then let you adjust your fog lights, auto high beams, and regular headlights.
Music
The music app was one of the few apps that received a visual overhaul with the v11 update.
But did you know that it also includes a new Up Next feature that lets you view upcoming songs when you're playing a playlist?
If you tap the button to the left of the search icon, your player will take up about half the screen and it'll show some additional information. You can pick from Up Next, Recents and Favorites and Sources. Recents/Favorites and Sources are now only accessible in this view.
Save Dashcam
The Dashcam icon has been removed from the top of the screen, leaving us without a quick way of saving any Dashcam footage.
However, you can still easily save Dashcam footage by using the "Save Dashcam" voice command. There are many voice commands you can use to make it easier to access features you used before.
Keep the Seat Heater On
Since the seat heaters are now part of the climate view, it makes it more difficult to use them in certain scenarios.
You can still keep your seat heater on and the climate system off. This could be useful if you're running on an extremely low state of charge.
To do so, open the climate system and choose your seat heater temperature. Auto seat heaters will need to be turned off.
You can then power off the climate system and your seat heater will remain on. You can also use the app to turn on just your seat heater if you prefer.
Version 11 of Tesla's UI is a step forward in some cases and a step back in others. It's reassuring to know that Tesla is working on updates to overcome the shortcomings in v11.
You shouldn't expect the UI to go back to the way it was in v10, but you should expect to regain some lost functionality, such as the ability to keep seat heaters in the app launcher or quickly save Dashcam footage.
Check out a fan-created concept of Tesla's app launcher.