How owning an EV in the US compares to Europe
Europe is different to the US in many ways. One is the price for gasoline. 1 US gallon equals 3.7 liters. The price for 1 liter of gasoline (The Netherlands May 2021) is 1.97 Euro, or 8.84 USD per gallon. To fill up a ICE tank of 50 liters will cost you about 100 Euro/ $121 US. One liter of gasoline contains the energy equivalent to 8.9 kWh of electricity.
My Tesla uses 12.3 kWh for 66.4 km or 185 Wh/km or the equivalent of 1.38 liters of gasoline. This is one of the main reasons for Europeans to drive an EV. The lower cost of driving an EV is a huge advantage over any ICE. For Tesla drivers who did not include a free Supercharger option for their Tesla charging en-route in Europe really can be expensive. Some operators ask 33 Eurocent per kWh for charging on a slow 11kWh charging station and fast charging could cost up to 59 Eurocent per kWh.
Compare that to the US where the average cost to fully charge a Tesla Model X 100 is $15.29 (for a 100 kWh battery with an 85% charging efficiency rate). Calculated is an average household cost of electricity of $0.13 per kWh or 4.5 cents per mile.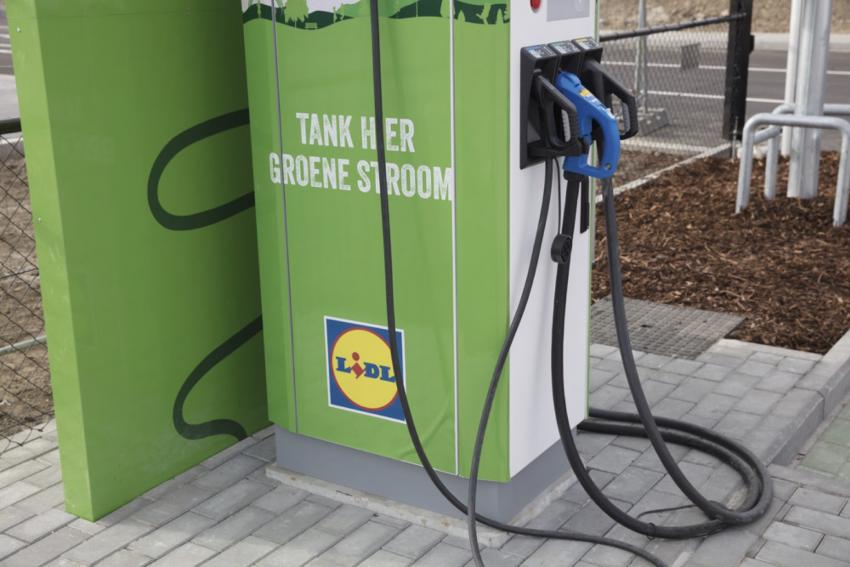 Most Tesla owners in Europe therefor have a 'free' Supercharger option included or charge at home (average 0.22 Eurocent per kWh). As the cost of fast charging your Tesla en-route could end up as expensive as filling the tank of an ICE.
That is, until most recently. German discount retailer Lidl is expanding a fast charging network throughout Europe that has one great selling point: it is completely free of any charge. No special card, no card reader, no membership just plug and charge. DC and AC charging, CCS and ChaDeMo per charging unit. The power used to charge the EVs is provided by solar panels on the roof of the respective supermarkets, complemented by green power sourced externally.
Belgium Lidl will be expanding their fast chargers from 61 to 100. German-owned retail chain Lidl also intends to invest "significantly" in charging stations for Finland in the next few years, according to Lidl Finland's Director of Real Estate and Development, Virpi Kaikkonen.
"An electric car charging station will be installed at each of our new stores and we will also add them to the parking lots of existing stores, so that by the end of 2024 all of our nearly 200 stores will have stations,"
Unlike most competitors, charging at Lidl is still free of charge. According to Lidl, the company aims to help low-emission driving become possible and effortless throughout Finland.
As a reader has pointed out, in Portugal Lidl is still charging in order to charge your EV at their supermarkets. We hope their free-to-charge initiative will spread to other regions as well to help promote their brand and EVs in general.