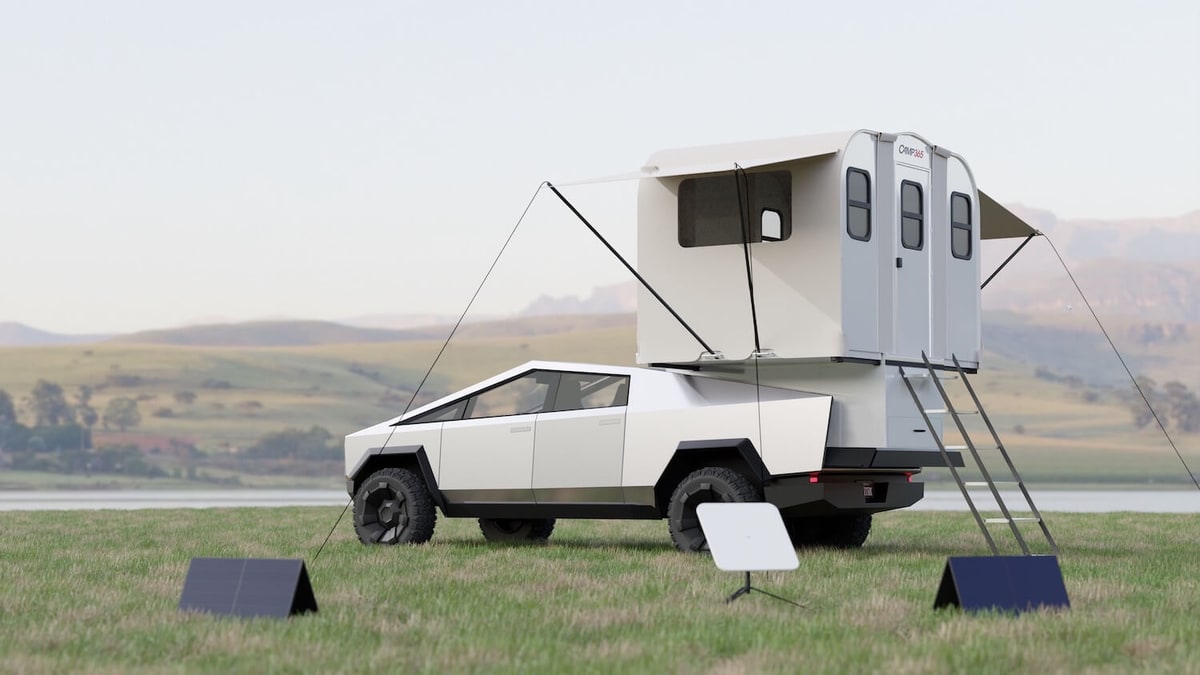 Tesla is gearing up for the Cybertruck's first delivery event on November 30, but it isn't the only company stirring excitement. The stainless steel beast is set to open up a new frontier for camping enthusiasts, with third-party manufacturers already crafting gear to turn this futuristic vehicle into the ultimate adventure companion.
The Advent of Cybertruck Camping Gear
With its robust and versatile design, the Cybertruck is an ideal candidate for outdoor escapades. Tesla's emphasis on the truck's adaptability was showcased through a custom-made tool rack at a recent Tesla event. Though this rack was specifically designed for the occasion, it gave a glimpse into the Cybertruck's potential as a base for various accessories, including camping gear.
Third-party manufacturers are creating an array of accessories tailored for the Cybertruck. These range from lightweight and aerodynamic truck bed campers to solar-powered charging stations, all designed to complement the electric vehicle's aesthetics and performance while ensuring that adventurers can venture out without worrying about their carbon footprint or the nearest charging station.
One such pioneering addition is the CAMP365 T Model truck bed camper, explicitly engineered with the Cybertruck in mind. This innovative camper is a game-changer for Tesla enthusiasts looking to meld the thrill of exploration with the sustainability and performance of their electric vehicles.
The Cybertruck's anticipated accessory mounting points will allow for easy installation of third-party gear, ensuring that enthusiasts can personalize their vehicles for their individual adventure needs. This feature promises a seamless integration of camping modules, further solidifying the Cybertruck's position as a versatile electric utility vehicle.
Elevating the Camping Experience
CAMP365 aligns perfectly with Tesla's ethos of innovation and sustainability. The T Model camper is a testament to this synergy, offering a travel solution that promises minimal impact on the Cybertruck's range — a crucial feature for the electric adventurer. Weighing in at just 700-800 lbs, the T Model's aerodynamic design ensures that range anxiety doesn't hinder the call of the wild.
Designed to complement the Cybertruck's aesthetic and functionality, the T Model expands from a sleek 4' x 7' size in the truck bed to a spacious 9' x 7' living area. This expansion reveals a 63 sq ft interior that comfortably sleeps four to five people, all while maintaining an impressive 6' 8" headroom that mirrors the Cybertruck's spacious feel.
The T Model is not just a camper; it's a mobile high-tech haven. Equipped with amenities that make camping feel luxurious, it includes a hot water shower, a kitchenette with an induction cooktop, electric heat, air conditioning, and even Starlink internet connectivity. It integrates seamlessly with the Cybertruck, promising to be a head-turner at campsites and a topic of conversation among Tesla enthusiasts.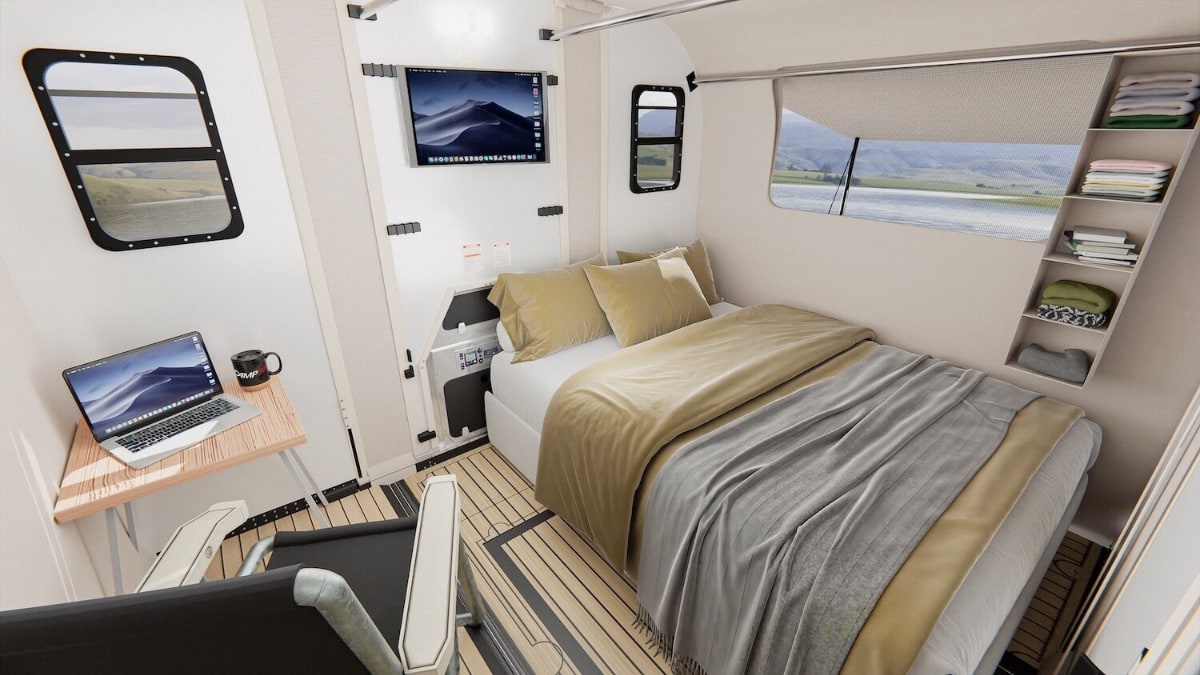 As the Cybertruck rolls out, so does the T Model from CAMP365, heralding a new wave of Tesla-compatible gear designed for the discerning, eco-minded traveler. With a starting price of $25,000 and production slated for the summer of 2024, this camper invites Cybertruck owners to venture beyond the beaten path without leaving a carbon footprint.