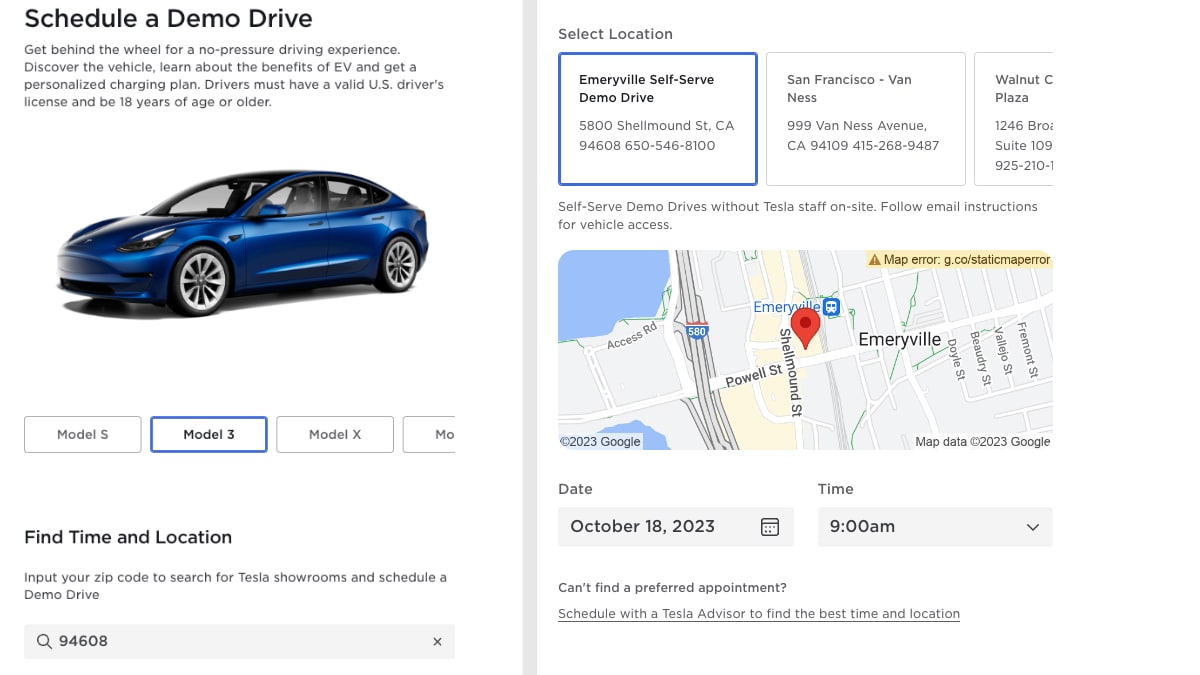 Tesla has launched a self-serve demo drive initiative, offering prospective buyers an entirely new way to experience the brand. Potential Tesla owners can now get behind the wheel of a Model S, 3, X, or Y without talking to a sales representative. This approach offers a hassle-free experience and aligns with the company's emphasis on automation and customer convenience.
Omar, better known as WholeMarsBlog posted on X that Tesla is now offering self-serve demo drives. After finding a location that offers self-serve demo drives, you can schedule a date and time for the drive. Once booked, customers are prompted to set up a Tesla account, which provides keyless access to the demo vehicle. The process is further streamlined by allowing users to input their driver's license details directly into the Tesla app.
Locations
The self-serve demo drive location Omar found is in Emeryville, California, where Tesla was born, and has a huge following; it's unknown if this feature is widely available nationwide. You can check if a location is available near you on Tesla's 'Drive' section of their website.
Rethinking the Traditional Car Sales Model
Tesla's drive to shake up the stagnant automotive industry extends beyond its sustainable products to its unique approach to vehicle production. Elon Musk must've encountered one too many car salespeople as the company has succeeded with the direct-to-consumer model, which has been shown to offer a distinct advantage.
By directly owning the sales channel, Tesla ensures an integrated customer experience. Interactions are streamlined with customers dealing exclusively with Tesla-employed staff. There is no haggling, commission, or headaches, which are far too familiar for anyone who has stepped foot on a car lot.
Digital Prowess: Taking Sales Online
Tesla's embrace of technology has significantly revolutionized the car buying process. This latest step now ensures the buying process can be controlled entirely by customers, from a test drive to rolling away with your new ride. Customers are in control the whole time. They can customize and order their vehicle online and finalize purchases without setting foot in a showroom.
Tesla again takes the sleazy feeling out of buying a car by respecting its customers and not trying to sell through stereotypical TV commercials — instead, the company banks on the power of word-of-mouth. Tesla effectively transforms every owner into a brand ambassador by producing stellar vehicles. The company credits these owners for referring new customers, fostering a strong sense of community around the brand.
With the introduction of self-serve demo drives, Tesla continues its streak of industry-redefining innovations. Given the warning from the company that the tax incentive may be reduced soon, it would be a good time to book a self-serve test drive.