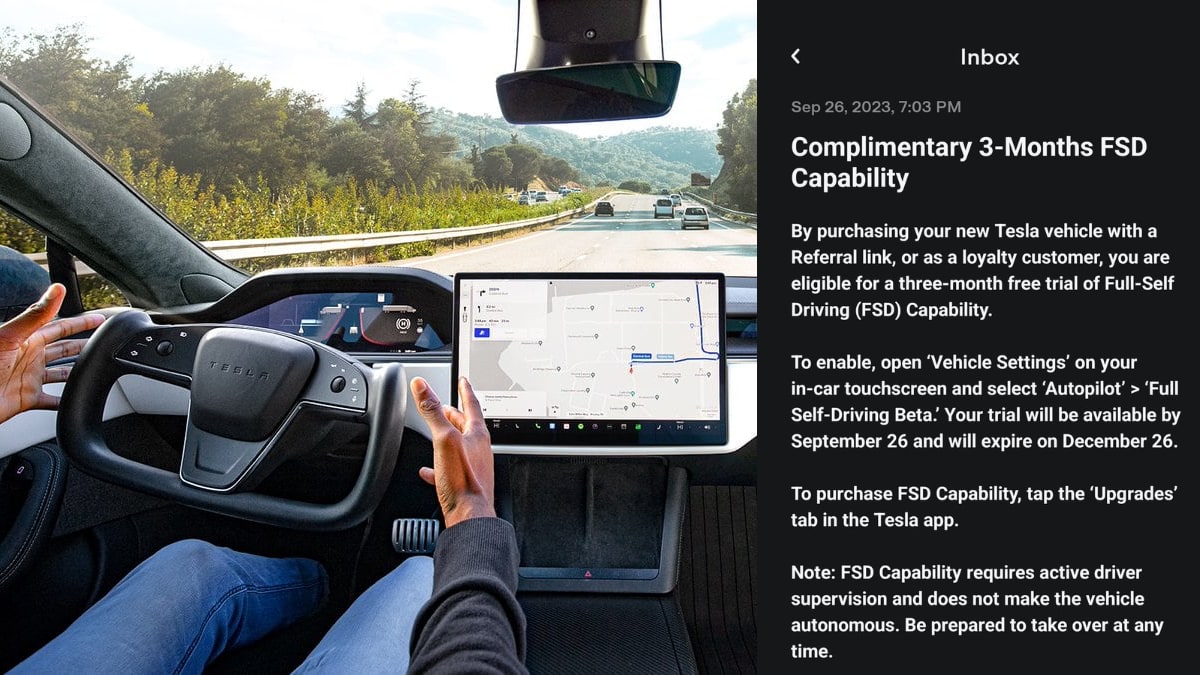 In a move that balances technological advancement with customer realities, Tesla has launched the FSD Beta trials for select owners and adjusted the stipulations of the FSD transfer program.
Addressing the Wait with FSD Beta Trials
For owners who secured a Tesla with Hardware 4 (HW4) through a referral, the company offered $500 off and a 3-month trial of FSD.
Tesla is now rolling out an additional three months of complimentary FSD Beta. This extension aims to compensate for the waiting period experienced by some customers before the feature became available post-delivery.
Once the trial concludes, customers interested in retaining the FSD capability can do so via the 'Upgrades' section of the Tesla app. It's imperative for users to understand that the FSD system, while advanced, is not autonomous and requires active driver supervision, reinforcing the need for driver vigilance.
Flexibility in FSD Transfer Program
Tesla is also amending the conditions of the FSD transfer program. The initial requirement necessitated customers to take delivery of their new Tesla by September 30, 2023, to qualify for FSD transfer. Given the potential for delivery delays and subsequent customer feedback, this no longer appears to be a hard requirement according to Drive Tesla Canada. However, the order must still be placed before the specified date, with customers completing all pre-delivery tasks and making an honest effort to take delivery before the deadline.
In cases of custom configurations, if a matching vehicle is available in existing inventory, customers must accept the readily available option. While this alteration in policy is practical, it may necessitate some recalibration for prospective buyers.
Tesla says you can activate the FSD trial by navigating to 'Vehicle Settings' and selecting 'Autopilot' followed by 'Full Self-Driving Beta' on the in-car touchscreen. This appears to be the first time that Tesla is referring to Controls as 'Vehicle Settings.' Settings aligns better with other platforms and leads to less confusion for new users.