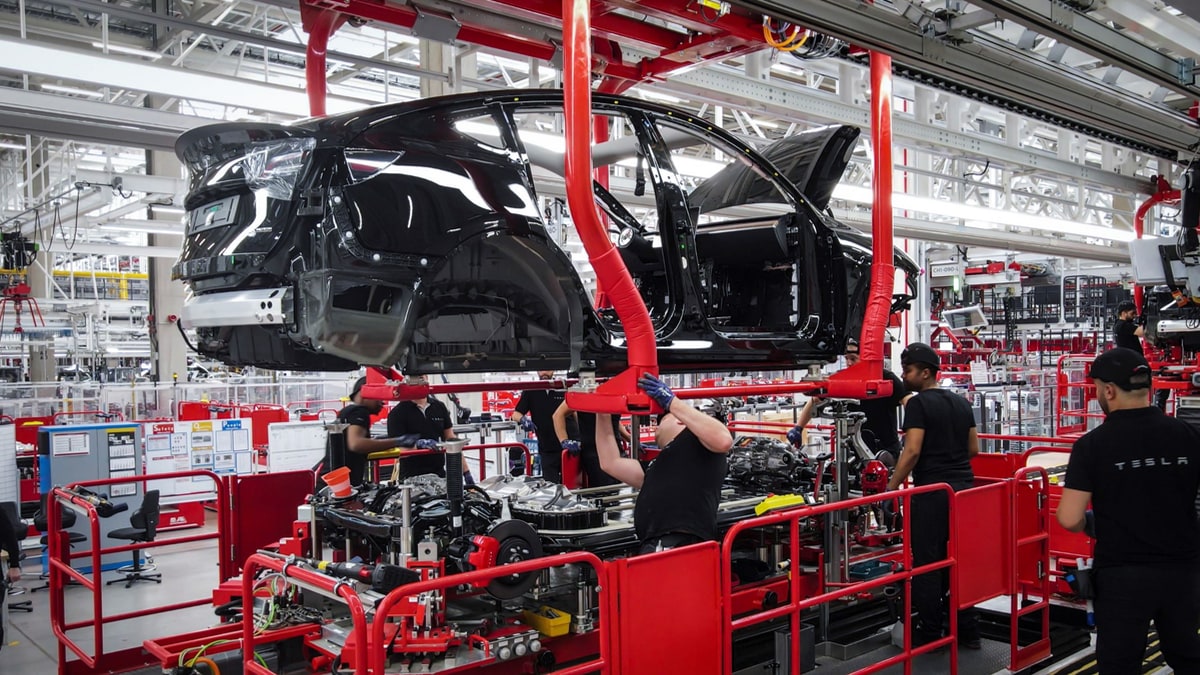 Tesla is nearing a pivotal moment in its journey and the automotive industry. According to a detailed report by Reuters, the company is on the brink of a groundbreaking manufacturing evolution, set to revolutionize the production of its next vehicle and set a new standard for the future of vehicle creation.
Drawing on insider knowledge from five anonymous sources, the report sheds light on Tesla's innovative gigacasting process, poised to redefine the manufacturing landscape and help Elon Musk realize his ambition of halving production costs. A decision on this significant shift could be made later this month.
A Single-Frame Approach
The key to this disruption lies in Tesla's commitment to unboxed manufacturing - a strategy introduced by Musk in March. At its core, this strategy focuses on the die-casting of nearly the entire complex underbody of an EV in one singular piece, reducing the traditional assembly of around 400 parts in a conventional car to a singular entity.
Tesla has used technology in several areas of its operation, notably a recent single-piece front casting for the Model Y that resulted in 169 fewer pieces and 1,600 fewer welds.
Tesla's unboxed strategy could roll out soon, drastically cutting production time and costs. According to Reuters, Tesla's forthcoming $25,000 car presents the perfect canvas for this one-piece casting revolution, bearing a simpler underbody resembling "a battery tray with small wings."
The Material Difference
To bring this vision to life, Tesla's global team, based across the UK, Germany, Japan, and the US, has leveraged 3D printing and industrial sand. Utilizing binder jets, which construct molds layer by layer through the deposition of a liquid binding agent on a sand layer, the team can quickly create and adapt prototype molds. This process significantly cuts the traditional costs associated with metal prototype creation, paving the way for rapid iteration at just 3% of the usual expenditure.
Beyond molding, Tesla has also been developing special alloys to overcome challenges in crashworthiness and other attributes associated with the different behaviors of these materials in sand and metal molds. These alloys, aligned with a fine-tuned molten alloy cooling process and post-production heat treatments, have potentially set the stage for a large-scale manufacturing revolution.
Tesla is deliberating on the exact nature of the die-casting process - whether embracing high-pressure techniques for speed or opt for slow alloy injection to ensure quality and versatility. The choice between these methods implicates not only the complexity of the car frame but also dictates the need for potentially more significant factory buildings and Giga Presses boasting a staggering clamping power of over 16,000 tons.
Strategic Shift to Giga Texas
This aligns with recent insights from Walter Isaacson's biography of Elon Musk, illustrating a strategic shift in Tesla's operations. Initially slated for Mexico, the production hub for the next-generation EV platform will now reside in Giga Texas. This will allow Musk to keep a closer eye on the development, design engineers and the manufacturing hub to facilitate immediate feedback and streamline processes. The book also said that Giga Mexico would still play a significant role, but now it seems it would be where the new technology would be housed after being perfected in Texas.
As the clock ticks down to Tesla's final decision, one thing remains clear: a potential transformative moment in EV manufacturing is on the horizon, promising a future where Tesla's EVs are more affordable, attainable, and revolutionary than ever before. It is not just a step but a gigantic leap toward the future of automotive manufacturing that only a visionary like Musk could envision and endeavor to achieve.