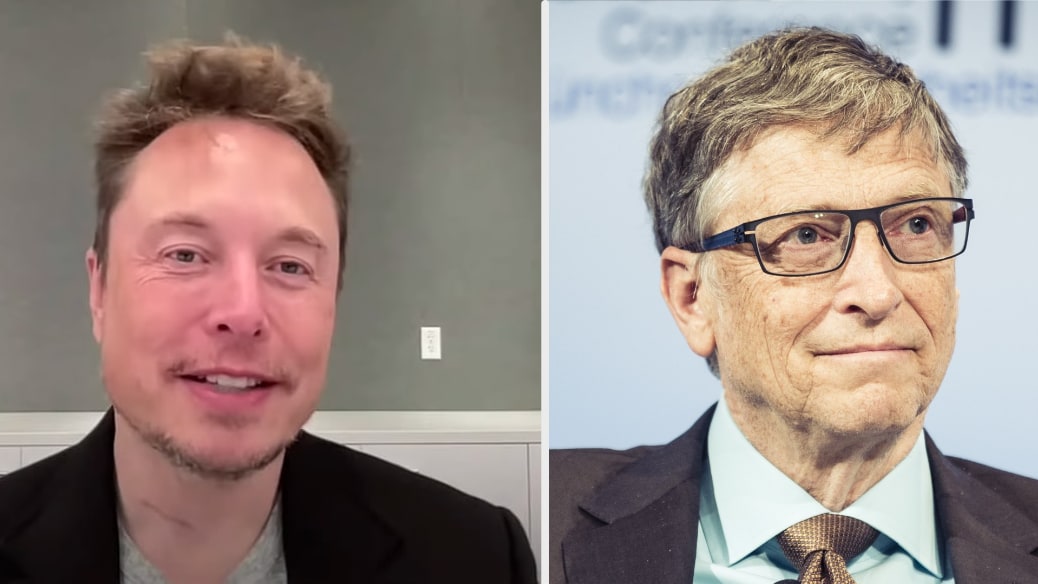 Many Tesla and Elon Musk stories will be made public with Walter Isaacson's recently released Musk biography. Another excerpt posted on CNBC has already produced a fresh escalation in the strained relationship between Musk and Bill Gates. The renewed dispute centered around Gates' alleged ongoing massive short bet against Tesla.
Musk Defended Tesla Then and Now
While the usual suspects, mainstream media, painted Musk as a mean bully to Gates, Tesla's CEO took to X to clear the air in a fiery post defending Tesla and attacking Gates. Musk expressed his dismay at Gates, accusing him of holding a short position on Tesla stock, a tactic where gains are maximized if the company faced bankruptcy. Musk emphasized the contradictory nature of Gates seeking cooperation on philanthropic environmental endeavors while potentially profiting massively from Tesla's downfall, a company at the forefront of green technology.
Just so that the public understands: Taking out a short position against Tesla, as Gates did, results in the highest return only if a company goes bankrupt!
Gates placed a massive bet on Tesla dying when our company was at one of its weakest moments several years ago. Such a big short position also drives the stock down for everyday investors.
To the best of my knowledge, Gates *still* has that massive bet against Tesla on the table. Someone should ask him if he does.
The lack of self-awareness and hypocrisy of Gates who had the nerve to ask me to donate to his mostly window-dressing environmental causes, while simultaneously aiming to make $500M from Tesla's demise, boggles the mind …
Taking it a step further, Musk, responding to a follower's comment, encouraged interviewers to ask Gates about his favorite Caribbean island, hinting at a darker angle to the feud, referencing Gates' ties to Jeffrey Epstein. This provocative stance has stirred a buzz online, urging followers to anticipate Gates' response or the possibility of this query being raised in future interviews.
Background of the Dispute
The discord between the two billionaires is not new; it took a serious turn when Gates visited Musk in March 2022, as narrated in Isaacson's biography. Gates had shorted Tesla, a move that didn't sit well with Musk, who viewed it as a bet against the sustainable future Tesla is working towards. The meeting ended on a sour note, with Musk unable to look past the financial move Gates had made.
While the antagonism is evident, their relationship has had moments of respect and acknowledgment for each other's achievements. Despite criticizing Musk's focus on Mars and other technological advances, Gates has praised Musk for pushing the boundaries of science and innovation. This complicated dynamic adds depth to their ongoing feud, painting a picture of two titans with deep-seated differences yet mutual recognition of each other's impact on the tech industry.
Public Reaction and Speculations
The X post generated a lot of reactions, with the public eagerly dissecting every aspect of this disagreement. While some support Musk's standpoint, others are apprehensive about the aggressive approach adopted in calling out Gates publicly. Speculations are rife on whether this would usher in a new era of openness in billionaire disputes, shedding the veils of diplomacy.
As the book is devoured by fans, critics, enthusiasts and haters, many more stories will be coming out that may need more explanation. As the world watches this feud unfold, the fundamental question remains — what is the nature of Gates' current investment in Tesla, and how will he respond to Musk's public calling out? The saga brings to light the intense competition and different philosophies guiding two of this era's most influential tech moguls, with the world eagerly waiting for Gates' next move. The stakes are high, not just in financial terms but in the clash of ideologies over philanthropy, climate change, and the roadmap to a sustainable future.