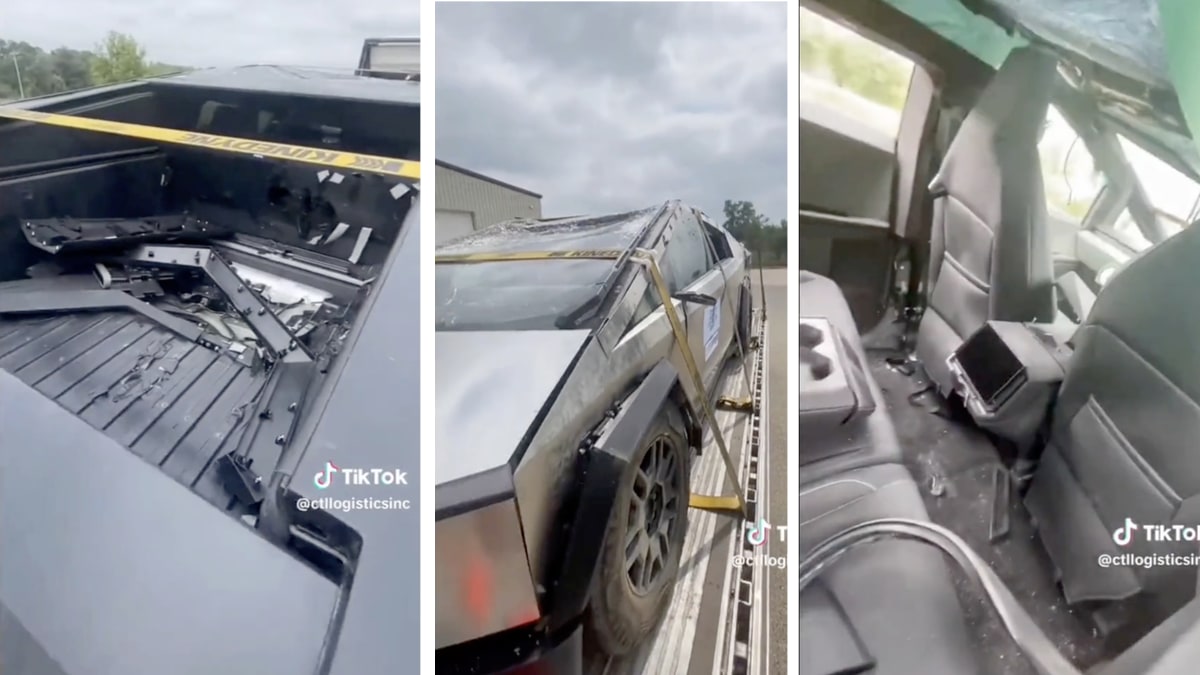 Tesla's highly anticipated Cybertruck continues to be put through the paces, and while security around the vehicle has been tightened, video and images are still popping up.
The latest is a Cybertruck that was involved in testing a ditch rollover. The source of this insider glimpse came from a modest TikTok account @ctllogisticsinc, belonging to trucking company CTL Logistics. Despite the video vanishing from the account, the ever-vigilant Tesla community comes through again. Stills and video footage have been preserved on the cybertruckownersclub forum, giving us deeper insight into the truck's performance in the challenging situation.
The images reveal a Cybertruck that has been through a rigorous ordeal, yet its cabin remained notably intact, shielding what is inside with a remarkable degree of safety. Even the glass roof, although smashed, withstood shattering — a promising indication of its protection to the vehicle's occupants from flying shards in the event of a rollover.
Standing Firm Amid the Test
While the details of the ditch rollover test's parameters remain unknown, the preserved visuals affirm the Cybertruck's substantial build and its resiliency in safeguarding its interior. This is a testament to Tesla's continued emphasis on vehicle safety, prevailing yet again with the Cybertruck, contrary to the early speculations regarding the steel frame's safety attributes.
Behind the Exoskeleton
As we further dissect the visuals, a discussion surrounding the Cybertruck's exoskeleton construction arises. Initially promoted as a breakthrough in vehicle manufacturing technology, recent sightings have portrayed it leaning towards a traditional unibody frame with flat panels instead of the customary curved ones.
This recent crash test sighting lends weight to this perspective, showcasing how the external panels bore the brunt of the impact, indicating a departure from the originally touted exoskeleton concept. Nonetheless, the Cybertruck exhibited less deformation than what one would expect from a vehicle enduring such a crash, attesting to the durability of its ultra-hard stainless steel body panels.
Inside the Unyielding Fortress
Despite the damage to the outside, the interior looked nearly untouched; indeed, there were signs of debris with airbag deployment and broken side windows, but it was not bad. The revealed rear seat showcased an 8-inch rear screen that stood unharmed amidst the chaos. Also, similar to those found in the new Model 3, the unique ambient light strips embedded in the door emphasize Tesla's consistent dedication to a harmonious blend of safety and luxury.
The Cybertruck's release looms closer, and this inadvertent reveal casts a promising light on its safety features and interior amenities. While we wait for Tesla to send the official delivery invites, the Cybertruck seems to have passed the ditch rollover relatively unscathed.
Thank you to Tesla enthusiasts who contribute to the Cybertruck Owners Club and the unwavering Tesla community that consistently has eyes everywhere, ensuring no moment passes undocumented in the Tesla universe.