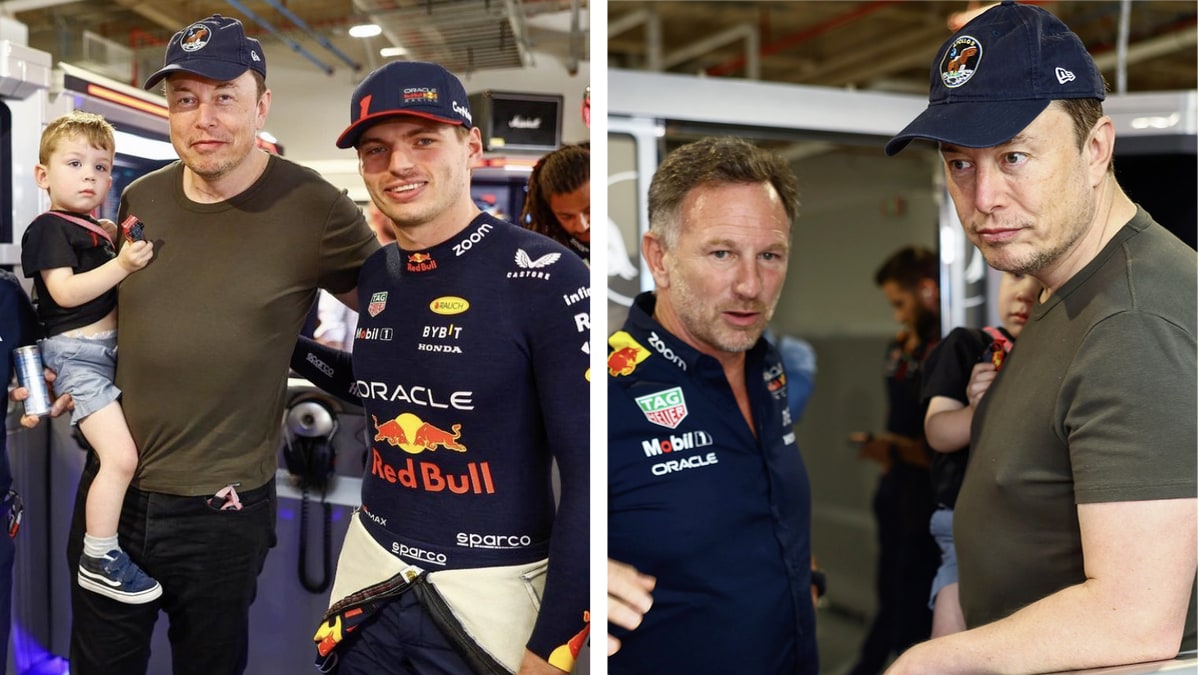 Tesla CEO Elon Musk attended the Miami Grand Prix over the weekend. During his visit, he participated in discussions on aerodynamics and battery technology, sharing his enthusiasm for electric vehicles and Formula 1 racing.
Musk, who brought his young son to the event, mingled with F1 leaders and visited the Red Bull garage. He was warmly welcomed by the F1 community, chatting with F1 Chief Stefano Domenicali and posing for photos with team boss Christian Horner and drivers Max Verstappen and Sergio Perez.
Musk Suggests an Electric Vehicle vs Gas/Hybrid F1 Race
Following his visit, Musk took to Twitter to share an unconventional idea for Formula 1. He tweeted, "Fun discussion of aero and battery technology in F1. I proposed a pure EV vs gas/hybrid F1 race." This suggestion envisioned a new kind of racing event, bringing together the worlds of electric vehicles and traditional Formula 1 competition.
However, fans quickly pointed out that a similar concept already exists in Formula E, the all-electric single-seater racing series. Several Twitter users responded to Musk's tweet, reminding him of the established competition. One user wrote, "There's Formula E, buddy," while another chimed in, "There is already a competition like F1 for electric cars."
Improving Tesla Service
This isn't the first time Musk has included F1 in a tweet. In May of 2022, he tweeted: Excited to work with Tesla Service to enable same-hour service as often as possible! Applying Formula 1 pit crew techniques to Teslas. It doesn't appear that those techniques have been incorporated, as F1 pitstops are around 2.4 seconds.
Fans Remind Musk of the Existing Formula E Racing Series
Despite the reminder, many fans encouraged Musk to become more involved in Formula 1, suggesting that he could use his influence and resources to innovate and push the boundaries of the sport. Some proposed ideas included having a Tesla Plaid car join the race or even Musk buying a team and competing directly.
While Musk's proposal may not have been entirely original, it did spark conversation and generated interest in the possibilities of integrating electric vehicle technology into the world of Formula 1. As the electric vehicle market continues to grow, the future of racing may see a convergence of traditional and cutting-edge technologies.
Ordering a New Tesla?
Consider using our referral code (nuno84363) to help support our site. Model 3 and Y buyers will receive credits toward Tesla Merch, while Model S and X buyers will receive $1,000 off and 3 months of FSD for free.