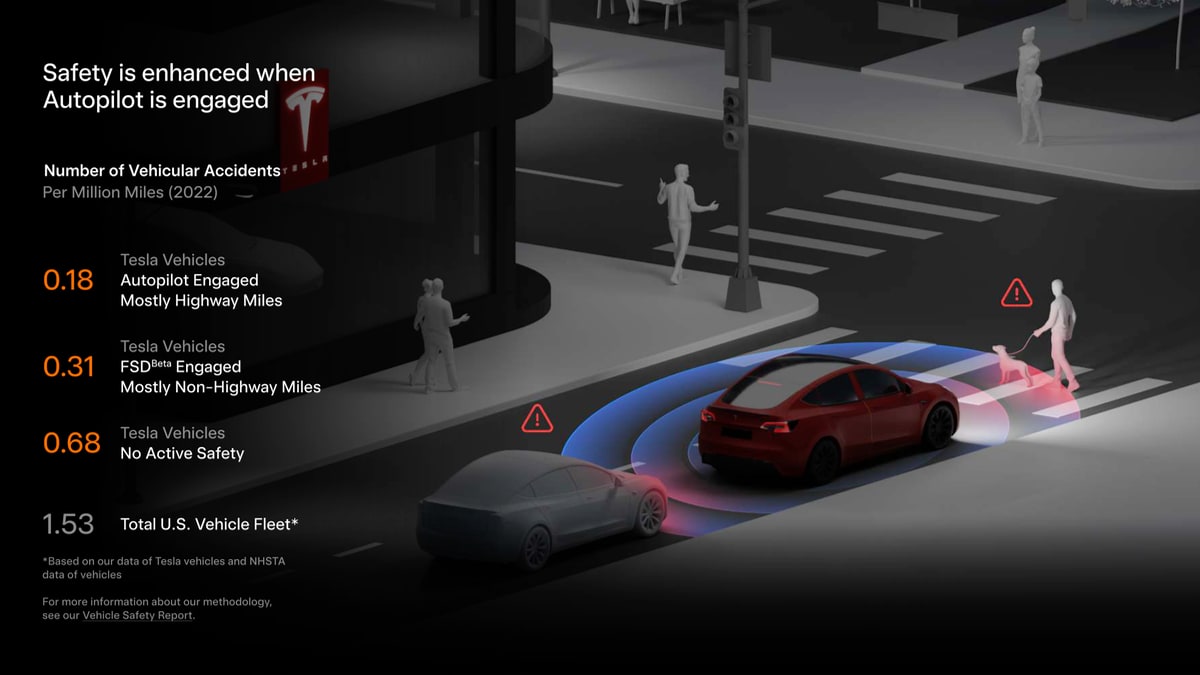 Tesla's latest Impact Report, which focuses on the company's sustainability and safety initiatives, has provided updated data on the performance of its Full Self Driving (FSD) Beta and Autopilot systems. The new numbers illustrate the significant improvements in road safety when these advanced technologies are utilized.
New Numbers Reveal Significant Safety Improvements
According to the Impact Report, FSD Beta users now have 0.31 accidents per 1 million miles, showcasing the effectiveness of Tesla's ADAS technology. In addition, Teslas with Autopilot engaged demonstrate even better safety performance, with only 0.18 accidents per 1 million miles. These impressive statistics highlight the potential for autonomous systems to drastically reduce accident rates compared to the industry average of 1.53 accidents per 1 million miles.
The report also confirms that Tesla's vehicles remain safer than conventional cars even when the advanced driving features are not in use, thanks to their passive safety systems. These technologies help reduce accidents, making Tesla vehicles safer for drivers and passengers.
The Future of Autonomous Driving and Accident Reduction
As Tesla continues to innovate and develop its FSD Beta and Autopilot systems, the company is setting a new standard for road safety in the age of autonomous driving. This progress is expected to inspire other automakers to adopt similar technologies, leading to a widespread reduction in accidents and improved road safety for everyone.
The data from Tesla's Impact Report demonstrates the potential of autonomous driving technology to save lives and reduce the strain on emergency services. As more drivers embrace these advanced systems and other car manufacturers follow suit, we can anticipate a significant decline in accident rates, making our roads safer for all users.
Tesla's Impact Report Showcases Commitment to Road Safety
The recent Impact Report reflects Tesla's ongoing commitment to improving road safety and reducing the number of accidents involving its vehicles. By continuously refining its autonomous driving technology, Tesla aims to protect its customers and other road users, including pedestrians and cyclists.
These safety advancements are part of Tesla's broader sustainability initiatives, which include reducing carbon emissions, promoting renewable energy, and minimizing waste. By prioritizing safety alongside environmental concerns, Tesla takes a comprehensive approach to create a better future for all.