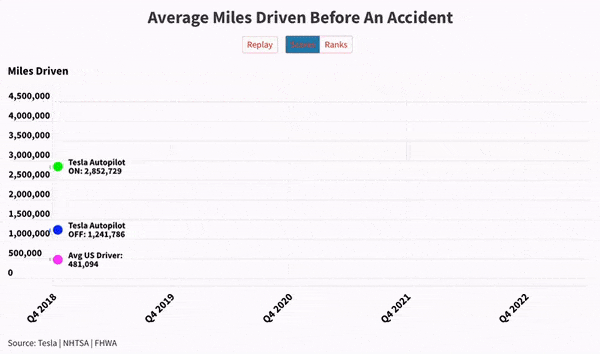 Tesla just released its latest Vehicle Safety Report for the fourth quarter of 2022. It compares Autopilot safety using real-world data from its fleet of vehicles.
Stats Prove Safety
According to the report, Tesla cars with Autopilot turned on are much safer than cars driven by people. In Q4 2022, there was only one crash for every 4.85 million miles driven. According to the most recent data from the National Highway Traffic Safety Administration (NHTSA) and the Federal Highway Administration (FHWA), one crash happens every 652,000 miles for all other cars.
Tesla's passive safety features also make its vehicles over two times safer than other cars, even when Autopilot is not engaged, with one crash every 1.40 million miles. While the Q4 2022 data is lower than Q3 2022, where Tesla recorded one crash every 6.26 million miles with Autopilot, it is still above the same period last year, when there was one crash every 4.35 million miles in Q4 2021.
Fourth Quarter Dip
It's important to note that, historically, the fourth quarter of every year has been the lowest, mostly because there is less daylight and worse weather. Tesla seems to have started putting out these reports every three months again, like it did for many years until the end of 2021, when it suddenly stopped and didn't say why. The company restarted in January 2023, explaining that it was recalculating its stats after adjusting which metrics were included.
Overall, Tesla's Autopilot technology continues to outperform the national average in terms of safety, highlighting the company's commitment to producing the safest cars on the market. With its continued investment in advanced technology and safety features, Tesla is setting the bar for the future of driving.