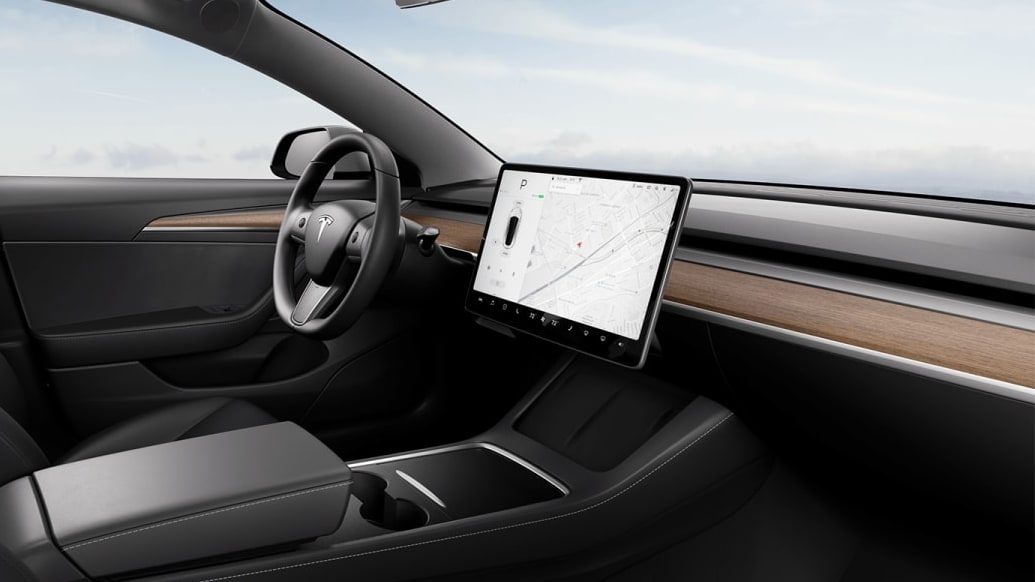 Tesla appears ready to replace the natural wood trim in the Model 3 with non-woven fabric. The wood trim has long been a hallmark of luxury cars, and it is often associated with a classic and timeless aesthetic. However, the look has started to look dated in vehicles, especially as many manufacturers have moved to fake wood to reduce costs.
With this move, Tesla may be embracing a more modern and sustainable design approach. Non-woven fabrics are often made from recycled materials and are designed to be more durable and longer-lasting than traditional wood.
Cost Cutting
According to Chris Zheng, which one of our sources later confirmed, Tesla is replacing the wood trim in the Model 3, and possibly other models with a non-woven fabric that will be significantly cheaper to produce. The move is in line with the company's efforts to reduce the costs of its vehicles and make them more affordable and environmentally friendly.
The wood trim has been a notable feature of the Model 3 since its inception in 2017, but it is also a costly one. By removing it and replacing it with fabric, Tesla can reduce the vehicle's manufacturing costs.
This is in line with the upcoming Model 3 revamp which is rumored to be centered around cost-cutting and is expected to be available later this year.
Environmentally Friendly
It is important to note that the move away from wood trim is not just about cost-cutting. While wood is a natural and renewable resource, its production and harvesting can have significant environmental effects. In contrast, non-woven fabrics are often made of recycled materials, which can help to reduce the environmental impact of vehicle production.
Tesla has always been committed to sustainable and eco-friendly design practices, and this change is in line with that philosophy. By using recycled materials and reducing the environmental impact of vehicle production, Tesla is staying true to its mission of creating a more sustainable future.
Different Colors
While the use of non-woven fabric in place of wood trim is a significant change, Tesla may also be considering using different fabrics for different models or trim levels.
In the Model 3 Tesla changes the trim based on the interior color of the vehicle. However, with the use of fabric, Tesla could increase the number of options available. Tesla could offer carbon fiber trim for the performance model, or white/black fabric based on the interior of the vehicle.
More Customization
However, they could go one step further. One of the often-mentioned downsides of owning a Tesla is the lack of customizable options. If Tesla wants to provide more customization options for its customers, it could offer a variety of trim colors, much like you'd pick the exterior color of the vehicle.
Tesla could also change the interior trim to match the exterior color of the vehicle to offer a more cohesive look.
Which Models This Will Apply To
Tesla has often shared as many parts as possible between their models, especially 'sibling' vehicles such as the Model 3 and Model Y. While the Model 3 vehicle is the one spotlighted in news regarding Tesla's revamp, it's likely that many of the features that are being talked about for the Model 3 will also carry over to the Model Y.
While the Model S and Model X also include wood trim on the dash, doors and center console, it's not clear whether Tesla will take a similar approach to their luxury line of vehicles.
The decision to replace wood trim with non-woven fabric in Tesla's vehicles is a multi-faceted one. While it will help reduce costs and make their cars more affordable, it is also part of a broader trend toward sustainable design practices.