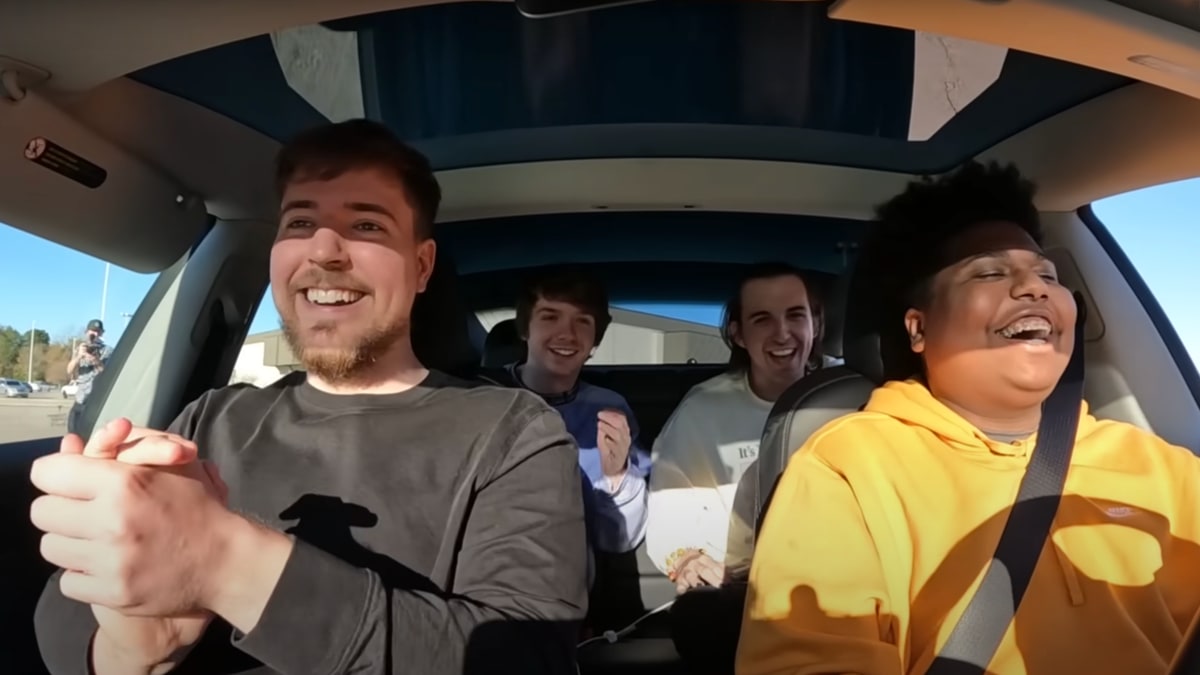 MrBeast, whose real name is Jimmy Donaldson, is the most subscribed to YouTube channel and known for his outlandish games, challenges, and life-changing prizes.
His newest video, titled "1,000 Blind People See For The First Time," has skyrocketed to YouTube's #1 trending video, and is praised for being one of his best acts of kindness to date. It shows the emotional moments of people having their eyesight restored and seeing for the first time. The video is in partnership with See International, a non-profit humanitarian organization aiming to provide eye care services to anyone in need of them.
In the video, MrBeast said over 200 million people are blind. The ophthalmologist in the video added, "Half of all the blindness in the world is people who need a 10-minute surgery." Despite us having the technology readily available to solve this issue, many people around the world are unable to afford the cost.
MrBeast and friends ask the patients what they're most excited about once their eyesight is restored. One gentleman said he was excited to see his son for the first time in years. Another lady was just ecstatic that someone paid for her surgery. MrBeast gave her an additional $10,000.
He continued and met with a young man named Satchel who has had poor vision from birth and nearly lost his entire vision from a go-karting accident. "All I see is blur and color," Satchel told MrBeast. "I can barely see the shapes." Unfortunately, Satchel's blindness has prevented him from driving and robbed him of a pleasure he hopes to enjoy after the surgery.
Thankfully, Satchel's surgery was a success, so MrBeast surprised him with a Tesla Model 3 at his three week checkup. The MrBeast team jumped in the Model 3 with him and drove through (and over) a test track with cones in a parking lot.
Watch MrBeast's Emotional Video
MrBeast is known around the world as one of the greatest philanthropists of this generation. His videos frequently show him doing outlandish things, such as surviving in Antarctica for 50 hours, staying in solitary confinement for 50 hours, and more, in the name of raising awareness and helping others. The videos frequently surpass hundreds of millions of views, with viewers and participants winning new houses, cars, and money.
It's not the first time the Greenville, North Carolina-based philanthropist has given away Teslas. Over the years, he has been an avid supporter of Tesla and critic of CEO Elon Musk. He frequently gives away Teslas, which have earned the title of being the safest vehicles on the road to fans, contestants, and people in need. In a video titled, "Win This Game & I'll Give You a Tesla," MrBeast and his friends played a video game called Rogue Company.
MrBeast Requests to be Twitter CEO
"I really want to be Elon one day," he said in a tweet back in 2020. MrBeast has recently been critical of Musk's Twitter takeover, requesting that Musk step down as Twitter's CEO. In December 2022, Donaldson tweeted at Musk asking if he could be the CEO of Twitter, to which Musk replied, "it's not out of the question."