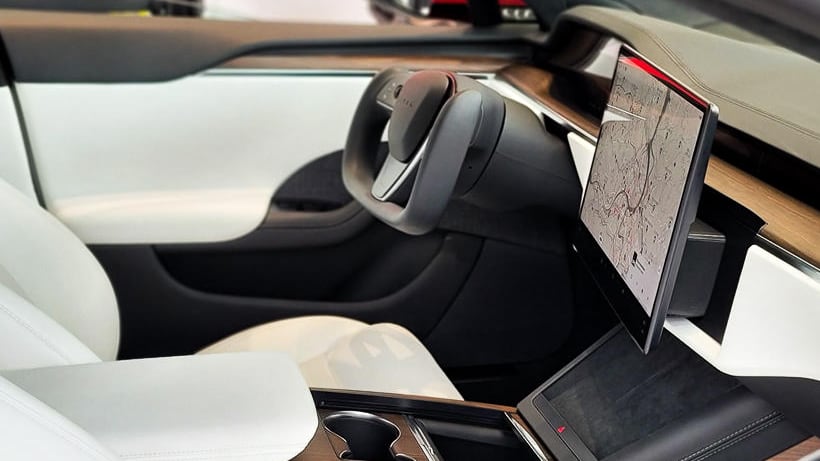 Tesla's pivoting screen in the Model S and Model X vehicles has officially been granted a patent.
The patent, called "Dual axis rotational mechanism," is for the screen in Tesla's premium Model S and Model X vehicles. The device allows users to tilt the screen slightly so it's easier to read, see, and use for either the driver or passenger.
Automotive engineer Sandy Munro and his team tore down the Model S Plaid earlier in 2022. During this teardown, Munro's team uncovered the hidden mechanism that would eventually be used to rotate the screen.
However, the device that was installed in Munro's Model S Plaid was lacking in a few features in order to be fully functional. The team did a deeper dive into what the mechanism was and modified it to showcase how it would function in the Model S and Model X in the future.
The missing parts in Munro's Model S Plaid mechanism meant that Tesla would eventually improve upon the part in the future.
The US Patent Office published Tesla's "Dual axis rotational mechanism" on November 24, 2022. The patent was originally filed six months prior on May 16, 2022, as well as an earlier version of the patent from 2021.
"The display device is mounted on a rotation mechanism that facilitates a dual-axis rotation utilizing a single actuator, dual rotation joints, and associated linkages," reads the patent. "The rotation component further includes at least one additional floating joint that provides additional tension forces relative to a third axis. Still further, in accordance with further embodiments, a control component can be utilized to generate control signals relating to rotation of the single actuators, such as establishing control positions and duty cycles."
Since Munro's initial teardown, Tesla has since implemented the tilting screen on later versions of the Model S and Model X. With all the 'cool' technology that Elon Musk has talked about going into the Cybertruck, we wouldn't be surprised if this feature makes an appearance in that vehicle as well.
The Cybertruck frame has recently been found at a Tesla facility and Tesla is still aiming for production to begin in just about six months.