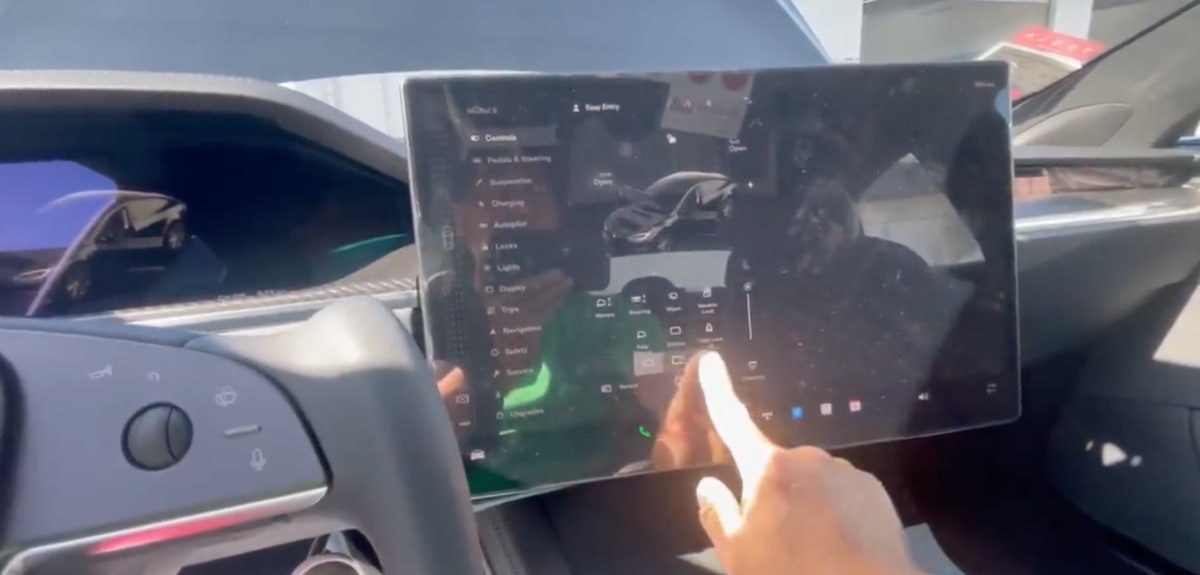 When the new Model S was shown off back in 2021 it was said to come with a tiltable 17" center screen.
Although the initial plan was to offer a tilt-able display, the displays in the new Model S and Model X have remained fixed until now.
There's currently no way to tilt the display, manually or automatically. However, it looks like Tesla is now testing an update that activates the servos that tilt the large center display.
However, not all vehicles are equipped with the motor to move the display. Tesla has only recently started to include all the hardware required. It's not clear whether Tesla will provide a retrofit for older vehicles. For vehicles that have the required hardware, an upcoming update should enable it to be controlled through the UI.
Twitter user @TeslaFrunk has just published a video showing the displaying tilting from left, to center and then to the right.
It looks like the display swivel will be done by the push of a new button added to the Controls menu.
The new button appears to be called "Display" and it replaces the Glovebox button. Upon pressing the button, you're presented with three options, left, center or right.
Tapping on the desired direction will cause the display to slowly move to the desired position. This doesn't appear like something you'd change just to use the screen for a moment, but instead more of a personal preference.
The glovebox button appears to have moved to the bottom right corner where Neutral used to be, and Neutral has been moved to the bottom of the Auto Shift column that allows you to shift your vehicle into Drive, Reverse or Park.
There's no word on what software version this vehicle is running, but it's likely an early access build or internal only software.
Tesla finally added screen swivel to the refreshed model s pic.twitter.com/JeldBrRTXw

— Larry Li (@TeslaFrunk) May 3, 2022
Some drivers like to have the display in the center, giving equal access to the driver and passenger, while others would prefer for it to face the driver.
This is a welcomed option that gives owners more flexability in how to use their cars.
It'd be nice if Tesla also offered an option to automatically tilt the display toward the driver if there was only one person in the vehicle or keep it in the center if there is someone in the passenger's seat.
Software update 2022.16 is just around the corner. Will this be included in it? We should find out soon.