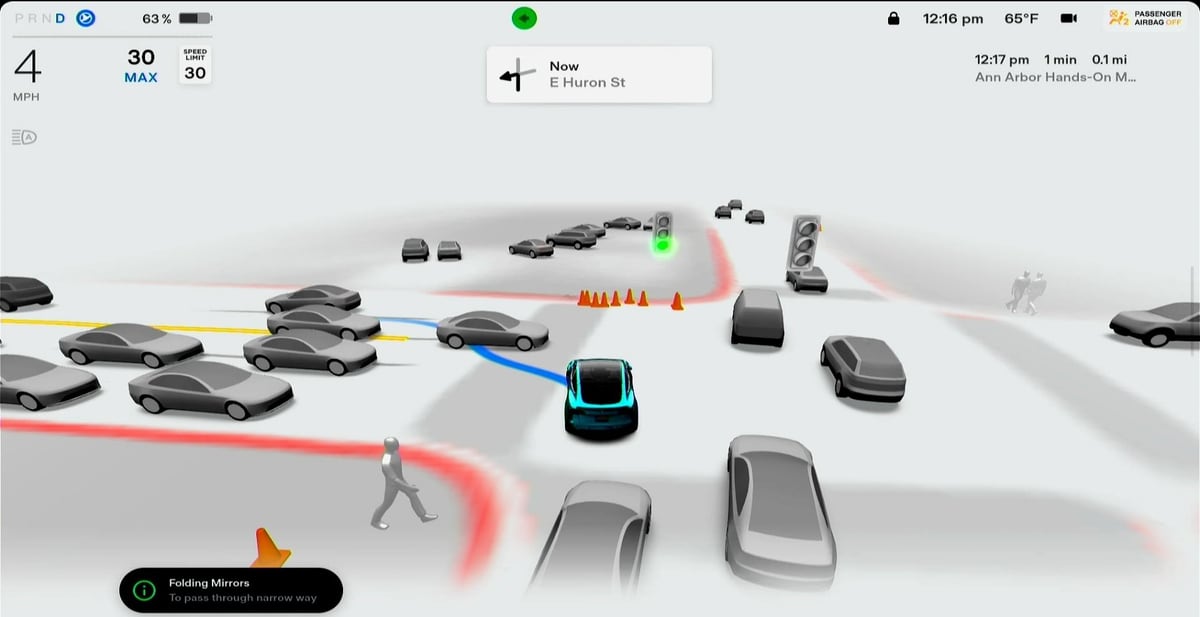 Several Tesla enthusiasts posted videos to YouTube showing viewers their first drives with Full Self Driving (FSD) Beta 10.69.3. Generally, the reviews are positive. Most videos have moments where the driver expects the program to make an error; instead, the Tesla surprises the user and executes complex areas without intervention.
Elon Musk has been touting this version of FSD as a significant update, but after the release, he tweeted: Still a fair bit of polish to be done on 69.3. It's a major release posing as a minor release.
Destination ETA in Full Screen
Besides the numerous FSD improvements and the new features Tesla has added in this update, Tesla has also made improvements to the full screen visualization.
When you enlarge the visualization so that it takes up the full screen, your destination details will now remain in the top right corner of the screen.
This includes information such as your destination, your arrival time, and distance and time remaining. This crucial information was previously hidden if you enlarged the visualization. Your next turn is also displayed at the top of the screen instead of at the bottom.
First Impressions
@Wholemarsblog, who is an FSD Beta tester, posted a video on YouTube as he cruised around San Francisco. During the video, he said, "they delivered on basically what everyone said was impossible for them to do." He was impressed with the update, "I think people will be blown away by this product when they try it later this month. It does pretty much what they said it would do. You get in the car, you tell it where you want to go anywhere in the country, and it just drives you there, you just sit there, simple as that."
Whole Mars Catalog's Take
@blktsla, also posted on YouTube. He put the program to work, even driving into direct sunlight to test the Vision system. A few times, he gave a thumbs up to the camera after noticing a significant difference from early versions of the program on the same drive. "It's natural. It's human-like. It doesn't make me feel uncomfortable," he noted. He also pointed out the display, how the animation was solid, not wavering as the program tried to figure out what is going on, "Everything is a lot more still and stable in the visualization, specifically when standing still."
Black Tesla's Take
However, @blktsla did intervene a few times, including once at an unprotected left, "that was awkward," he said, "maybe an anomaly, but not a good look again." He gave the decision-making a six out of ten but was still quite sure about the program, "confidence of the car is really what impressed me. I'm going to give it a seven." He also gave it an eight for comfort.
Tesla Owners of Silicon Valley posted a ride with 10.69.3. There was less commentary than in the other videos. However, during the video a cyclist cuts the corner too close, and the Tesla has to make a quick decision to move to the right and slow down immediately.
Tesla Owners of Silicone Valley's Take
Dirty Tesla's ride on YouTube went through some complex areas. While the host seemed impressed with the update, he noted a few interventions: "I don't like seeing those things we are this far into beta, but that is why it is beta. It is not done."
Dirty Tesla's Take
@Wholemarsblog pointed out, "you definitely see the capability and the potential, at least in some areas. One area it definitely exceeds humans is the focus. It always has complete focus. It's never distracted. There are a lot of things this thing will be able to help humans with."
Musk is confident that this program will make the road safer and prevent countless injuries and fatalities. All the testers and Musk say the system is not 100 percent, but it has improved. Tesla has said that FSD will go out to everyone in the U.S. and Canada by the end of this year.