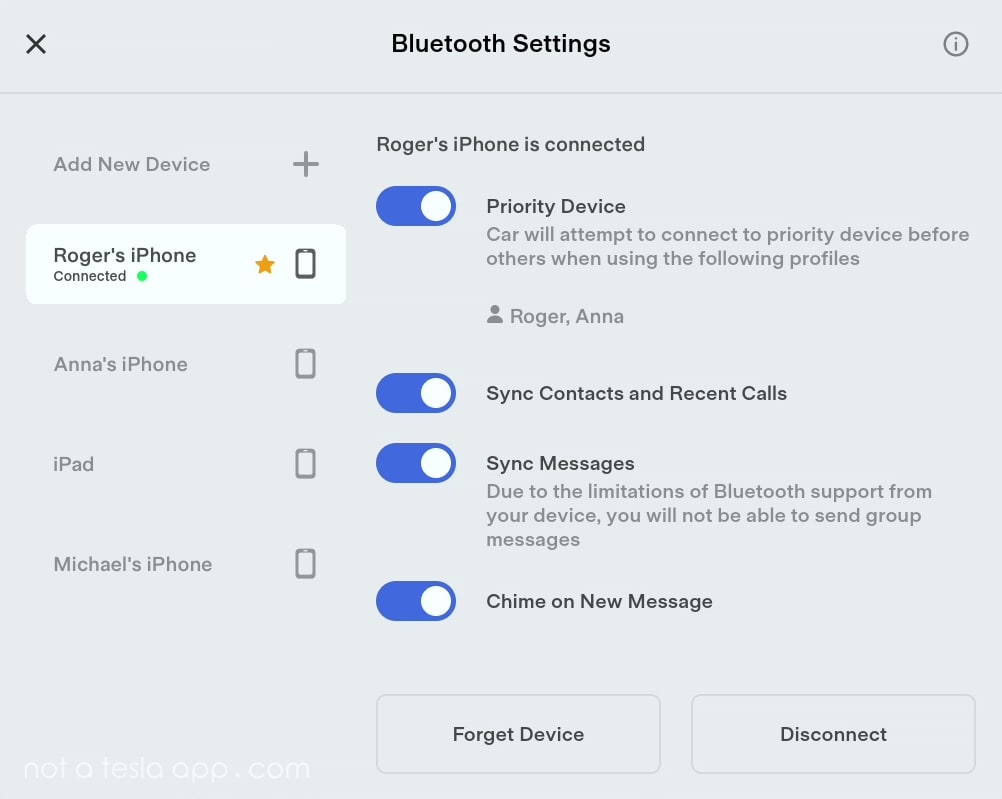 Most Tesla owners have encountered the issue of entering their vehicle only to find it connected to the wrong Bluetooth device. This inconvenience can be particularly frustrating when you're in a hurry or when multiple passengers with paired devices are present. Fortunately, Tesla has developed a solution to this widespread problem — Tesla Priority Device.
Tesla's 'Priority Device' feature allows you to select a device for your car to connect to based on the chosen Tesla driver profile. You can assign a device to multiple profiles, ensuring a smoother connectivity process for all drivers.
How Tesla Priority Device Works
When you and your spouse or child enter the car simultaneously, the vehicle will first attempt to connect to the device associated with the active Tesla profile. The closest phone to the vehicle determines your driver profile when the doors are opened. Using Priority Device helps prevent issues like your Tesla connecting to someone else's phone inside the house.
Setting Up Your Priority Bluetooth Device
To set up your Priority Device, follow these simple steps:
Go to Controls by tapping the car icon in the lower-left corner of the vehicle.
Tap the Bluetooth icon at the top of your touchscreen.
Select your preferred device.
Tap "Priority Device."
The menu will display the Tesla profiles that have your device set as their priority device. You can set your phone as the priority device in multiple Tesla profiles, including profiles such as Easy Entry.
Your car will now attempt to connect to the priority device associated with the selected profile before trying to connect to other paired phones.
Shortcomings of Priority Device
Priority Device works great, as long as the vehicle selects the correct Tesla profile. Any issues in connecting to the incorrect device are usually caused by the vehicle determining the incorrect driver profile.
If the vehicle incorrectly determines the closest phone to the vehicle, then it will select the wrong Tesla Profile and consequently, the wrong Bluetooth device to connect to.
Troubleshooting Issues
It's important to realize how the process works. Your key fob or phone key is associated with a given Tesla Profile, which can then have a Bluetooth device that it will try to connect to first.
If your vehicle is consistently connecting to the wrong Tesla Profile or Bluetooth device, you should double-check your settings.
Start by going to Controls > Locks and check that your key fob, phone key, or key card is associated with the correct driver profile.
From there, confirm that you have a Priority Device associated with each Tesla Profile by going to Controls and tapping on the user icon and name at the top of the screen. To minimize connection issues, each Tesla Profile should be associated with a priority Bluetooth device.
The Future of Tesla Priority Device
As technology continues to advance, Tesla remains at the forefront of innovation. Tesla's Priority Device feature is just one example of its commitment to improving the driving experience. Future enhancements could include more advanced algorithms for identifying the correct driver profile or even connecting to multiple devices simultaneously.
Priority Device has improved Bluetooth connectivity in Tesla vehicles, allowing for more seamless connections instead of just connecting to the first Bluetooth device it finds.
Best Tesla News of the Week
Ordering a New Tesla?
Consider using our referral code (nuno84363) to help support our site. Model 3 and Y buyers will receive credits toward Tesla Merch, while Model S and X buyers will receive $1,000 off and 3 months of FSD for free.