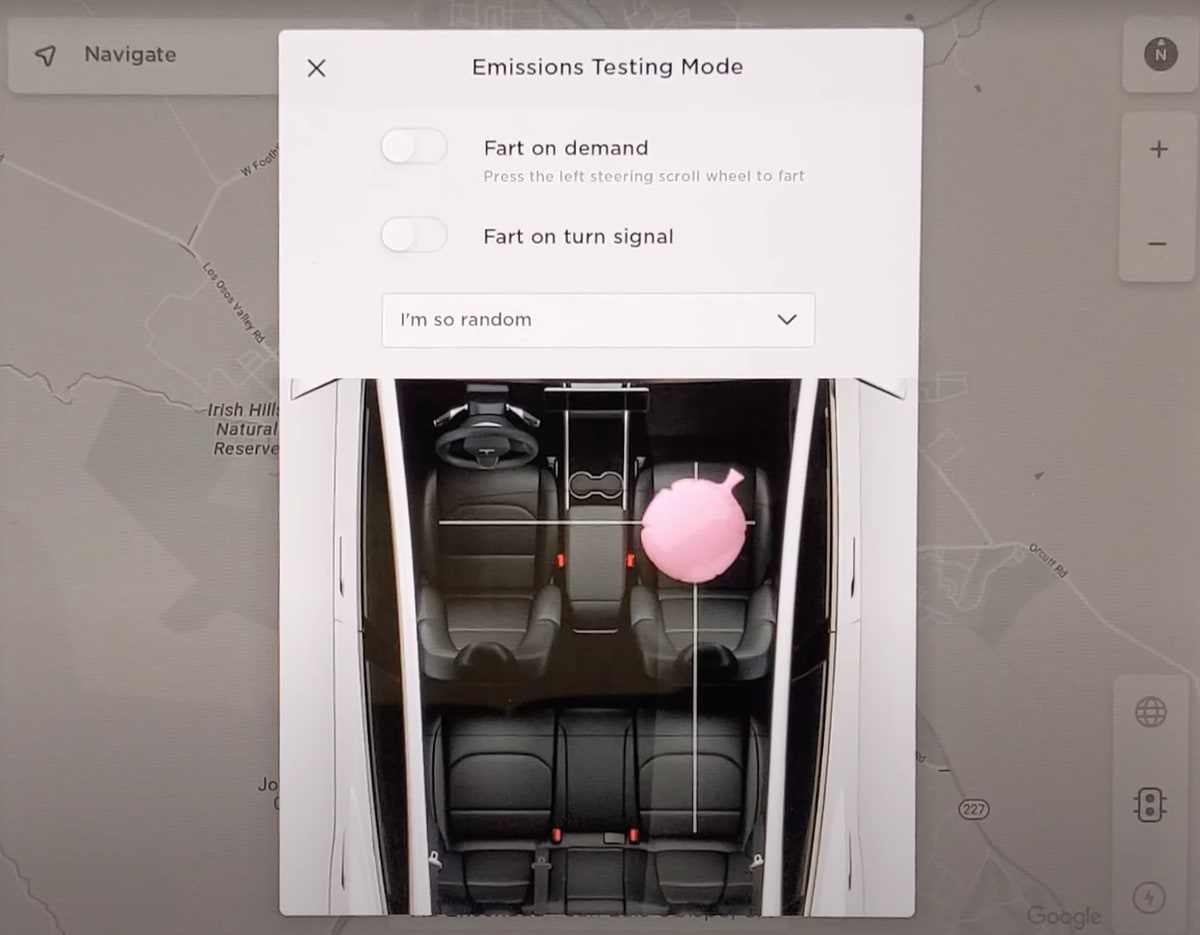 Coming soon to all Tesla models equipped with an external speaker is a new feature that will allow your car to make loud farting sounds outside the vehicle. This new feature addition has been confirmed by Elon's recent tweet earlier in March.
According to Elon's tweet, the fart sound, which is currently a feature within Tesla's Toybox, will require you to say "Fart in their general direction."
Emissions Toybox feature
Currently, the Toybox feature is housed within the Entertainment section of the car's infotainment system.
One of the features available in the Toybox is Emissions Testing Mode. It lets the car play random fart noises through its speakers.
You can choose which individual speaker the sound comes from, giving the impression that the fart sound is coming from a specific individual or seat.
You can also have your car do things like play the Holiday Show, switch on Mars Mode, which puts the vehicle in a Martian landscape, and even turn on Romance Mode, which allows you to cozy up with your loved ones by the virtual fireplace.
How does Tesla play sounds on the exterior of the vehicle?
With Tesla continuing to enhance the entertainment features of the vehicle, the new fart feature will utilize the vehicles Pedestrian Warning System (PWS), which plays media externally on cars. When Tesla first started including the PWS speaker in cars back in 2019, it was only designed to play a low humming sound while at low speeds when either in drive or reverse. It was added to cars to comply with US regulations.
With this new feature, Tesla likely will also let the sound play on the internal speakers if your vehicle is not equipped with a PWS.
Coming soon, if you want your car to make a loud farting sound from the external speaker, just say "Fart in their general direction!"

— Elon Musk (@elonmusk) March 2, 2022
Voice Commands
Tesla has added various voice commands to enhance the driver's experience, but this will be one of the few voice commands that are Toybox specific. Another popular voice command tied to a Toybox feature is "Enable Santa Mode, " which will start Santa Mode.
Most Tesla owners take advantage of the Climate Control voice commands and the media commands while driving, but we also have our list of the top five voice commands, or you can choose to view all the available voice commands.
Will this be allowed while in drive?
No. According to the National Highway Traffic Safety Administration (NHSTA), Tesla faced a software-based recall that Elon Musk blames the "fun police." The NHSTA is unhappy that Tesla allowed drivers to play sounds like a fart noise on an external speaker. Federal officials said it's a huge safety issue for pedestrians who might not interpret those "fun" sounds as a proper warning system or alert to pedestrians.
Tesla has since released a firmware update to disable the Boombox feature while driving. As of update 2022.8, you can no longer use Boombox while in drive if you're in the US, Canada, and Puerto Rico.
When this feature is released, it'll be a great addition to the Emissions Toybox feature and, most importantly, make owning a Tesla even more entertaining. Stay tuned for the new fart feature in an upcoming update.