Tesla released software update 2022.2.1 in China for the Lunar New Year.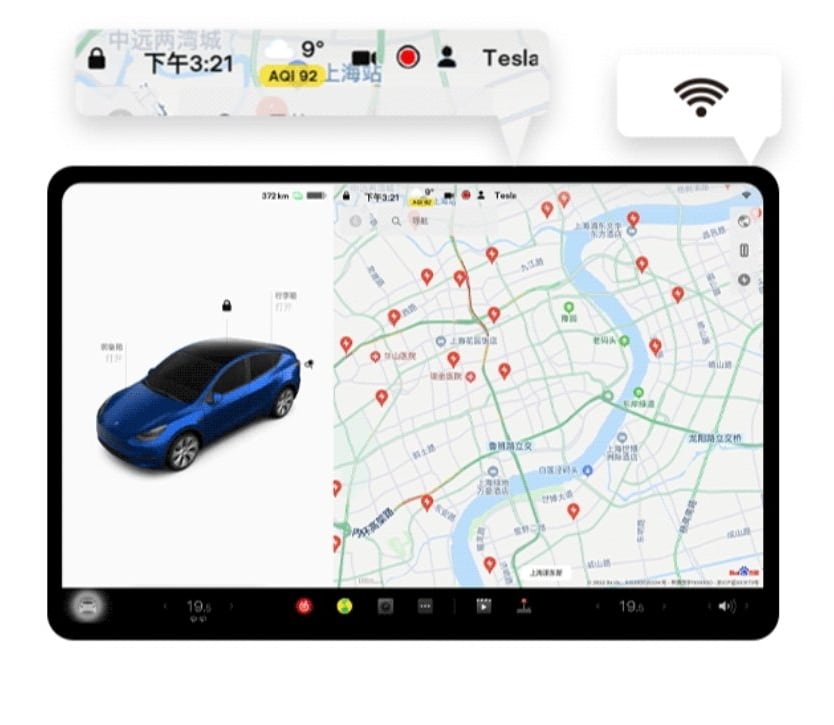 The update contained several new features, however many of them will likely be exclusive to China since they're for services that are popular in the country.
However, the update also includes several changes that will almost certainly be brought to everyone in the future.
Status Bar
Many icons are making a return to the top status bar.
What's coming back:
Sentry Mode / Dashcam
Cellular/WiFi signal strength
Driver profiles
What's not coming back:
Bluetooth
Update notification
Car notifications (bell icon)
The Bluetooth, car notifications and update notification will continue to live in the car's Controls menu. The temperature, lock/unlock doors, and time will remain unchanged.
We're not sure yet whether HomeLink will come back to the top status bar, but given that it often got in the way of the rearview camera feed, it's likely that the HomeLink buttons will remain where they are now.
The Superchargers icon will return to its familiar place next to the satellite imagery and traffic overlay buttons.
Climate Controls

There are now various icons near the driver and passenger temperature controls.
Underneath the driver temperature control, there are icons for the front and rear defrost. The icons are a very small touch target, so they're likely not actual buttons.
Instead, it appears that they are there to either serve as a reminder of where to activate the defrosters, or they are potentially showing you when the defrosters are in use. We believe this is a temporary feature and Tesla is developing a better solution for the longer-term.
This appears to be similar to how the word "Manual" appears above the set temperature when the climate is set to Manual instead of Auto.
Other Changes Coming
This update doesn't address all issues with the v11 UI update, but it does appear to address some of the items that were quick fixes.
We still believe that Tesla will allow you to add seat heaters, windshield wipers, and defrost buttons to the launcher bar. These will be customizable so not everyone will need to have them.
For example, if you rarely drive with a passenger, you can choose to just include the driver's seat heater in the launcher and save the space for the passenger seat heater for something else.