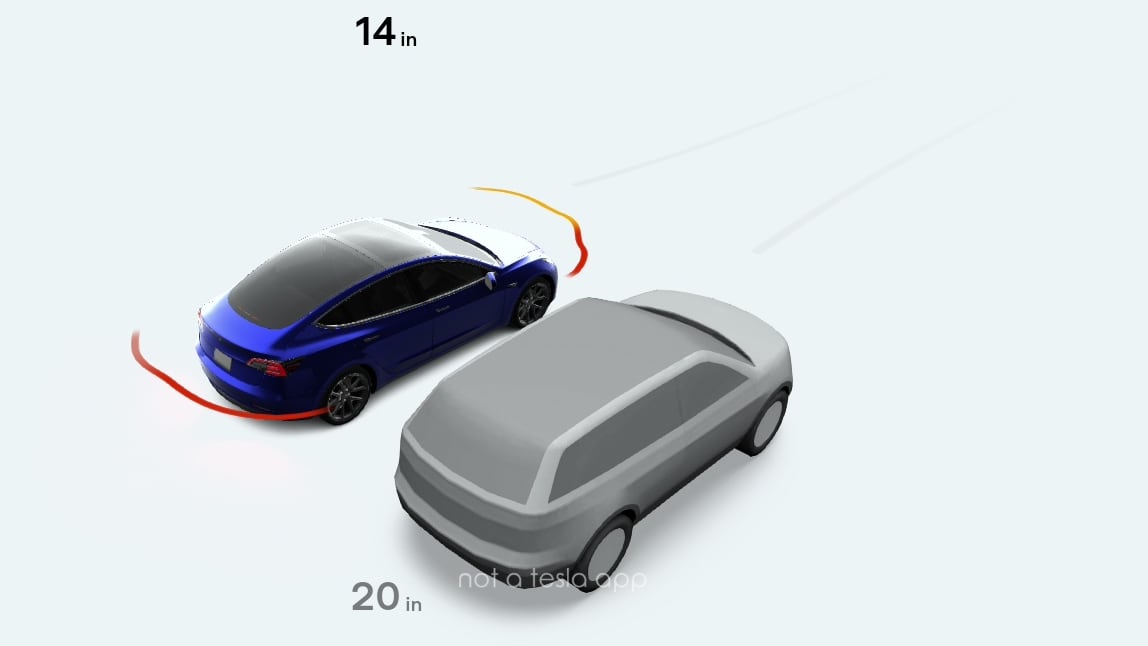 A helpful feature luxury and even more affordable cars have had for a few years now is "birds-eye view" parking. When the feature is in use, it displays the car on-screen from an overhead perspective in its surroundings, giving you the ability the easily see how close you are to other cars or the curb when parking.
It's really a somewhat magical feature and a great feature to show off to family and friends. Although Teslas are littered with cameras on all sides, they unfortunately aren't all facing the right way in order to pull off a feature like this. There are some crucial areas that are missed such as the lower front.
Another reason Tesla hasn't tried to implement such a feature is that it's currently under a patent and they would have to license the technology in order to implement it in a similar way. Although it looks like Tesla has figured out a compromise to give customers a very similar feature.
We should have seen this one coming. If you have a Tesla with FSD hardware version 3.0, then you have slowly been seeing Tesla rendering more and more items on the screen. They will now render stop signs, speed limit signs and other traffic control signs, trash cans, cones, traffic lights, different types of vehicles, line markings and quite a bit more. It's only a matter of time before what Tesla is rendering on the screen becomes a close approximation to the real world. In fact, their whole goal of FSD relies on them achieving this.
Well according to this Elon tweet, this is exactly how Tesla plans to achieve Birds-Eye View without infringing on any patents. When the driver shifts the car into reverse, the car visualization will essentially rotate to have a top-down view, much like we see when setting the car into park. This isn't exactly what Birds-Eye View does in other vehicles, as those provide real-time camera feeds to show the car's surroundings, but it will be a vector-space 3D model of Birds-Eye View if you will, which will hopefully be just as helpful.
Elon has also said that this feature will be tied to FSD since it will only be available due to the work that has gone into FSD. However I would not be surprised if Tesla changes their stance on this as many may consider Birds-Eye View a safety feature which Tesla has always included in every car.
Vector-space bird's eye view coming with FSD

— Elon Musk (@elonmusk) October 3, 2020
Ordering a New Tesla?
Consider using our referral code to help support our site and get credits toward Tesla Merch.