The idea would be to add a volume slider to Joe Mode.
Yes

— Elon Musk (@elonmusk) April 23, 2020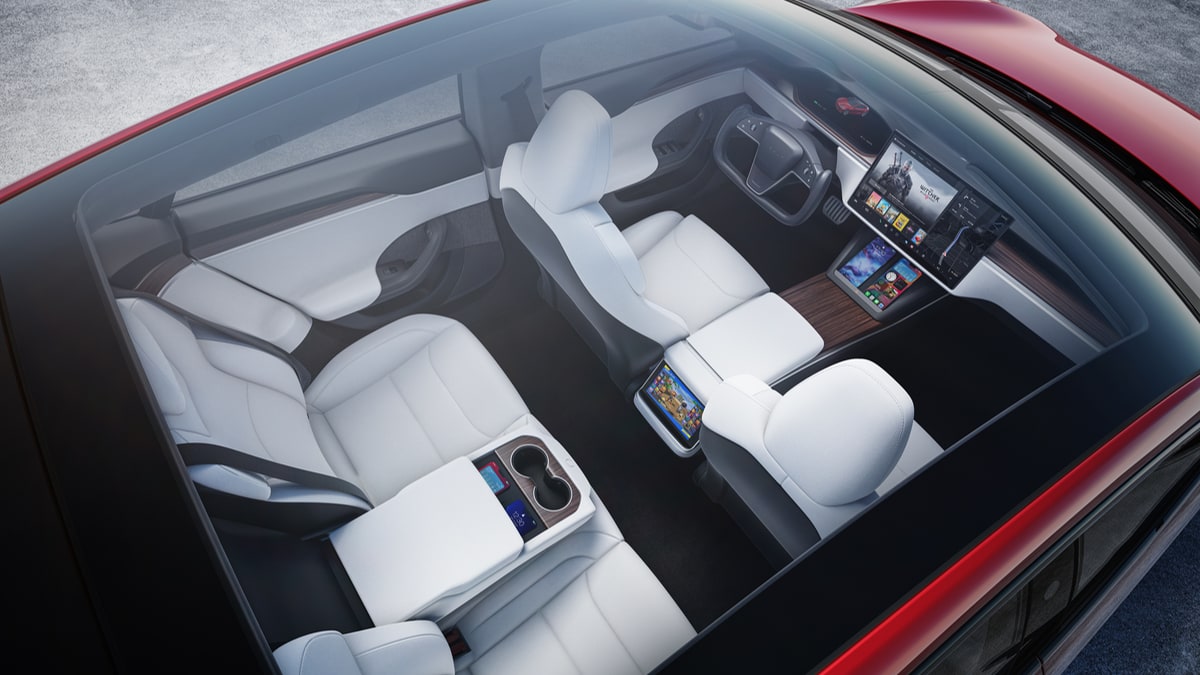 Tesla is a pioneer in the automotive industry, and one of the most defining features of its vehicles is the use of large touchscreens. These screens are a central hub for most vehicle functions, including music, vehicle settings, navigation, and more. Tesla's commitment to a minimalist and user-friendly design is evident through integrating these screens, which have become iconic in electric vehicles.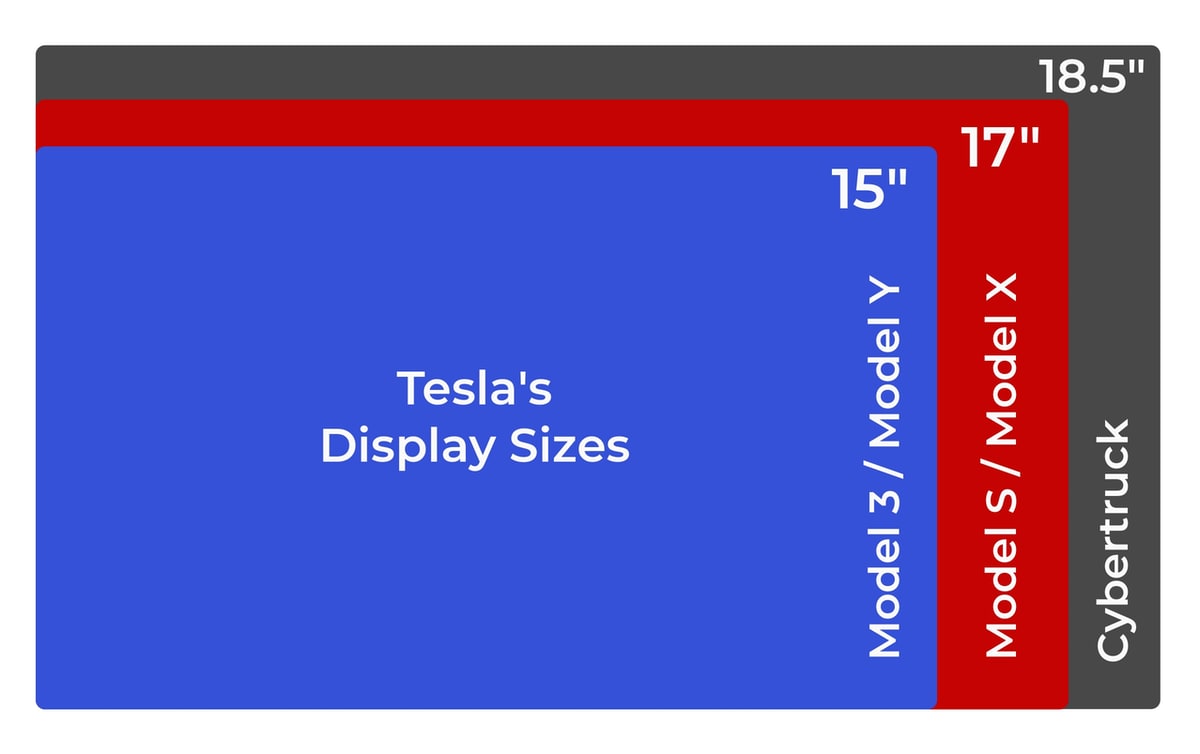 2012-2020 Model S & Model X
Between 2012 and 2020, the Model S and Model X were equipped with vertical screens, which stood out due to their impressive size and orientation. These screens measured 17 inches diagonally and allowed intuitive control of the vehicles' various features.
In addition to the central touchscreen, both models featured an instrument cluster screen behind the steering wheel, displaying vital information such as speed, range, visualizations and charging status. The instrument cluster features a 12.3" screen with an 8:3 aspect ratio and a resolution of 1280 by 480.
2021-Present - Model S and Model X Screen Sizes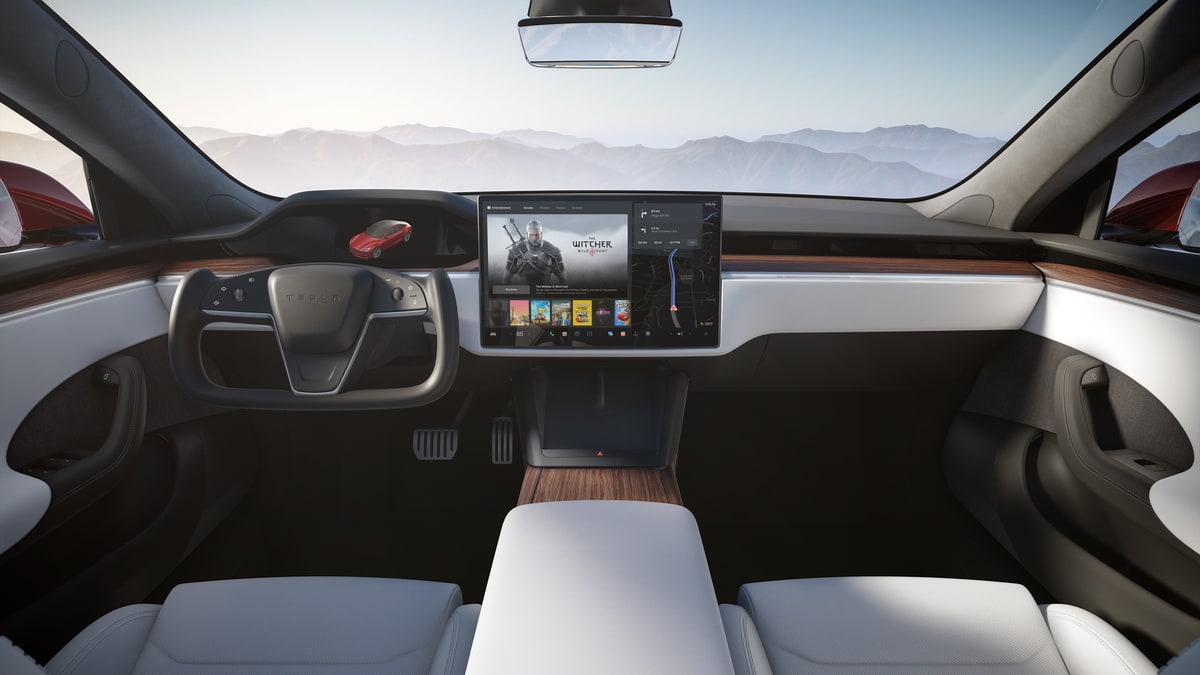 In 2021, Tesla introduced a significant update to the Model S and Model X, replacing the vertical screens with horizontal ones. The new 17-inch screen boasts a 16:9.5 aspect ratio, providing users with an even more immersive experience. The display has a resolution of 2200 by 1300 pixels which is about 150 pixels per inch (PPI).
The instrument cluster remains present, ensuring drivers have easy access to crucial information at a glance. Additionally, a rear display measuring eight inches was introduced, which Tesla later updated in 2022 by reducing the bezels, resulting in a slightly larger screen size. Tesla also introduced the ability for the center display to tilt left and right.
Model 3 & Model Y Screen Size
On the other hand, the Model 3 and Model Y take a different approach to screen design. Both models lack an instrument cluster, opting instead for a single, central 15.4-inch touchscreen with a 16:9 screen ratio. The display features a resolution of 1920 by 1200, which comes in just below 150 PPI. This minimalist approach further emphasizes Tesla's commitment to a clutter-free, user-friendly interface.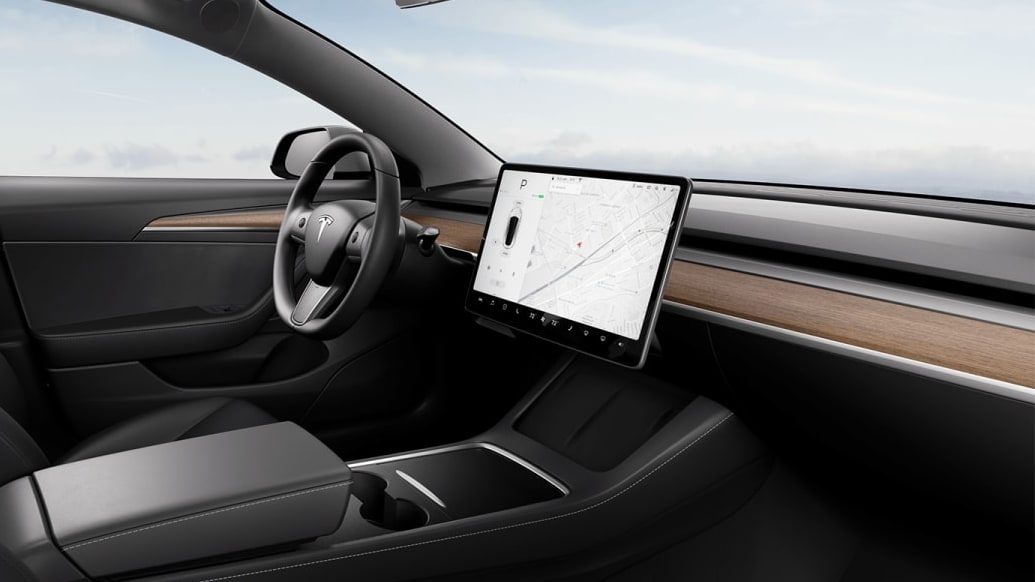 Cybertruck
The highly anticipated Cybertruck is expected to feature the most giant screen yet, with a whopping 18.5-inch horizontal screen without an instrument cluster. There are also plans for a rear screen, though the exact size remains unconfirmed. However, plenty of images of the Cybertruck appeared during Investor Day, and many observers believe the rear screen is the same as the Model S and Model X at around eight inches.
Semi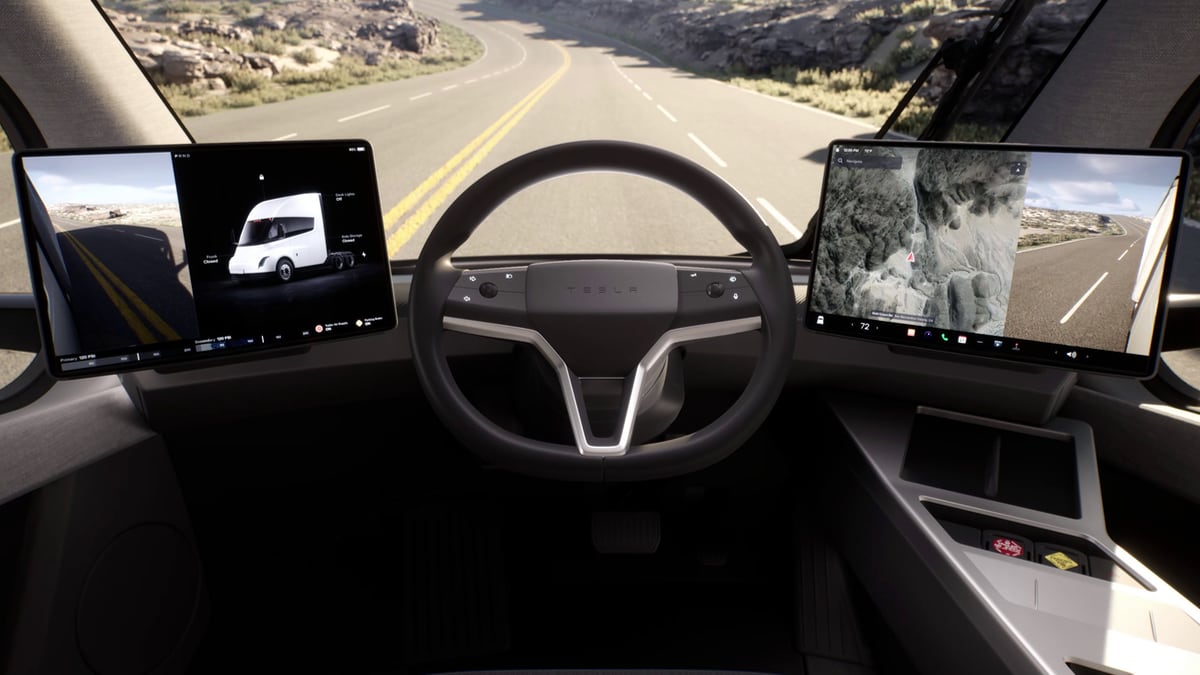 Finally, the Tesla Semi, a big electric rig designed for long-haul transportation, features dual 15-inch screens located to the left and right of the driver. These screens replace the traditional instrument cluster, providing the driver vital information and access to various controls. However, there is no rear screen in the Semi, as it's not necessary for its intended use.
Tesla's commitment to innovation and user experience is exemplified by integrating large, intuitive touchscreens in their vehicles. From the early vertical screens in the Model S and Model X to the current horizontal screens and the upcoming Cybertruck, Tesla continues to push the boundaries of automotive design and technology, ensuring that their vehicles remain at the forefront of the electric vehicle revolution.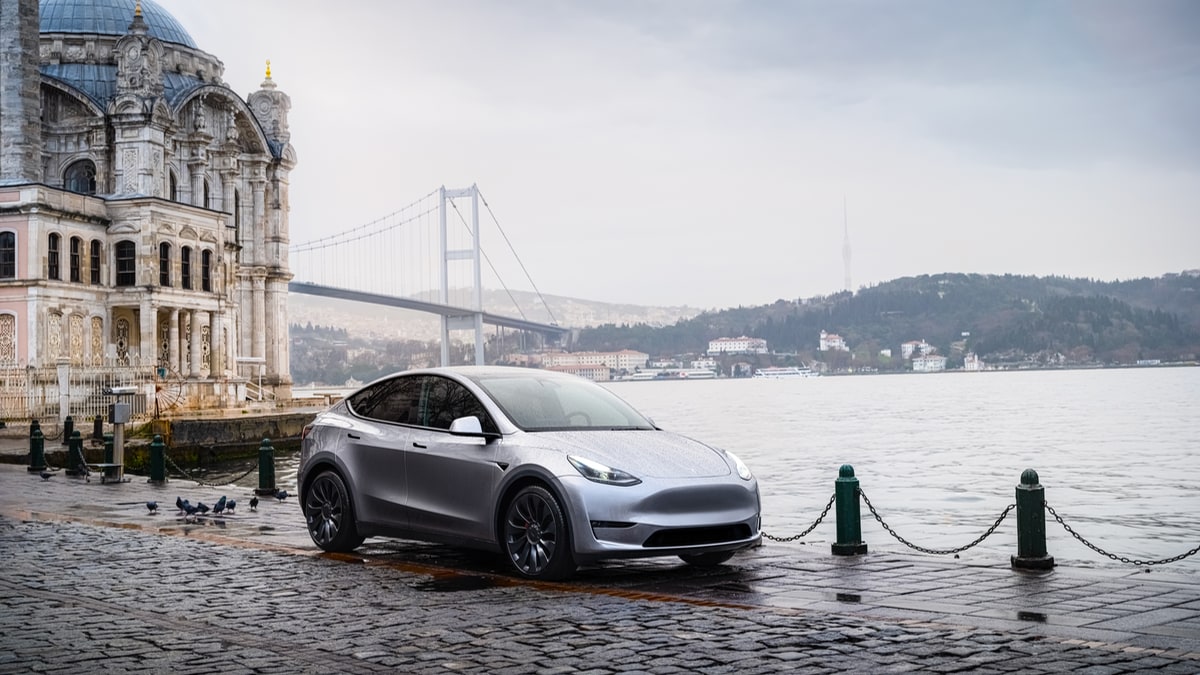 The Tesla Model Y made a monumental leap in Q1 2023, emerging as the world's best-selling car. Not just the best-selling EV, or the best-selling SUV, but the world's best-selling vehicle, period.
According to industry analysts JATO Dynamics, this marks the first occasion in history where an EV has claimed this title. The growth trajectory of Model Y sales globally over recent years had hinted at this milestone, fulfilling Tesla's earlier predictions that demand could reach a million units per year.
JATO Dynamics' Revealing Analysis: Model Y Trumps Corolla
Data compiled by JATO Dynamics analyst Felipe Munoz reveals a compelling story. Model Y's Q1 sales reached 267,200, outperforming Toyota Corolla's 256,400 sales. The comparison becomes even more dramatic when considering other top contenders like Toyota's Hilux, RAV4, and Camry. Model Y's sales, largely driven by Tesla's significant price cuts, are escalating, while Corolla sales appear to be dwindling. This dynamic is particularly impressive considering the Model Y's introduction to the market a year later than the Corolla (2019 vs 2018).
The Legacy of the Toyota Corolla: A Reign Unchallenged Until Now
For decades, the Toyota Corolla has held an uncontested reign as the world's best-selling car, with its affordability, reliability, and universal availability contributing to its enduring popularity. Its 2018 iteration further consolidated this status, offering consumers a well-rounded package that catered to a wide variety of tastes and requirements across different markets.
The Corolla was indeed a global favorite, securing sales in practically every corner of the world, from North America and Europe to Asia. Its broad availability in multiple body styles — sedan, hatchback, and wagon — further expanded its appeal to a diverse customer base. Despite this formidable legacy, the emergence of the Model Y has marked a shift in consumer preferences. It heralds a new era in which electric vehicles can claim the top spot in global car sales.
The High Price Tag vs. Accessibility: Tesla's Strategic Moves
Tesla's ambitious projections regarding the Model Y have come to fruition, culminating in an average quarterly sales increase from last year's 189k to this year's Q1 figures. With this growth rate, Model Y is on track to exit 2023 with over 1 million sales. A feat previously only achieved by Toyota Corolla, which sold 1.12 million units in the previous year.
One may wonder how an EV with a price tag of approximately $40k (after credits) could outperform the more affordable Corolla, priced at $21k for a base model. Despite Model Y's higher cost, Tesla's strategic price cuts have widened its appeal, contributing significantly to its increased market share.
Elon Musk's prediction that the Model Y could become the world's best-selling car seems increasingly plausible. Given its current momentum and the growing demand for EVs, it's likely that Model Y will maintain its leading position, making Tesla's mark in the automotive industry even more indelible.
View All Upcoming Features
Confirmed by Elon
Take a look at features that Elon Musk has said will be coming soon.
Subscribe
Subscribe to our weekly newsletter.
Sponsors
Although we share official Tesla release notes, we are not affiliated with Tesla Motors. We are Tesla fans and supporters.
Confirmed by Elon
Take a look at features that Elon Musk has said will be coming soon.
Subscribe
Subscribe to our weekly newsletter.