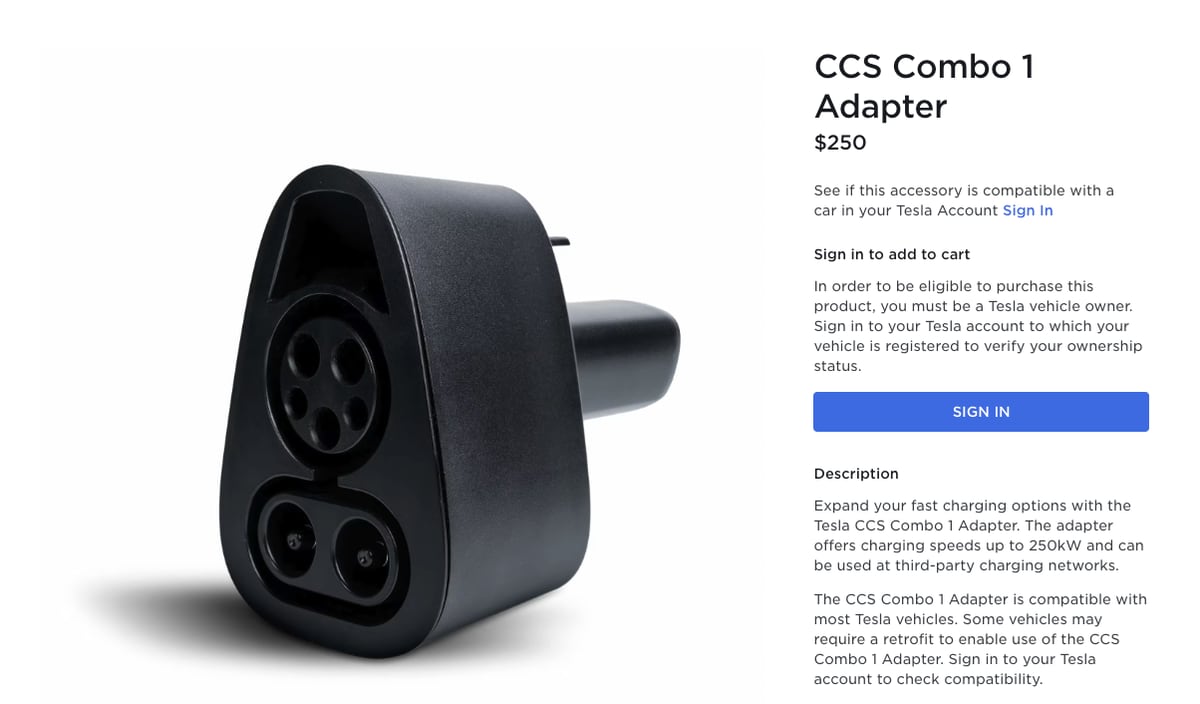 Tesla owners can say goodbye to range anxiety. Despite Tesla's vast network of more than 35,000 Supercharger stations, there are still areas that can raise the stress level as the charge goes down.
Those days will soon be a distant memory as more non-Tesla charging stations pop up. However, those stations do not have the sleek Tesla charger but a big, bulky one called CCS.
CCS, which stands for Combine Charging System comes in two types. Type 1 is mainly used in North America and South Korea, while CCS type 2 is the charging standard in Europe. They differ in the number of phases and maximum power they can provide.
Up until now, Tesla did not sell its CCS type 1 adapter in North America, but they did in South Korea. If you wanted one, you needed to import it or purchase the adapter through a third party. These adapters have been selling for a hefty price online, including eBay. Some sellers have the adapter listed for as much as $1000.
However, Tesla has finally added the adapter to its U.S. store. Tesla owners will now be able to tap into a whole other charging network.
Tesla introduced the device in the store at the bargain basement price of $250 USD, a significantly better deal.
But, not all Teslas are CCS compatible. Some models can charge with CCS once the adaptor is attached. However, several models, especially versions before 2020, are not CCS ready. There is a simple way to determine if your Tesla is suitable for CCS by taping the main menu, then Software and then Additional Vehicle Information. A box will pop up with a lot of information; scan for CCS adaptor support. It will show 'Not Installed' or 'CCS Enabled'.
Electronic Control Units (ECU) were available in the Tesla parts catalog for owners to retrofit their cars if they were incompatible. However, after the launch of the adapter in the Tesla store, visitors are asked to sign in before before being able to purchase the adapter.
The website determined if the owner had a CCS-ready Tesla. If you didn't then you were presented with this message: "This accessory requires a retrofit. Check back in early 2023 for availability." Further down the page, there are instructions to check back in early 2023 for the availability of vehicles requiring a retrofit.
Tesla has also added messaging within its mobile app. If you navigate to the Service section, you'll now see a message at the top of the app displaying 'CCS Adapter Retrofit, check vehicle status.'
Unfortunately tapping on it doesn't offer any additional information, asking owners to check back in early 2023 to schedule an appointment for a retrofit.
CCS stations reportedly reach speeds of more than 150kW in the U.S., and, unfortunately, they are the preferred plug of several manufacturers. There was a petition to have the Tesla charging hardware be the industry standard, but it appears that has failed. CCS is available at Electrify America and Electrify Canada, and several other third-party power suppliers.