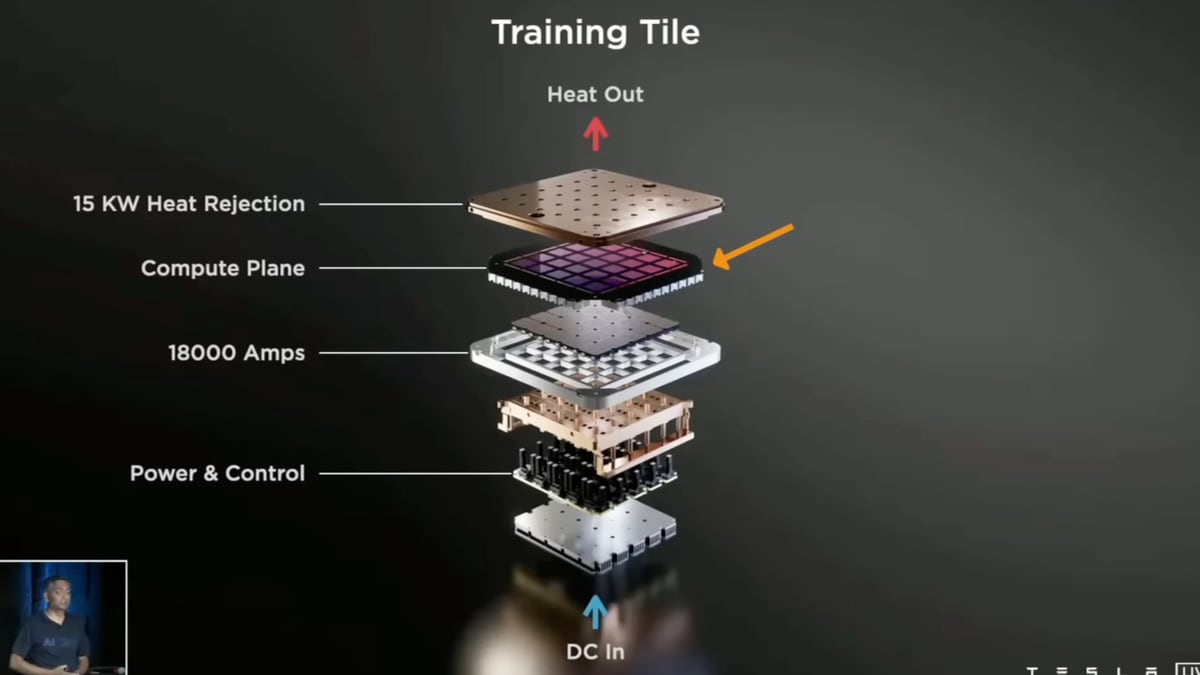 Tesla participated in Hot Chips 34 and shared a ton of mind-boggling information about their Dojo supercomputer and chip architecture.
The details shared about Dojo in Hot Chips 34 by Tesla's Emil Talpes, who worked at AMD for about 17 years for Opteron processors, are only about the hardware and capabilities of the tiles and Dojo as a whole. The performance will be discussed at Tesla's AI Day II on September 30th.
The goal with Dojo is, according to Musk, "to be really good at video training. We have probably the fourth or approaching the third most powerful computing center in the world for AI training. Our first goal with Dojo is to make it competitive and be more effective and neural net training than a whole bunch of GPUs."
Since Tesla needs a lot of computing power to process the video data from the vehicles in its fleet, it has built a proprietary system-on-wafer solution. According to ServeTheHome, "Each D1 die is integrated onto a tile with 25 dies at 15kW. Beyond the 25 D1 dies, there are also 40 smaller I/O dies."
All of the power and cooling is integrated directly on the Training Tile, which is capable of 10 TB/s on-tile bisection bandwidth and 36 TB/s off-tile aggregate bandwidth. This architecture allows for the tiles to be scaled with 9TB/s links between them. They can also be plugged in and do not require their own server.
"The defining goal of our application is scalability," Talpes said at the end of the presentation. "We have de-emphasized several mechanisms that you find in typical CPUs, like coherency, virtual memory, and global lookup directories just because these mechanisms do not scale very well when we scale up to a very large system. Instead, we have relied on a very fast and very distributed SRAM storage throughout the mesh. And this is backed by an order of magnitude higher speed of interconnect than what you find in a typical distributed system."
The inside look into what Tesla's building behind the scenes continues to prove how and why Tesla is at the forefront in artificial intelligence and neural net training. It gives the Tesla community an added sense of comfort knowing that Tesla will always have scalability and innovative technology at the forefront of everything the automotive company does.
Watch Anastasi In Tech's Recap of Tesla's Hot Chip 34 Presentation