By Gabe Rodriguez Morrison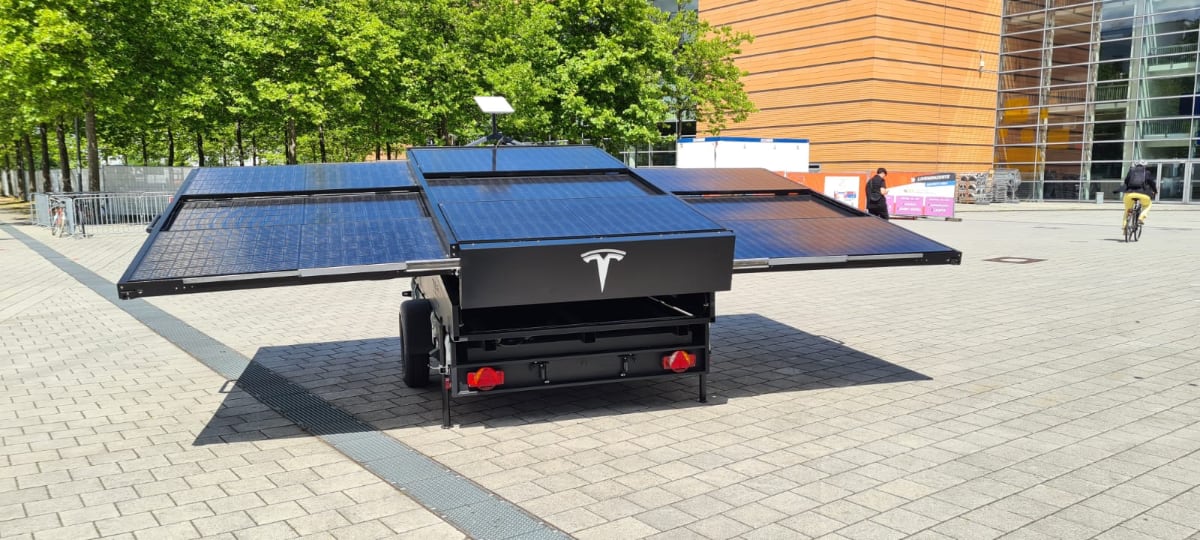 Tesla teased a solar powered range extender trailer at the IdeenExpo in Germany. The trailer features an array of solar panels that can extend outwards when stationary.
The trailer also features a Starlink satellite dish attached on top of the trailer. Twitter user tesla_adri shared images from the expo below.
The unit has nine 300W solar panels that can generate up to 2.7 kW, when fully extended and one-third that amount when the solar panels are folded in.
Although it seems that Tesla does not intend to start production of this product for sale anytime soon, this trailer would be especially useful for camping.
The trailer can continually power the attached Starlink satellite dish, providing constant internet access and can also serve as a charger for small electronic devices.
Additionally, solar panels could charge the battery of an electric vehicle, although it is not clear how much range they would provide. It has also been confirmed by Tesla employees that there is no internal battery storage.
This wasn't the only display from Tesla at the expo. The automaker also brought out a cutout Model Y with a structural battery pack and 4680 cells.
Tesla also showed off a Giga Berlin-made Model Y Performance, displaying the instant torque and raw speed of one of their fastest vehicles.
Tesla is at the "IdeenExpo" in Hannover.

They brought a solar range extender trailer with Starlink.

And a Model Y with the 4680 structural battery pack.

Next to the Tesla stand is the VW stand. There are apparently more VW employees at the Tesla stand than Tesla employees. pic.twitter.com/8IHxLI5ukW

— Tesla_Adri (@tesla_adri) July 4, 2022