By Gabe Rodriguez Morrison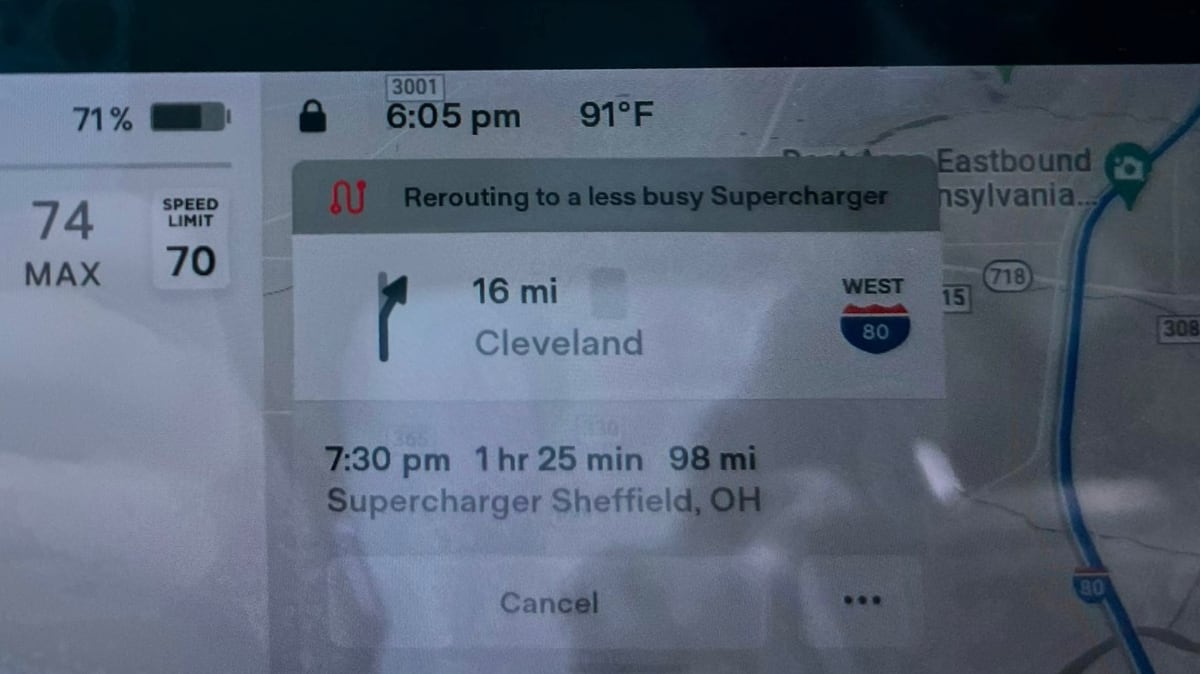 If you don't have enough range to reach your destination, Tesla's in-car navigation system will automatically calculate where you should stop in order to charge.
If the Supercharger you're set to arrive at is suddenly too busy, Tesla's navigation will now reroute you to another Supercharger location that's within range.
This was first noticed in the 2022.16 update by @greentheonly, but owners are now seeing it in action.
According to a recent tweet by @cybrtrkguy, which shows a picture of their trip planner and the message, "Rerouting to a less busy Supercharger" in Sheffield, Ohio.
"Rerouting to a less busy Supercharger"

Never seen that one before. God I love this car pic.twitter.com/JkSDmENvcy

— The Cybertruck Guy (@cybrtrkguy) June 25, 2022
Tesla drivers will now know when a Supercharge station is congested and will have the option to change their route to reduce their total travel time.
Not only does Tesla know exactly how many vehicles are charging at each location. It also knows the charge level of each vehicle and it could estimate the wait time for a Supercharger based on how many Teslas are nearby with a low state of charge.
Based on all of this information Tesla can come up with great suggestions on the best place to charge to reduce your overall trip time.
Tesla's Supercharger rerouting feature will be useful, especially as Tesla starts opening its Supercharger sites to non-Tesla vehicles.
Tesla recently chose to open up the Supercharger network to other car brands, which could add additional Supercharger congestion.
Installed on 0% of vehicles
Last updated: Oct 3, 8:01 pm
In fact, Tesla now plans to add CCS (Combined Charging System) plugs to US-based Superchargers in order to make them even more compatible with other EV manufacturers.
With over 30,000 Superchargers (3,500 stations) reported at the end of 2021, Tesla undoubtedly operates the largest and most successful fast-charging networks.
While Tesla plans to solve Supercharger congestion by tripling the size of its network in the next few years, this new navigation feature will certainly help alleviate some Supercharger congestion.
This isn't the only recent change to how Tesla calculates your route. In the 2022.16.2 software update, Tesla added forecasted crosswind, headwind, humidity and ambient temperature to improve its range calculations even further.