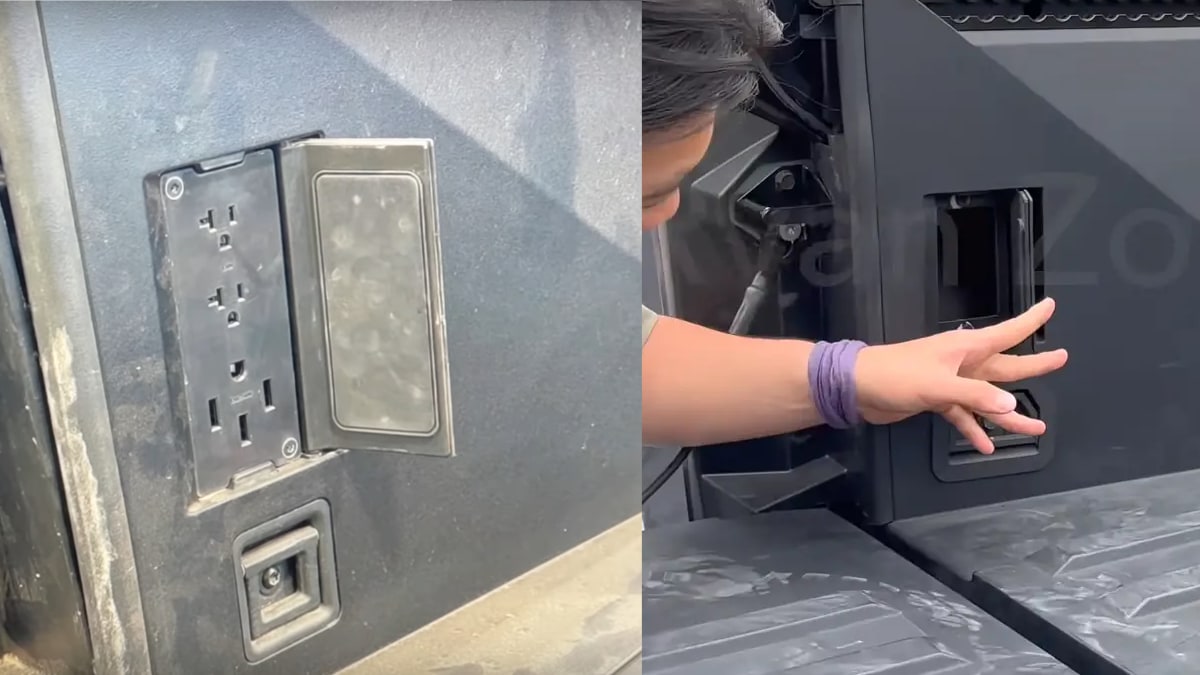 Tesla's Cybertruck may have that feature that was the competition's advantage. A recent "leak" shows an array of built-in power outlets. We've previously covered Tesla offering bi-directional charging on the Cybertruck, but even if that falls through, it looks like owners could use the vehicle's onboard outlets to power other items. According to leaked information, these outlets could herald a new vehicular energy independence and utility standard.
Speculations, courtesy of an anonymous insider and brought to the public eye by the YouTube channel TFLEV, indicate that the Cybertruck may offer multiple onboard power outlets, including two 120-volt outlets and a robust 50 amp, 240-volt outlet (NEMA 14-50). The potential of these outlets isn't merely for powering tools or campsite essentials but extends to energizing an entire household during power outages.
Cybertruck's Electrical Outlets
The inclusion of a 240-volt NEMA 14-50 outlet is particularly intriguing, as this specification implies a high-power output capability. This type of outlet is commonly used for large appliances or for EV charging and can handle up to 12kW of power. Such a feature points to Tesla's vision of a vehicle that gets you to your destination and serves as a dependable power reserve in emergencies or for off-grid living.
Ford's F-150 Lightning: A Benchmark for Comparison
Any other company rarely sets the bar when it comes to the EV game, but Ford did offer something that Tesla had not yet developed. To contextualize the Cybertruck's power supply features, comparing it with existing vehicles like the Ford F-150 Lightning is essential. Ford's electric pickup boasts a Pro Power Onboard system with power outputs that vary from 2.4 kW to 9.6 kW, depending on the configuration. With options for both 120-volt and 240-volt (L14-30) outlets, the Lightning can power tools and appliances directly from the vehicle.
The F-150 Lightning's Charge Station Pro and Home Integration System, developed in collaboration with Sunrun, illustrates the practical application of vehicle-to-grid technology. It has proven worth enabling homeowners to keep their lights on during utility failures. Tesla's Cybertruck, with its powerful 240-volt outlet, is expected to offer similar functionality, allowing the vehicle to serve as an energy lifeline.
Tesla's Edge: Potential for Higher Power Output
While the Ford F-150 Lightning can supply substantial power to a home, Tesla's Cybertruck may have the upper hand with the ability to output up to 12kW. This capability could make it a more potent mobile generator, capable of running high-demand home appliances during emergencies or power outages.
In the evolving landscape of electric vehicles, the Cybertruck's power outlets are not just about convenience. They symbolize Tesla's commitment to energy solutions that empower owners to be more self-sufficient. The outlets could bridge Tesla's automotive and energy sectors, potentially integrating with home energy storage systems like the Powerwall for enhanced energy management.
As electric vehicles become increasingly entwined with home energy ecosystems, Cybertruck's proposed power outlets position it as a leader in this integration. The vehicle's ability to potentially power a home resonates with Tesla's overarching mission to facilitate a sustainable energy future.