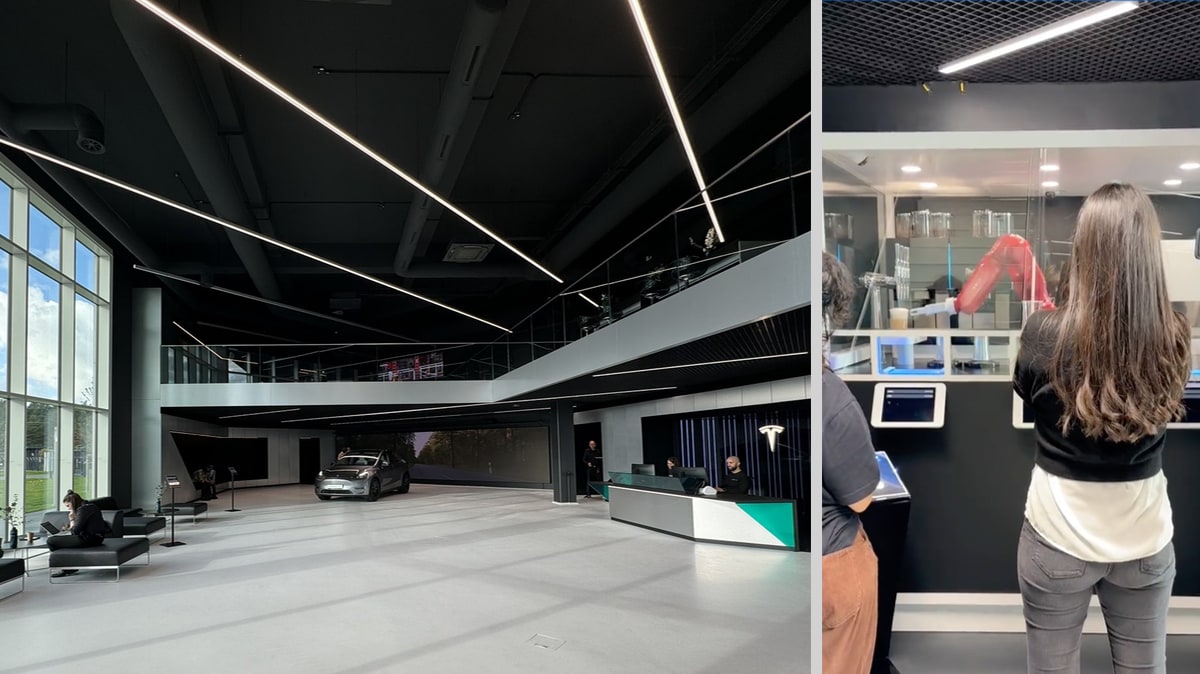 Tesla's Gigafactory Berlin adds a new dimension to its innovative landscape with the debut of its strikingly modern lobby. As visitors enter, they are immediately transported into what appears to be the future of corporate interiors. The recently opened space is a testament to the company's commitment to blending design with functionality, featuring the Tesla Model Y charging amidst a visually engaging environment illuminated by undulating neon lights and adorned with chic metallic touches.
A New Public Space with Robotic Charm
This lobby isn't merely a space to cross; it's an experience. Public access began last Sunday, and it already boasts an array of engaging features, such as a merchandise vending machine that offers Tesla-branded items at the touch of a button. Visitors watch as the lobby's robot, capable of pouring beer and preparing coffee, adds a playful yet sophisticated element to the visitor experience.
The lobby is thoughtfully laid over two floors, providing comfortable seating for guests on both levels. The design centerpiece is the reception area, which features a large, geometric desk operated by welcoming Tesla staff. The early visuals shared by the company showcase these elements, highlighting the meticulous attention to detail that has gone into creating this space.
"Hey ? I want a ☕️ please"

Giga Berlin ????

Tell me another place where you can get a coffee served by a robot while you wait to buy a car or explore the factory.
I'll wait ☝?

Thanks @elonmusk ??!
We're definitely living in the future! pic.twitter.com/Lr1bWFTtMy

— Pauline ? (@justpaulinelol) November 6, 2023
Tesla's Expanding Footprint
Nestled in Grünheide, just outside the urban buzz of Berlin, the Gigafactory stands as a beacon of Tesla's manufacturing might. The factory's focus on the Model Y SUV has led to a remarkable production cadence of 5,000 weekly vehicles. In a recent visit, Musk hinted at an exciting future for the factory, with plans to produce an affordable $25,000 Tesla, making sustainable transportation options more available to the masses.
Adding Giga Berlin as a manufacturing site for Tesla's ambitious Model 2 represents a pragmatic pivot in the company's global strategy. With its roots stretching from the initial plans in Mexico to the assembly lines in Texas and now extending to Germany, Tesla's path reflects a responsive and adaptive approach to the ever-changing landscape of global manufacturing.
By situating production within the European market, Tesla appears to align its operational logistics with regional market dynamics, potentially streamlining the delivery process and enhancing its competitive edge in a critical EV market.
Tesla's vision for its Berlin Gigafactory doesn't stop at vehicle production. The company is looking to broaden its horizons with a significant expansion set to commence in early 2024. These plans include constructing a water recycling system and adding a second production facility to its existing infrastructure. Moreover, a future-focused battery recycling plant is also on the cards, underscoring Tesla's dedication to sustainability and innovation.
Giga Berlin — Das Juwel Deutschlands ??

- Elon Musk @elonmusk pic.twitter.com/jxKO0jubii

— Lieblingsengel ? (@sina39184138) November 6, 2023