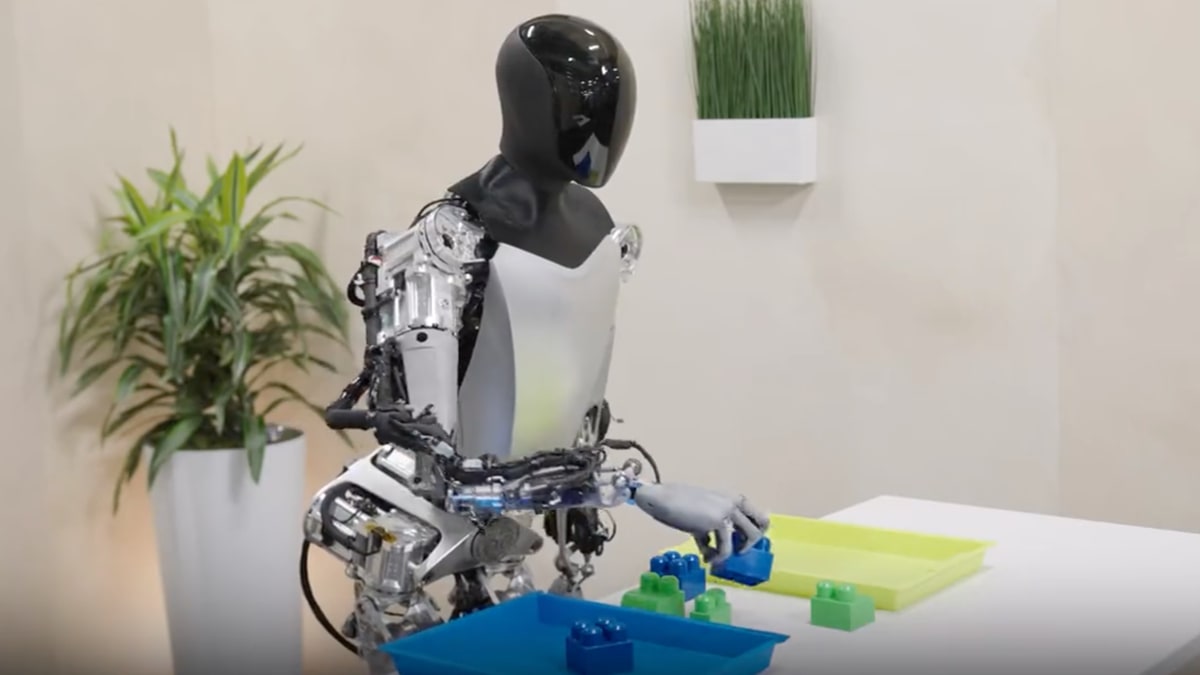 Tesla's venture into the realm of humanoid robots, represented by Optimus, has taken colossal strides since its inception. Remember the first "robot" that was a person dressed up? Or the second one that was barely able to move? Initially met with skepticism due to a less-than-stellar unveiling, the latest updates showcase Optimus' ability to autonomously sort objects and move around — specifically doing yoga and revealing Elon Musk's vision inching closer to reality.
From Skepticism to Anticipation
Initially introduced at AI Day 2021, Optimus — or Tesla Bot — came off as a half-baked concept featuring a dancer in a robot suit, sparking doubts across the spectrum. The journey from a man in a suit and a CGI trailer to working prototypes in AI Day 2022 reflects Tesla's unwavering dedication to innovation. The skeptics have served a stark reminder: Tesla's capability for rapid advancement is unparalleled.
Recent demonstrations depict a more refined Optimus, exhibiting fluid movements, advanced balancing capabilities, autonomous task execution, and even dealing with an annoying human who keeps messing with the blocks! These advancements indicate Tesla's relentless progress in neural network training, ensuring that Optimus can interact autonomously and adapt efficiently to real-world scenarios.
Autonomous Learning, Adaptation & Safety
Autonomous sorting and self-calibration are indicative of the significant leaps made by Optimus. The robot's ability to learn, correct, and adapt showcases a future where monotonous, repetitive tasks are relegated to the past, allowing humanity to explore uncharted territories of creativity and innovation.
Safety remains paramount as Musk emphasizes the necessity for local safety maximization, highlighting the commitment to integrating Optimus seamlessly and safely into society. The promise of a centralized pause function showcases a thoughtful approach to ensuring human control and oversight.
Versatility and Vision
In a captivating display of versatility, Optimus was seen performing yoga poses, a testament to its adaptability and range of potential applications beyond industrial tasks. With Elon Musk envisioning Optimus performing ballet one day, the boundaries seem limitless for this technological marvel. In the video Tesla talks about Optimus's capabilities, stating:
"Tesla Optimus is now capable of self-calibrating its arms and legs. Using only vision and joint position encoders, it can precisely locate its limbs in space. Accurately calibrated, Optimus learns various tasks more efficiently. Its neural net runs entirely on-board, using only vision. For example, it can sort these blocks by color fully autonomously. And it does so while dealing with the dynamic reality of our world. Optimus also demonstrates autonomous, corrective action capabilities. It can be trained to conduct new tasks, such as un-sorting. And after a long day of work, time to stretch. Namaste!"
Musk's bullish predictions hint at Optimus contributing substantially to Tesla's long-term value. With a potential demand reaching billions of units, Optimus is poised to revolutionize industries and redefine the integration of robotics in daily life. A 2027 release might have seemed ambitious, but given the rapid progress, it is increasingly plausible.
Tesla's Optimus program illustrates ambition, innovation, and rapid development from CGI skepticism to witnessing a more refined, adaptable, and autonomous robot. I, for one, can't wait for the next AI Day.
Optimus Sorting Objects
Optimus can now sort objects autonomously ?

Its neural network is trained fully end-to-end: video in, controls out.

Come join to help develop Optimus (& improve its yoga routine ?)

�' https://t.co/dBhQqg1qya pic.twitter.com/1Lrh0dru2r

— Tesla Optimus (@Tesla_Optimus) September 23, 2023